Mike and Colleen Frye had always planned to start a business once their kids finished college. They knew they wanted to open the business in their home town of Point Pleasant Boro and there were several options they considered, including opening a bed and breakfast. However, when they realized the logistics of such an undertaking, their thoughts (like many of us in times of great decision) turned to beer!
So the overnight accommodation industry's loss became the brewing world's gain, as Frye Brewing Company was born in 2017 and will be celebrating their 2nd anniversary in June, just as the Jersey Shore starts to heat up.
"Point Pleasant Boro has been our home for many years. Our kids grew up here, I know the people, the businesses, the area. I've also been home brewing here for over 10 years, so I know that the water profile was good for the styles I brew. Add all that together and we knew this is where we wanted to be!" The state of the art, 4 barrel electric system, enables Mike to do much of the brewing and kegging himself.
Two Point Pleasants – Boro and Beach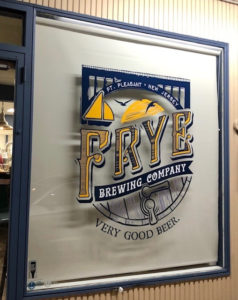 I also got a lesson in geography AND acronyms from Mike when we spoke. I knew there was 2 Point Pleasants, Boro and Beach. Frye is located in "Boro"… Beach is OTB…"Over the Bridge".
"It is a different demographic in both towns", said Mike. "Boro tends to be more of a local crowd." Boro residents like their beer, but may not clamor for the latest IPA , which is reflected in Mike's tap list, which has only a couple of NEIPA amongst, the blonde, stouts, reds and Belgians and he hopes to have a pilsner canned and ready for the 2 year anniversary.
Over a "Coffee in the Dark" I asked Mike the iconic, 10 QUESTIONS!!!
10 Questions
What was the first beer you brewed? How was it?
"A Black IPA….and it was a mess! I brewed it with my son and it was just awful, out of balance…aughh!!! When we opened the brewery, we actually adjusted the recipe and it was one of the first beers we made on this system and it came out good."
What is your favorite beer to brew and why?
"I would say stouts. There is a lot of subtlety and more nuance than in some of the high abv or hoppy beers…at least that is my opinion!"
Do you look at ratings, like untappd, Beer Advocate, etc. and does it influence your recipes?
"Yes actually, our menu system is untappd, where customers can type in real time notes and comments about the beers they are drinking. Does it affect my recipes…not really. We have an older demographic at our brewery, so our top rated is probably the Summertime Blonde, our one of our specialty beers, Apple Pie Amber."
How do you stay connected with local businesses in regards to sourcing ingredients?
"The coffee in "Coffee in the Dark" which you are drinking now is from Divi Tree Coffee, which is about a block from here. We have discussed working with some of the local maltsters and hop farms also, so we hope to do more of that in the future." Mike also stays connected locally with his "First Fridays" where a dollar of each pint sold goes to the local First Aid squad or Fire Company.
What is one tip you would give to home brewers to make better beer?
"Take COPIUS notes! Write down everything, your successes and your mistakes!"
What advice would you give someone who wants to open a brewery?
"Do your research, talk to a lot of brewers and breweries. Luke from Pinelands was very helpful and spoke to me about location. Check with the town before you commit to a lease…what is their appetite for having a brewery, would they welcome the business. Being a long time resident of Point Boro, I was very familiar with the town and demographic, which was very helpful."
If you were to brew a beer, regardless of production and sales cost, what would you brew?
"Hmm. I don't have much more room here, but I would say start a barrel program. A barrel aged stout, definitely!"
From opening day forward, what has surprised you most?
"How hard it is to get a restaurant or bar to put your beer on tap….and to keep it on tap?"
Other than your own brew, what is your go-to drink after a long day (or night) at the brewery?
"Cape May Devil's Reach! I love Belgians and this is a great example of the style, always consistent and delicious. Fat Tire is also a good everyday beer for me and I always try to support our local beers."
Where do you see the brewery in 1 year…5 years?
"Let's say 3 ½ years when my SBA loan is paid off! That will give me the freedom to transition to full time at the brewery and help increase our distribution. I had anticipated we be 65% of sales from the tap room and 35% distribution, but, because I am the brewer and distributor and have another full time job, we are at 90/10."
BONUS QUESTION
What kind of music do you listen to when you brew?
"Oh, I'm all over the place. Bush was on when you came in, Jack Johnson playing now. I have a Dick Dale (the late king of surf guitar) album that we play in the summertime."
So if you are visiting the Jersey Shore or are in Ocean County, before you go OTB to the Point Pleasant Beach boardwalk, stop in the Boro and have a beer at Frye Brewing!