So you are a craft beer geek, or maybe even a craft beer newbie, and want to know what the best glass is to get the full experience of what an IPA offers. It is definitely not the pint glass that most beers are typically served in at bars and restaurants. This glass is actually a 16 oz shaker glass and is not really designed for beer. This glass was designed to make mixed drinks and is usually part of a set, the other piece being an aluminum vessel that fits over the top so you can shake them Tom Cruise Cocktail Style, not pour beers in it.
The craft beer boom has changed the way a person looks at a beer and specialized glassware has become a big part of the experience and hobby. A ton breweries have moved away from serving their offerings in mugs and pint glasses, instead opting for proper glassware so their patrons can explore the enhanced flavors and full aromas of the beer they are drinking. Having a few at home can help recreate that brewery tasting experience. Specialized glassware can also make a great and inexpensive gift for the craft beer geek in your life. I know that I have never been disappointed with the gift of a beer glass.
So what are the best glasses for IPA's? Here is our take!
Rastal Teku 3.0 Tulip Beer Glass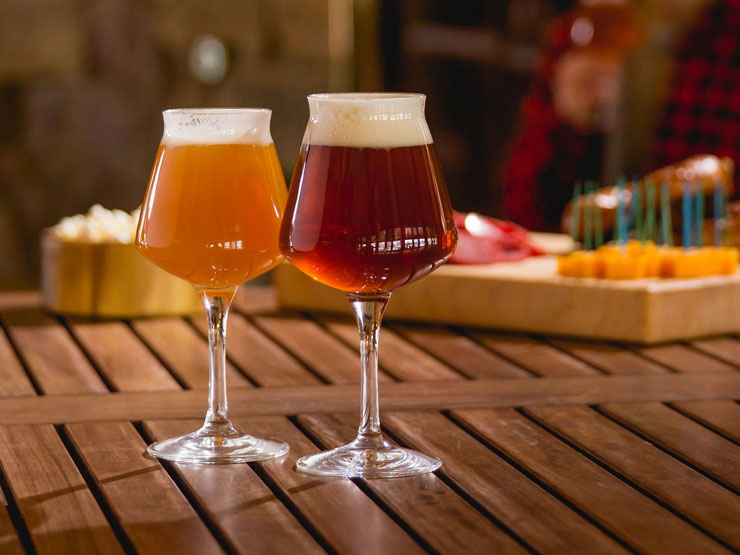 Manufactured by renowned German glassmakers Rastal, this Teku glass has become our favorite tasting glass for IPA's. Its contemporary look has garnered praise from cicerones to homebrewers alike for its quality and ability to present a variety of craft beers perfectly. The idea behind the concept was to provide the glass with an unusual curvature and an upward-widening, yet straight-lined rim area that would complement each other, thus allowing each beer to fully unfold its unique wealth of aromas. The glass was created to enhance the drinking experience and it was carefully designed to capture the aromatics for the nose and palate. Plus, it looks classy!
---
Spiegelau 19.1 oz IPA Beer Glass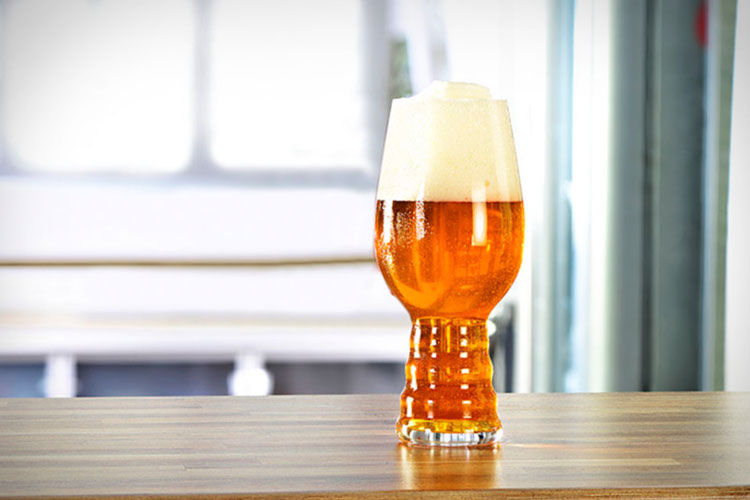 This glass was designed to showcase the complex and alluring aromatic profiles of American "hop-forward" IPA beers, preserve a frothy head, enhance taste and mouth feel, and present a comfortably wide opening for the drinker to savor each beer. This glass was developed in collaboration with Sam Caligione of Dogfish Head and Ken Grossman of Sierra Nevada, 2 of the preeminent IPA producers in the United States. This was the first specialty glass that I ever bought for a beer and still use them until this day.
---
Be Hoppy Ultimate Pint Beer Glass by Cheers All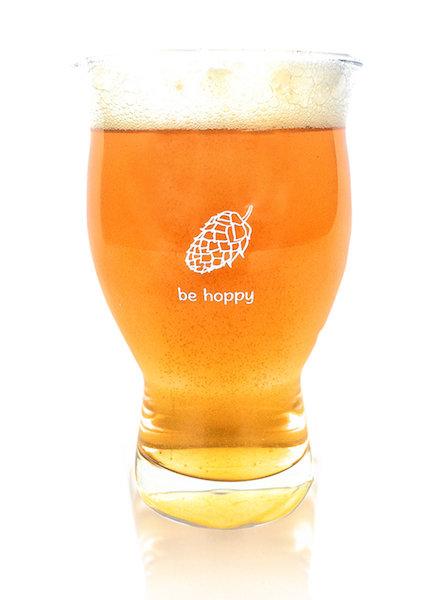 This is another of the scientifically designed glasses that's design is specifically made for hoppy beer. The large bowl and narrow top trap the beer aromatics while the flared lip release the flavors to your nose when you lift the glass to drink your beer.  This bottom of this glass is also etched with a hop leaf to give you more than 100 points of nucleation points which help with head retention and releasing the flavors and aromas of the beer, sort of like a wine aerator for beer.  We are not fans of traditional pint glasses (and please don't stick them in the freezer!) but this glass has a ton of great design that went into it and the beer benefits greatly.
---
Du Vino Nucleated IPA Beer Glass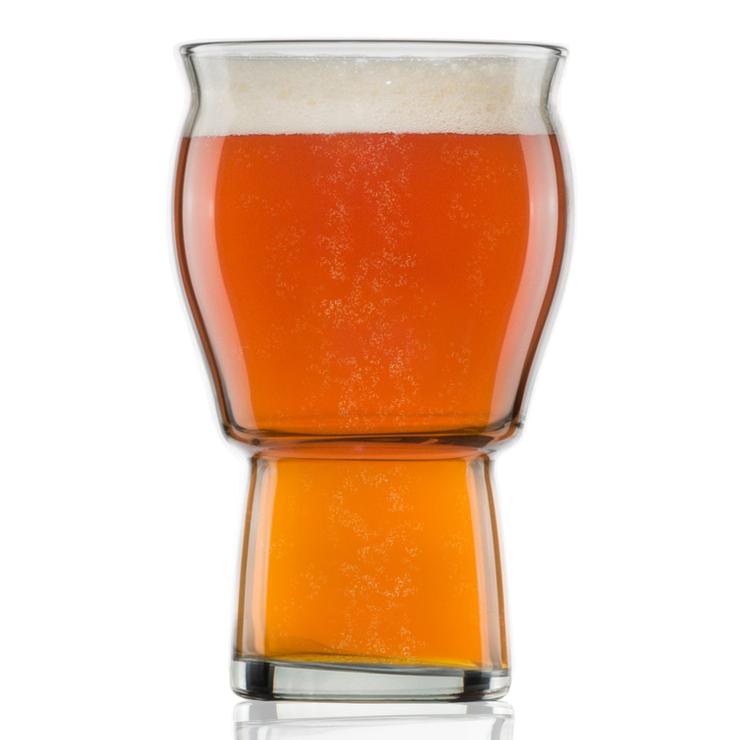 Another wide aroma-releasing bowl and curved top design glass that was developed with an IPA in mind. This glass is also etched with 5 circles on the bottom to create high-agitation nucleation that to create a steady stream of bubbles to enhance head retention. This glass is well-made and has a heavy base which fits comfortably in your hand.
---
Luigi Bormioli Birrateque Craft Beer Glasses
This shape of this glass, designed and crafted in Italy, allows the beer to flow slowly into the mouth while maintaining the foam at an adequate level when drinking. This glass also uses a nucleated design which they call a "foam control system" that maintains the head and enhances the aromas of the beer. In addition, this glass carries a 25 year warranty against chipping on the rim or foot, and any discoloration from the dishwasher. With all of the above glasses, we have seen slight discoloration over time if you put them in the dishwasher but, as with all fine glassware, it is better to hand wash them to preserve their efficacy.
---
NO. JUST NO
A frosted mug, the aforementioned Shaker/Pint glass, and a Red Solo cup are not the best beer glass to drink craft beer from. Brewers want you to experience the full flavor of the artisanal craft beer they have created and the beer glass you pick can certainly enhance this experience!