Colt's Neck is a beautiful community in Monmouth County, known for apple orchards, golf courses and horse farms. It is home to Bruce Springsteen (who actually owns the largest equestrian farm in the township), Jon Stewart and Queen Latifah. Move over Boss, because there is a new celeb in town as Source Brewing is making a big impact on the beer community in NJ!
I made the trip a little north of our South Jersey footprint, into the mythical land of Central New Jersey and spent some time talking to Co-Founders Phil Petracca and Greg Taylor. I also had the opportunity to ask Greg (who is also Director of Brewing Operations) our iconic 10 questions. Here is the story right from the Source!
Origins
The 10 barrel brewery is located in a renovated 130 year old farmhouse right off of busy Rte 34. Despite extensive renovations, they managed to keep the original farmhouse atmosphere including the silos. The 2 floor taproom is impressive with rustic wood tones and a staircase that takes you to an outside balcony with views of the surrounding countryside. "We wanted to create a tap room focused brewery, with a warm friendly atmosphere.", said Phil who can usually be seen greeting and serving customers along with his wife, Keri.
To Greg, the brewery harkens back to his experience in Europe where he trained at the Doemens Academy in Munich. "There were beer gardens at every corner. Each town had their own brewery and their own local beer. The beer culture isn't taboo in Germany, in fact it thrives and is part of everyday life."
Greg was a brewer at Weyerbacher in Easton, PA when Phil was the owner and co-founder of Fizzics, the home beer dispensing system. "In promoting Fizzics, I had the opportunity to cross paths with many brewers in the industry. Greg and I had the same vision about beer and brewing." Fizzics was a huge success culminating in the product being a season 8 winner on Shark Tank in 2016. Greg soon joined Phil at Fizzics and in 2017, they both decided to combine their knowledge and experience and create what would be Source Brewing.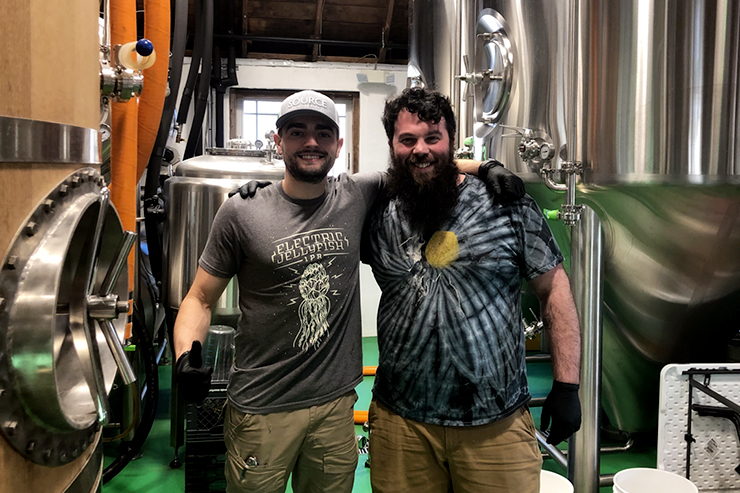 All About the Foam
I first visited Source when they opened in August of 2019 and was immediately impressed by their lagers. Due to capacity and the time investment required, most new breweries do not focus on lagers. Source bucked that trend and right out of the gate their Helles and Pilsner were fantastic. Why? It's all about the foam. Many beer drinkers know foam is your friend. Source has invested in a state of the art flow control tap system, that can actually customize your pour. For example, their latest German Pilsner, Rhine Heights, is offered by the half liter mug in either Crisp, Smooth or Milk pour.
"We are able to combine Belgian aesthetics with good old American ingenuity!"

~ Greg Taylor: Co-founder, Source Brewing
"Our tap system can control the flow rate of the beer and we are able to add the foam after the liquid to enhance the flavor experience." Phil said. We also make sure to have the proper glassware for each beer style." Greg adds, "We are able to combine Belgian aesthetics with good old American ingenuity!"
Brazilian Collaboration
Greg the traveling brewer's adventures didn't stop in Germany. While studying together at the Siebel Institute in Chicago and Doemens Academy in Munich, Greg became friendly with a Brazilian brewer, Bruno Faria. They kept in touch and when Bruno opened his own brewery, Cervejaria 3 Orelhas (3 Ears Brewery) in Brazil, Greg went down to brew Source's first collaboration. The resultant Grand Cru, an 8% ABV Dark Farmhouse Super Saison has a beautiful dark color and has a unique flavor from the unrefined Brazilian rapadura sugar. A great collaboration across 2 continents and a delicious beer.
And now the 10 Questions!
As mentioned, Greg has an extensive brewing pedigree with a Master Brewers degree from the Siebel Institute of Technology and Doemens Academy. His team also includes Head Brewer Jeremy Watts who was a brewer at the renowned Carton Brewing for 7 years and also worked at the recently closed Brewer's Apprentice in Freehold. Jeremy and Phil were also present for part of our conversation, so some of these are joint answers.
1. What was the first beer you brewed? How was it?
Source Brewing: A partial mash Amber Ale and I also added honey and cinnamon. It was drinkable.
2. What is your favorite style to brew and why?
SB: Anything with a dark malt mash. The roasty smell just lingers all day!
3. Do you pay attention to Untapped, Beer Advocate, etc.?
SB: No. Our goal is to be a tap room focused brewery, so we really like to hear feedback and recommendations directly from our customers but I don't get caught up in all of the online opinions.
4. How do you source your ingredients locally?
SB: We like supporting local whenever possible, so we've gotten malt from Rabbit Hill in Shiloh, cranberries from Rutgers, and honey, berries, and hops from the Fir Farm, which is right here in Colts Neck.
5. Is there one tip you could give home brewers to make better beer?
SB: Temperature control is so important! It can be expensive, but is essential to the process.
6. What advice would you give to someone who wants to open a brewery?
SB: Don't open with the bare minimum. Make sure you have the proper equipment, materials a business plan and a partner to go through it with you. Also, plan for contingencies, because they will happen! Lastly, anticipate the time frame being longer than you planned, because it will be.
7. If you could brew any beer, regardless of cost, materials, etc., what would you brew?
SB:I would like to blend a Gueze from various vintages of spontaneously fermented American lambics. A big time commitment where a lot of patience is needed!
8. Since you opened what has surprised you the most?
SB: How fast we got into brewing certain styles, canning and the amount of beer we have actually produced already.
9. After a long day at the brewery, other than your own beer, what is your go to beverage?
SB: Hmm, I can't pinpoint a particular beer, but I typically go for something gold, dry and hoppy.
10. Where will you be in a year? 5 years?
SB: We are going to max out at this location, so I can see us expanding. We'd love to have a German Lager Hall and even a blendery with a sour focused taproom someday…
Phil, Greg and team, thanks for taking the time to talk with us!
---
For more information on Source Brewing visit https://sourcebrewing.com