Beer has certainly come a long way over the last few years. The many different styles and flavors have opened up a whole new world for people that were not beer drinkers in the past. But what if I told you that beer makes a great addition to a cocktail? Beer adds body, bubbles, and flavor to cocktails too. Beer can be the main ingredient of the drink or play a small role as a complement to the spirit you are using.
Here are 5 cocktails that you can make using your favorite beer:
Beer Fashioned Cocktail
This play on an Old Fashioned Cocktail is easy to make and stays true to its roots. The Old Fashioned has made quite a comeback with the bourbon explosion that we are seeing all over the country. Wheat ales seem to work best with this recipe but feel free to try something different. Get crazy and try it with that 10.5 Juicy Double IPA you have in your fridge.
1 oz. bourbon
2 oz. wheat ale
2 dashes Angostura bitters
1 Dash Orange bitters
1 tsp. brown sugar (you can substitute with white sugar if you choose)
Orange twist
Maraschino Cherries (Optional)
In an old-fashioned glass, add brown sugar, then a few dashes of Angostura bitters and a dash of the Orange bitters. Add the bourbon, then muddle until the sugar dissolves. Put a few ice cubes in the glass, then add the beer. Squeeze the orange twist over the mixture and wipe the inside of the glass with the twist. Add a Maraschino cherry if you want, I love to get that booze-soaked cherry at the bottom of my glass when I finish my drink.
Michelada
This drink is commonly referred to as the Mexican Bloody Mary. Well, this is not entirely true. The Michelada can use Tomato or Clamato juice but it is not necessary. The Michelada is a cocktail born in Mexico that consists of beer, lime juice, spices, and in some cases, peppers. The recipes vary from region to region and are dependent on the ingredients that are available at that time. We are fans of the classic Michelada using tomato juice that most people are familiar with, but the classic recipe does not use juice at all.
This drink is best made using a light Mexican-style lager such as Corona, Modelo, Tecate, or any local version you can find. This recipe is the base for a ton of different versions, feel free to add some Tomato juice if you want.
1tsp Salt
1 tsp Chili powder
2 oz Lime Juice
2 tsp Hot sauce
1 tsp Worcestershire Sauce
12 oz Light Mexican beer
Lime wedges
Take a shallow dish and mix the Salt and Chili Powder. Take the glass and rub the rim with one of the lime wedges. Dip the glass into the chili/salt mixture to create a spicy rim on the glass.
Next, fill the glass with lime juice, hot sauce, Worcestershire Sauce then fill with ice. If you want tomato juice now is the time to add it. Now pour the 12 oz of beer over the ice to the top of the glass. Before drinking the Michelada give it a gentle stir to combine the ingredients without losing the carbonation. Enjoy!
Fun Bobby's Beerspresso Martini
This play on an Espresso Martini gives you all the flavors you would expect plus some bubbles to make it just a tad different. Thanks to Rob Callaghan of Tuckahoe Brewing Company for the recipe.
4 oz Coffee or Espresso Stout
2 oz Bailey's Irish Cream
1 oz Chocolate Vodka
Fill a shaker with ice and add the ingredients. Do not shake, stir gently so you do not get a foamy mess! Strain into a Martini glass and garnish with a few coffee beans and you are ready to go!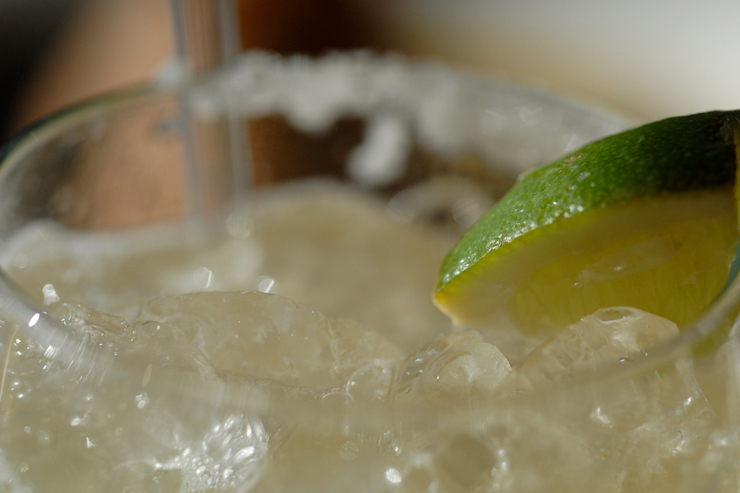 The Beer Margarita
This drink, also known as a Cervecerita or Beerita, is a play on the classic Margarita with the flavor profile you would expect but with a bit more body and bubbles. Like the classic margarita, there are many ways to add twists to the drink by adding different fruit mixtures. We thought this recipe worked best when it was mixed in a pitcher, so invite a few friends over to help finish it off (or not!). You can also use a generic margarita mix if you are in a hurry. Thanks to the NJ Beer Brothers for the recipe. Follow them on Instagram @njbeerbrothers.
2-12 oz Bottles Mexican Lager
1 can of Frozen Limeade Concentrate, thawed
3/4 cup Tequila
1/4 cup Sweet and Sour Mix
Kosher Salt to rim the glass
Ice
Lime Slices and wedges
Add all of the ingredients to a pitcher, stir gently (don't foam it up!). Sprinkle some kosher salt onto a shallow dish, wet the rim of the glass with a lime wedge, and dip it into the salt to rim the glass. Add ice to the glass and pour the drink gently to keep the carbonation, garnish with a lime slice and enjoy.
The Beer Margarita #2 Classy AF
We got a ton of different recipes for Beer Margaritas and could not settle on just one. This version is a bit higher-end, but the result is an enjoyable, easy-to-make drink.
2 oz Blanco (white) Tequila
1 oz Grand Marnier (you can substitute Cointreau or Grand Garonne if you like)
1 oz Lime Juice
1/2 oz Agave Syrup
4-6 oz Mexican Lager (to taste)
Kosher Salt to rim the glass
Lime Wedges/Slices
Rub the rim of the glass with a lime wedge and dip into the kosher salt and set aside. In a shaker with ice combine the Tequila, Grand Marnier, lime juice, and agave syrup and shake well. Strain into the glass, top with the Mexican lager, and garnish with a lime wedge. This drink can be served over ice or on its own.