If you missed Witch-Craft don't blame us. We have been telling you for months that this was the can't miss event of the year and, ahem, we were right. The festival drew close to 3000 attendees and we have never had such a positive vibe from an event like we had here at Lake Lenape. Forget that this was the first year, this Halloween celebration was filled, as promised, with "broos and spirits" along with a great selection of local food vendors, retailers, spiritualists, and a cast of spooky characters that roamed the park entertaining a great crowd.
Tom, Karen, Tara, and I were at the park on Friday night and we were watching our guy Jon Henderson and his staff at Good Time Tricycle put together this Halloween experience and, as we saw their vision coming together, could not wait for everyone to see what they made. Our excitement was genuine and when we saw the completed grounds on Saturday afternoon we were floored. We knew that this was something special.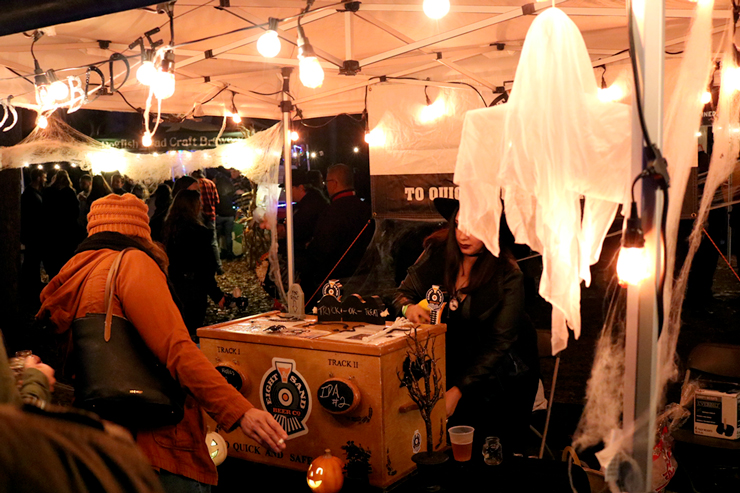 When the gates opened people started to flood the park, but it never felt crowded. The layout was built in such a way that it was almost circular creating a positive flow. The outer area of the park was filled with vendors and the inside of the park had fun stuff like Headless Horseman races, a Silent Disco (our favorite!)  a DJ stage, seances, karaoke, and more. The beer and spirits vendors joined in the spirit and most dressed for the occasion, adding to the cool Halloween vibe. Actors roamed the park dressed as classic movie monsters and interacted with the crowd, spiders fell from trees, giant movie screens were showing scenes from classic horror films, and a clown maze dared you to find your way out.
One of the great things about Jon and his staff is that during the event they already are diagnosing any issues and making notes for the next one. Tara and I ran into Jon about half-way in and he was already talking about the improvement he is going to bring to next years iteration of Witch-Craft which is why their events are always so successful. Jon is very collaborative with his vendors and people that are attending  and is constantly trying to improve the attendee experience, something that has made The Atlantic City Beer & Music Festival the envy of all other beer fest across the country. Innovation is hard to find in this business, but Jon and the gang at GTT always seem to come up with a few things at every festival they do and implement a plan to pull it off. Inevitably, most of the stuff that GTT creates usually shows up at other festivals-but, like people say, imitation is the highest form of flattery (I think Jon may disagree a tiny bit with this!).
There was so much more than I can fit into this piece but, suffice it to say, Witch-Craft was a tremendous success and we absolutely cannot wait for next year! Congrats to everyone at Good Time Tricycle Productions on yet another spectacular event. Oh, and remember, The Atlantic City Beer & Music fest is only 5 months away, so make your plans today to go to one of America's premier beer festivals. Remember, WE TOLD YOU SO!
Witch-Craft will be retuning on 10/17/2020