Westville Brewery's much-anticipated Grand Opening and Ribbon Cutting has been announced for June 23, 2018 at 3 PM. This is the culmination of a 20-year love of brewing by Co-Owners Mike and Pam Gordy who, along with their good friends Co-Owners John Metz and Chuck Eckert, are bringing craft beer to downtown Westville, NJ in the old Westville Firehouse on Broadway Ave.
It Started with a Home Brew Kit
The seeds for the Westville Brewery were sown back in 1996 when Mike was working as a steamfitter on a job in Philly and one of his co-workers asked him if he was interested in brewing beer. Mike said "Sure, why not?" and purchased a $60 Home Brew kit from him that consisted of a 5-gallon bucket fermenting kit with an airlock, some caps, and a capper, Charlie Papazian's famous "The Complete Joy of Homebrewing", and extract to make the beer.
Mike and Pam cooked the beer at her brother's house and then transported it to Mike's parent's house where he was living at the time. "I can remember Pam and me bottling the beer in the bathroom, washing bottles in the sink and the tub, it wasn't very sanitary but we didn't know a lot about what we were doing." Mike also remembers that his father was asking what they were doing and he yelled from the bathroom, "We are botting beer dad!" They filled their Anheuser-Busch returnable bottles and stuck them in Mike's closet for 2 weeks. Long story short, the finished product was not so good. Mike promptly put the kit up on a shelf and forgot about it.
"We're botting beer dad!"

Co-Owner, Mike Gordy
Some time went by and Mike and Pam were moving in together and were unpacking and they came across the kit and figured they would try it again, and from then on "it just steamrolled from extracts, to partial mashing, to all grain, and then we started to build the all-grain system with a hot liquor tank, mash tuns, putting pumps on it" Mike told us.
Finding Their Place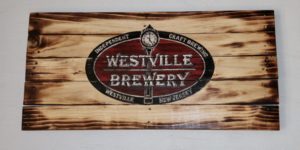 Fast Forward to 2014 and John was talking to his friends (Mike and John have known each other since kindergarten, and Chuck since high-school) on Christmas Eve about how he wanted to open a bar, and that is when Mike told him about his brewery idea. They all decided to see what they needed to do to open a brewery.
They started to look for locations for the brewery and, being locals, they wanted to stay in the area. Pam, who has her real estate license, started looking for a place and like most breweries found it hard to find something that would fit in their budget. One day the Westville property popped up and they checked it out. As soon as they walked in Pam told us they thought, "Yeah. We could do something with this," and the location was settled upon. They signed their lease on June 1st of 2017 and started to get to work. They did all the demolition and construction themselves, including putting the brewhouse together.
I visited the brewery for this interview and was impressed with the transformation. They have done a ton of remodeling. They tore down the storefront walls so they could use the garage doors of the firehouse (the previous tenants had pushed them up and built around them to make a storefront) and open the building to the street.  "We opened up the wall and found a button, pushed it and the doors came down," John told us. They had been hidden for 20 years and worked the first time, pretty amazing!
Westville Brewery is not forgetting the building's firehouse roots and will feature it prominently in their decor. Pam and the guys have done a deep dive into Westville history and will honor it by naming its beers with names that are rooted in the local history and landmarks of the town. Here are some of the names and styles:
Thomas West Pale Ale (Thomas West is the founder of Westville)
Pipewrench Porter (In honor of Mike's Union)
North Station IPA (After the Firehouse)
Timber Creek NEIPA (Timber Creek is the local river)
Parkview Saison (Named after the local Elementary School)
Mike is also doing a Gluten-reduced beer for people that have a gluten sensitivity, and an as-yet-to-be-named Mango Wheat (Check back closer to opening for the official menu).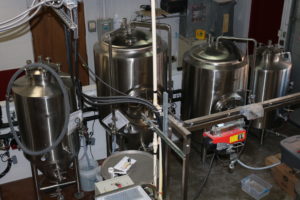 Westville will be brewing on a 2 BBL system and has room to expand in the future.  When I asked Mike what is the one thing that he wished he knew prior to opening a brewery was he told me that, "You don't know what you need until you need it. The process of getting started and even after you brew your first beer. I wish they had a blueprint on how it gets done. You send in your paperwork and they call you back and ask for more. They have been great to us, but we just wish there was some kind of blueprint to help you along the way". This is something that we hear often at South Jersey Beer Scene, and just about everyone that we have interviewed has echoed some sort of this. Business idea anyone?
Now the big news! Westville Brewery has announced that their Grand Opening and Ribbon Cutting will occur on June 23, 2018 at 3 PM (They will also be having soft openings on June 15th and 16th with limited hours which will be posted closer to the dates on their Facebook Page)
Westville Brewery also has a membership club called "Clock Keeper". For $100 a year you can purchase a membership that will give you a bunch of cool stuff including:
A limited edition Clock Keeper T-Shirt
A Westville Brewery Pint Glass
A 32 oz Growler with a free fill on your birthday
Your name on the "Clock Keepers" Wall
Member's Only Party
Invites to Small Batch Tappings
Membership Card and Lanyard
10% Discount on Merchandise
Congratulations to Mike, Pam, John, and Chuck on the opening of the brewery. They have a great brewery and are even better people!  I, for one, cannot wait to Meet Them At The Clock!
—
For More Information on Westville Brewery and their membership club visit www.westvillebrewery.com