When Brooke Tidswell and Jay Kuhn met a few years ago trading beer they had no idea that they would be opening up a brewery. What started as a friendship made through beer trading has blossomed into Farm Truck Brewing, soon to be open in Medford.
"We were constantly running into each other" partner and Head Brewer Jay told us. "We chatted about beer all the time. Drinking beer, trying beer, trading beer and we started talking about opening a brewery, like what if we could do it" Brooke added. So when an opportunity arose from the closing of a local brewery to get equipment, Brooke approached Jay and asked, "do you want to do this?" Jay responded "Yes!" and Farm Truck Brewing was born.
Beer Tourism
Located in Downtown Medford on Main Street, the brewery has been built from the ground up. Literally the ground up, when I first visited the entire place was gutted and Brooke showed me his vision of the space. "It's beer tourism now. We are able to design our taproom around the brewery so people can come in and enjoy the ambiance and drink our great beer". The space is being built for a true customer experience. If you want to hang out they have a space for that, if you are just stopping by you have a place set up just for you to pick up fresh beer in crowlers from the 4 taps in the "mini' tasting room. There is also plenty of room for expansion, and Brooke and Jay already have plans for that in the upcoming years.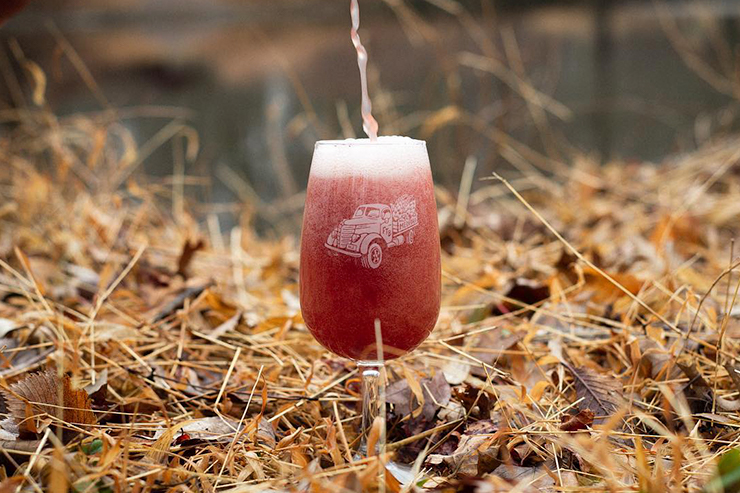 Farm Truck will open with a 2 1/2 BBL System and hope to upgrade to a 5 BBL system in the first year. With 7 fermenters and a 5 BBL brite they will be able to have a significant amount of beer on hand in various styles. They have the ability to have 16 taps flowing with liquid, but it may be a bit before all 16 are going at once. They guys are concentrating on the beers that made them fall in love with craft beer, IPA's and Pales, but they will also have stouts, sours, and much more as they continue to grow and expand the brewery.
The name Farm Truck comes from Brooke's love of old trucks and the commitment to work with the local farming community in sourcing local ingredients for their beers. The guys are very passionate about being a big part of the community and this is something that is very important to them.
The Barnyard Lifetime Membership
In that community spirit, Farm Truck is offering a unique membership opportunity with The Barnyard lifetime membership. This membership has a ton of great perks and is limited to 200 founding members. Here is what you get
Custom Farm Truck Brewing Glass
10% off of pours and crowlers
20% Merchandise
Exclusive Pre-Party for members
Reserve Crowlers, Cans, and Bottles before release
Special mid week hours for To-Go pick up
Private Facebook group for beer discussions and Questions for us
The Barnyard Brew day, once a year a chance for the members to join us for a day of brewing.  Hang out, join in, relax, watch, whatever you want to experience you can.
This all for $250, a really great deal for a lifetime membership.
We are really excited to see what Farm Truck has in store for us when they open this Spring. After just spending a short time with the guys you can see and feel their passion for great craft beer. We will have all the details for the opening as soon as they are announced.