When Gusto Brewing Company owners and co-founders Zach and Adriana Pashley looked for a place to build their brewery 1 year ago, they decided there's no place like home. The married couple have lived in South Jersey their whole lives. Zach was born and raised in Marmora and Adriana grew up in Cape May. Along with Wildwood-native head-brewer, Dan Petela, they opened Gusto Brewing Company at 3860 Bayshore Rd. in North Cape May, N.J. about a mile away from the Cape May-Lewes Ferry.
Both Dan and Zach love brewing beer. Zach, who left the coast guard after 6 years of service, has been brewing in his garage since 2012 and Dan discovered his love for brewing at age 22. Cape May Brewing regulars will most likely recognize Dan who worked in the tasting room.
The brewery is located in the North Cape May Shopping Center and has become a vital part of the local community. The high ceilings and ample windows make the tasting room a bright and open space. You can enjoy your brew at one of their assorted tables, a seating area made of church pews, or at the unique poured concrete bar with room for at least a dozen customers.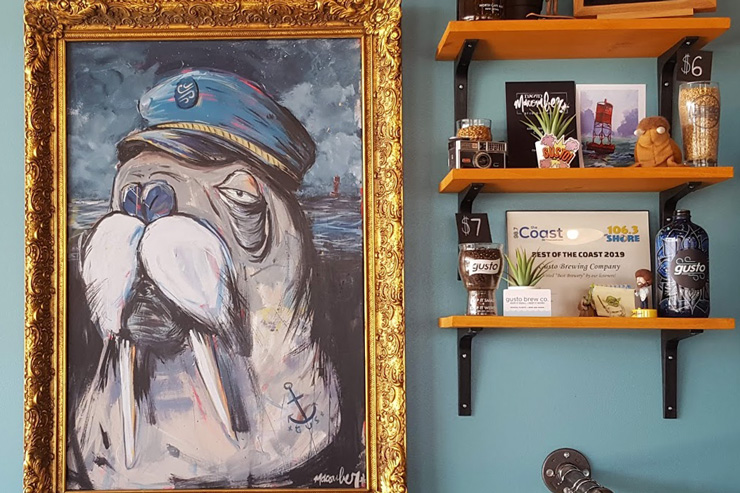 Watching over the taproom is a portrait of the brewery mascot Gus –  a walrus with a sailor hat that just goes with the whole theme of the brewery and Cape May. Rounding out the rest of the Gusto crew are tap tenders Lacey and Daniel who, along with Dan, Zach, and Adriana, are able to tell you about the unique beers that they have on tap. Now that we've learned a little about Gusto let's put Zach and Dan through the 10 questions.
1. What was the first beer you brewed, and how was it?
Dan Petela: It was an All Grain American Wheat beer kit from Northern Brewer. I brewed in my dad's make shift camping water heater which could have been a little rust which would explain the amber color. It was ok, and definitely drinkable, because we drank the whole thing.
Zack Pashley: I did an all grain Belle's Two Hearted Clone from a recipe I pulled off of Brewer's Friend. It was good and drinkable, but it was no Two Hearted. Once you brew a beer that is palatable, you are hooked.
2. What is your favorite style to brew, and why?
DP: Lately it has been the hazy boys. Trying to get that permanent haze can be challenging. I'm always working on the recipe to make them softer.
ZP: I don't really brew much anymore, but I would have to say the fruited beers. I'm more on the cellarman side now, but it's neat to taste it along the way from lightly hopped wort that has been fermenting for a little while, and now it gets fruity. I truly enjoy the transformation.
3. Do you look at ratings on Untapped, Beer Advocate, or Rate Beer, and does it influence your recipes?
DP: I do look at Untapped, maybe too much, but I'm getting better. I like it when there is feedback whether good or bad, instead of just the rating. I want to know why it's good or bad, but it in no way would affect my recipe.
ZP: I was the same way where I may have read them too much. Then one day I drew a line in the sand for my mental health. I use it more as a business tool now to see what's trending.
4. How do you stay connected to the local area in relation to sourcing ingredients?
DP: We've hooked up with Out There Coffee. They are like the coffee version of us, craft and really small batches. We've done 2 beers with them so far, and can't wait to do more.
ZP: We are hooking up with a local distillery in a way that breweries don't normally do. Once everything is finalized SJ Beer Scene will be the first to know!
5. What is the one tip you would give home brewers to make better beer?
DP: Two things: 1. Temperature control during fermentation is extremely important. 2. Water chemistry. There is a lot to understand, and learn, but it can make a good beer into a great beer.
ZP: I totally agree with Dan on those 2 things, but for me the one thing that made it more enjoyable was when I started kegging. Bottling sucks! And all the equipment you need to do it right takes up so much space in your kitchen cabinets.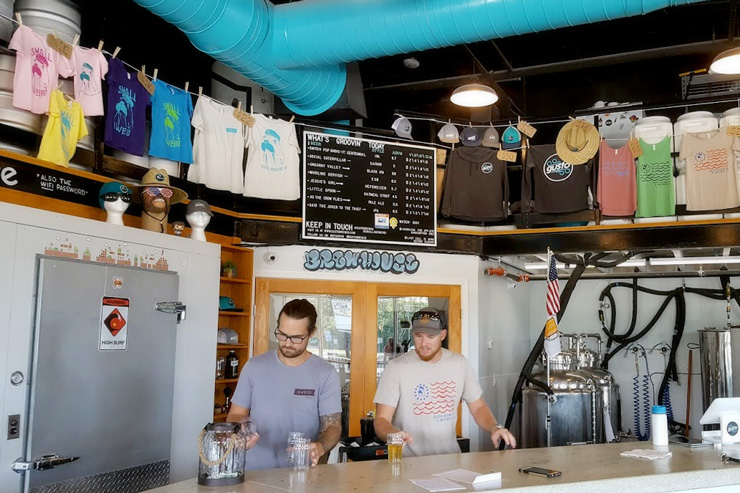 6. What is the one piece of advice you would give to someone who wants to open a brewery?
DP: Don't bank on getting Citra hops at an affordable price if you're a small brewery. I wrote a bunch of recipes using them, and only really bought them once or twice.
ZP: Don't over extend yourself financially and with your time. At the beginning Adriana and I thought we could do everything by ourselves, but quickly realized we couldn't do it and keep quality up. If you over extend yourself with paper work, construction, and a million other things that come up, the beer will ultimately suffer.
7. If there was a beer you could brew with no regards to cost, production, or sales, what would it be?
DP: A tart Saison with wild yeast bacteria locally foraged. Rustic Farmhouse Saison would be it for sure.
ZP: I really love the Milk Shake IPA's we've put out so far, and have really been digging the sour milk shakes from other breweries. They have a ton of fruit, a little sour with hop characteristics. With the restrictions we have in our brewhouse, I would have to say a nice kettle soured Milk Shake IPA.
8. Looking back to opening day forward, what was the 1 thing that happened that surprised you the most?
DP: The overwhelming support of the local community. It's great when strangers keep coming back because they love your product, and become regular customers. It's just very humbling to be embraced by the community.
ZP: Of course the support of the community. What also really surprised me is the constant learning that goes on in this place. Looking back the first few weeks of brewing were chaotic, and we thought we had it down pretty good, but this a craft where you are always learning. There is always a way to make good thing great, and great things incredible.
9. Other than your beer, what is your go to after a long day at the brewery?
DP: We are fortunate to have people bring us beer gifts a lot so we have a nice supply of random treats in the fridge. So it's not a certain beer, but whatever gift is in the fridge.
ZP: First I would like to inject long "hot" day into this question. Dan's really been turning me on to Saison's. After a long "hot" day you want something light and crisp which a Saison is.
10. Where do you see the brewery in a year? In 5 years?
DP: A faster keg washer would be great, and a 3 BBL system would cut down on the amount of brew days I have. The outside patio area being approved. Also, to have a few accounts would be awesome. 5 years: This is our footprint, and it's very small, and expansion isn't really possible at this juncture. I want to continue to learn and improve on all the beer we make.
ZP: Some limited can releases are definitely in the near future and a small canning program so we could have some package goods in the brewery. 5 years: The goal of the brewery has always been to make enough beer to make this taproom accessible for our community and our visitors as much as we can. The lofty goal is to make enough beer to be open more days and get some outside accounts.
Bonus: What's the best beer you ever had?
DP: When we were at the GABF in Denver we went to Cerebral Brewery Co. and had a really good Citra dry hopped lager. It's not a sexy style, but that beer just did it for me.
ZP: Mine was more recent. It was a haze boy that Icarus Brewing had at Summer Swelter. I can't remember the name, but it was an 11% triple IPA that drank like a 6-7% IPA.
Bonus 2: What do you listen to when you're brewing?
DP: There is only one answer to that question, Rush!
ZP: I would have to say Rush by default which is fine, but I like a little variety. I like Led Zeppelin, and 80's music, with 90's hip-hop thrown in. Definitely The Beastie Boys
Thanks to Zach and Dan for sitting down with me to talk about New Jersey's Southernmost brewery. I love the beer they are making and all the good they are doing in the community. You would be hard pressed to find a better group of human beings than those that make up Gusto Brewing. So take the drive down the GSP to Exit 0 and head towards the Ferry to where they are keeping it "Small and Weird!" at Gusto Brewing Co.
And, as always, Enjoy Your Pour!
—
Share some love for NJ's southern most brewery: