Is your refrigerator being overtaken by your Craft Beer Collection? When your kid asks you where the juice boxes are do you respond "behind the Heady Topper"? We may have found the perfect solution – The NewAir 15" Built-in 96 Can Beverage Fridge in Black Stainless Steel. NewAir asked us to do an honest review on the unit for our readers so we put it to the test for a few weeks and here are our findings.
The Look
This is a really good looking appliance. The unit itself is made to be free-standing or can be used alongside standard base cabinets in your kitchen as an under counter unit. It is sleek and compact with integrated LED lighting that is both functional and gives it a modern feel. The Fridge vents out of the front of the unit which does not take away from the aesthetic of the unit, and is very functional for small space installations.
The Specs
Can hold up to 96 12 oz cans, shelves are easily arranged to accommodate 16 oz cans which is what we see in the Craft Beer market today
Digital temperature control that enables you to get down to 36°F. No dials, no guessing
A compressor-based fan cooling system which includes a carbon filter to keep the air around your drinks fresh.
Size: 22.60″D (24.25″ w/handle) x 14.80″W x 33.75″H, 76 Lbs (empty, of course)
1 Year Warranty, 30 Day Money Back Guarantee
The Review
Let's talk about packaging first. When we received the unit we were suitably impressed on the care that NewAir takes in packaging their product and how easy it was to get out of the packaging. This is a big pet peeve of mine!  Nothing worse than buying a big ticket item and needing 6 people to remove from the box. Obviously, the folks at NewAir share my belief that you should be able to get to the prize quickly without sacrificing shipping protection.
The unit comes basically put together, all you need to do is attach the handle. There were also 2 plastic bins that fit inside the unit (one was for the bottom of the fridge and the other is to hold desiccant to preserve wine/beer corks). The shelves are super adjustable and could accommodate both 16 oz and 12 oz cans in the same configuration. If you were only going to put 16 oz cans in the fridge it can hold 72 cans which is still a bunch-that's 18 4-Packs my friend! Suffice it to say, we feel it has a tremendous amount of space.  In the configuration that you see here, we were able to put 48-16 oz, 16-12 oz, and a small shelf that we were able to put a few mead bottles and a couple 375 ml with no issues.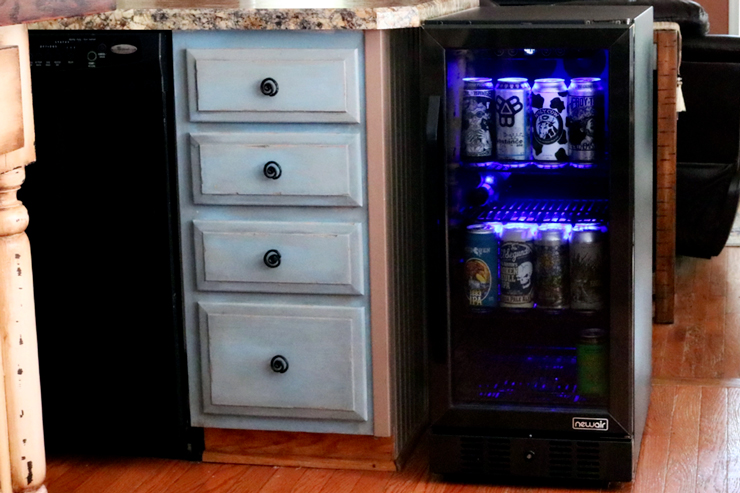 After putting it together we turned it to 36° F and it got to the optimal temperature very quickly. The compressor is whisper quiet and you could not hear it running unless you were looking to hear it. We had read that sometimes these smaller beverage units have a loud click when the compressor turns on, but we did not hear it on the NewAir unit. As you can see in the pictures, I set it up next to my kitchen counter and there was no impact of sound or heat in downstairs living area adjacent to the kitchen.
One of the other great things about this Beverage Fridge is that it goes up to 66° F so you are also able to use it to cellar and age beers. Ales, Stouts, and Barleywines all age really well between 55°-60° and this unit will be able to keep that temp perfectly which is optimal for this process.
Finally, it has a lock on it so that you can keep people that don't need to be in the fridge out of it. This is actually a pretty useful feature that adds to the overall quality of the unit.
We think that this is the perfect fridge for any beer connoisseur or just someone looking to add a cool look to their bar or kitchen, or to just free up some space in your main refrigerator. It is great for 12 oz cans but also accommodates many different sizes and is highly adjustable. Easy temp controls, and a cool LED lighting system that makes it look like a fridge from the future are a few of the things that adds to the overall quality and usefulness of this well designed beverage fridge. If you are in the market for one, we highly recommend that you check this one out.
You can learn more about the NewAir 15" Built-in 96 Can Beverage Fridge in Black Stainless Steel by visiting NewAir. You can use the code 20SJBEERSCENE at checkout to get 20% off the purchase price.
Have a product that you would like us to review? Hit us up on our
contact us
page.