You are sitting on the beach and take a refreshing pull from a fresh, cold bottle of your favorite craft brew out of the cooler. A few minutes later, the second sip's not quite as cold, and by the third sip, it's bathwater-warm and foamy. You decide to dump it and start over with another bottle. You try to stop this wasteful cycle by using that free beer koozie from a grand opening of a real estate office, or was it from that guy at the liquor store in the Bud Light T-Shirt giving out samples next to the big display of domestic beer piled to the ceiling? Either way, the koozie does little to help you win the battle against the weather and the transfer of warmth from your hand to the bottle. It keeps your hand warm, but doesn't keep your beer cold. There's a cure for this, the BottleKeeper: a life jacket for your beer.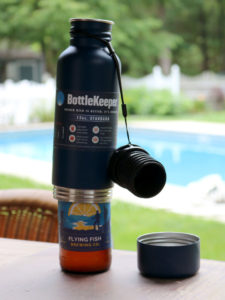 BottleKeeper is a significant improvement over a neoprene zip-up bottle jacket. It begins with the same kind of neoprene sleeve but, instead of ending there, the sleeve is set inside a stainless steel container designed to keep your beer colder for longer. It has a screw-on top, that serves as a bottle opener. The BottleKeeper 2.0 Standard 12oz that we reviewed is extremely light weight, sits comfortably in a standard cup holder, and fits most bottles that are on the market. They also offer a 12 oz Stubby (think Founders Type Bottles) and a 22 oz Bomber version.
---
Bottlekeeper Review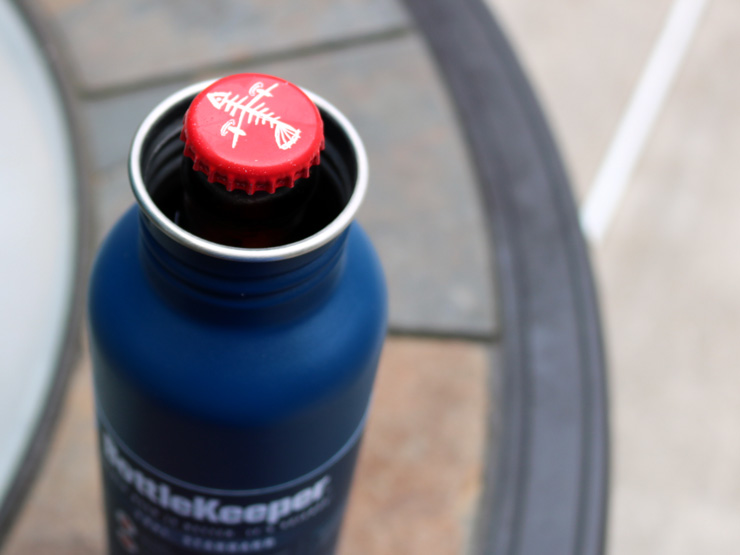 Does it really keep your beer cold?
The first thing we wanted to find out is if it really kept your beer colder longer. I grabbed a Flying Fish XPA Citra Pale Ale that I had in my fridge, stuck it in the BottleKeeper, and left it outside for an hour. The result? The beer was still ice cold. I  left it out for another 3 hours and checked it again. Although the beer was not ice cold, it was not yet warm, still drinkable. Although I have never waited 4 hours to drink a beer, it is good to know that the technology in this product really works in keeping the beer cold.
Is it durable?
One of the testimonials from BottleKeeper is that you could drive your car over it and it would still stay intact. I have forbidden the use of glass bottles around my pool because of my paranoia over them breaking. People have given me the business when I explained why they couldn't bring their Michelob Ultra or Heineken bottles  (not all of my friends and family are craft beer fans) to drink poolside, or in the pool. So, I took that same beer that we tested for temperature, screwed the lid back on, and dropped my brand-new BottleKeeper 2.0 on my sidewalk. The bottle stayed intact – although the beer was a little shaken up. Now feeling pretty confident, I took the BottleKeeper and did a nice underhand toss and slow pitch softball lobbed it 10 feet away expecting the worst. Once again, the BottleKeeper kept the bottle intact. After the drops, the BottleKeeper had a few tiny scratches on it but still looked brand new.
Conclusions
The BottleKeeper really is a nice piece of technology. It does exactly what is supposed to do, protect your bottled beer and keep it colder longer. Here are a few things to consider:
Pros
Lightweight, durable, and looks nice
Easy to use, you can remove an old bottle and put a new bottle in in less than 30 seconds
Dishwasher safe
Looks like one of those fancy water bottles (keeps the beach police at bay!)
Multiple sizes and colors, they even offer custom etching
Replacement lids and neoprene are available if you ever need them (there is a lifetime warranty, you can exchange for any reason at any time)
Cons
It's only for bottles (Duh). For cans we like the BrüMate Hopsulator Trío or the YETI Rambler
The bottle opener built into the cap is just ok. You should probably have another one around just in case
There a few bottles that don't fit, and some that fit better than others, but that list is pretty short. You can view the complete list here
There was a "new car smell" to it, but after washing it a few times it was gone.
Overall we would say that this is a great item for any beer drinker, especially somebody that does a lot of outdoor activities.