Another Ocean County brewery hits a milestone, as Last Wave Brewing in Point Pleasant Beach kicks off the summer with their First Anniversary celebration!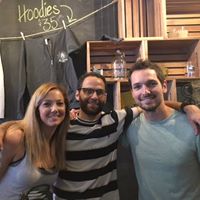 "This year has been incredible, far above expectations!" said co-owner Bert Roling."We were welcomed into the town like old friends from the moment we opened the doors.  Dani (Bert's wife, co-owner, designer) has done an amazing job of keeping the tasting room on track and operating like a well-oiled machine. Nick (co-owner Nick Jiorle) and I are both working the brewery full time now so we are pumped to keep pushing the envelope and delivering tasty concoctions that make Last Wave stand out from the crowd!"
Last Wave has built up a great following as well as a large distribution system and their beer can be found in over 30 bars and restaurants, from Hoboken to Long Beach Island.   "We've had a great reception and are blessed to have such a supportive community.  Our hope is that we are creating a buzz for downtown Point Pleasant that echoes through the other businesses here, not only in the bars that get first dibs on our newest brews but also in the plethora of shops and eateries in our community."
To help kick off the weekend, Last Wave will have some variations on some old favorites:
* Soul Arch Saison (Brewed with Hibiscus)
*  A -Frame IPA  (aged on tequila soaked oak and mango)* Red Sky Red Ale (Aged on rum-soaked vanilla beans)
And Of Couple Of New Releases!
*Dawn Patrol Gose ( slightly tart with a  touch of salt and loads of Guava!)
* Flatspell Belgian Witbier (classic easy drinking summer beer)
Congratulations to Bert, Dani, Nick and their team!