When I think of a cooler my mind immediately goes to the giant, heavy, metal, Coleman that my Dad used to pack up with Miller High Life and take to his Sunday softball games. It kept his beer cold, but was not very portable when full of ice and the other things he was trying to keep cool. Innovation in coolers has taken a gigantic leap since then and you can now spend upwards of $500 for premium brands. Those are definitely nice, but I have always preferred something less pricey and portable. A soft-sided backpack cooler has always seemed to work best for my needs.
What are the Best Backpack Coolers?
So what are the best backpack coolers? There are literally hundreds of them available for purchase on Amazon. You can get a Yeti Hopper Backflip 24 Can Cooler that will set you back $250, but I usually try to find something more affordable. We took a hard look at the reviews and ordered a few of the most popular backpacks to give them a shot. All models held a minimum of 24 cans and were less than 50$.
How We Tested
For our testing we did each of the following:
Filled each backpack cooler halfway with water to see if they leaked
Put 12-16 oz cans in with Tourit Ice Pack Coolers and Cooler Shock Reusable Ice Packs (both of these are awesome!) and wore it for an hour outside in the Summer Sun
Put dry paper towels in all of the dry compartments to see if they got wet during the test
Checked the bag 8 hours later to see if it was still cold
All the backpacks coolers we tested were leakproof unless you turned them upside-down and were still cool inside after 8 hours. Ergonomics and extra features ended up deciding what we liked best. In the end we did have a clear winner:
Best Overall
TOURIT 30 Can Lightweight Insulated Backpack Cooler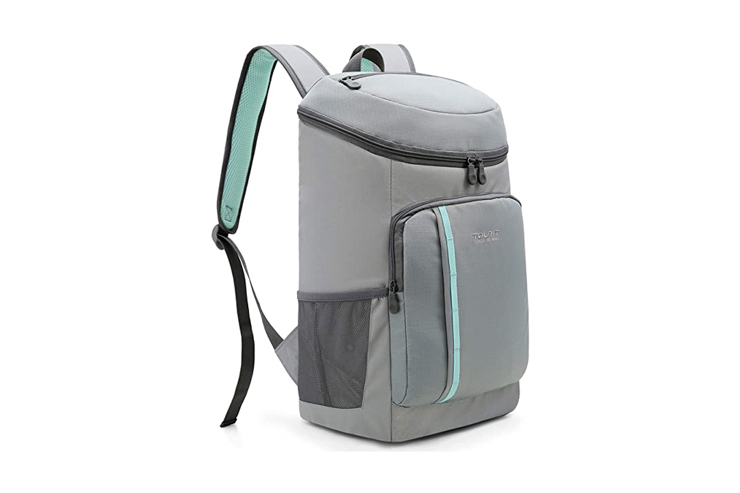 With nearly 10K ratings on Amazon and a 5 Star average, this backpack cooler was our favorite. It can fit 30-12oz cans, and around 20 16 oz cans with room for ice or ice packs. It was comfortable on our back and allows for a lot of adjustment – there is a generous amount of length on the straps to fit us big guys. The cooling compartment is well made and had the strongest feel of the 5 we tried.
The bag also has 2 side mesh pockets, 2 zippered pockets in the front, a zipper pocket on the lid, a mesh pocket on the strap for a phone, and has a beer opener on the strap. It is also waterproof and comes in a bunch of colors. A common problem with backpack coolers is that they tend to condensate and wet your back. After walking around for an hour outside there was zero evidence of any condensation.
---
Honorable Mention:
Coleman 28-Can Leak-Proof Soft Backpack Cooler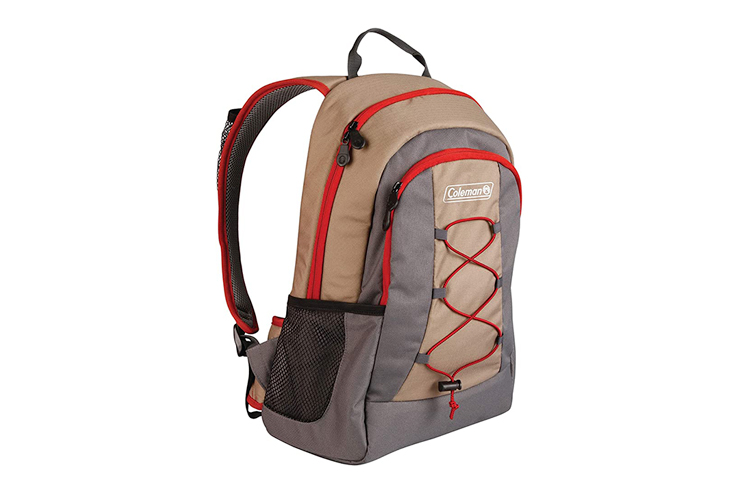 Of course we had to try a Coleman, the granddaddy of cooler makers. This is set up in a more traditional backpack style with a large compartment in the back for the cool stuff, and a large zippered front pocket. There is also a waist strap in addition to the shoulder strap. We found this to be more annoying than practical and there is no way to take it off. It was also not big enough for a larger person. There were lots of reviews for this product that stated it leaked, but we could not replicate that. We also liked the Bungie strap on the front.
The one issue we had is that it did start to get wet from condensation about 30 after being worn outside. Other than that it performed well, although the cooler compartment seems a bit smaller than the others we tested. Looking back at the leakage factor, I can see where it may leak if you use real ice instead of icepacks as the zippers come far down the side, where the others we tested were more of a lid-type. It also did not stand up on its own well which could exacerbate that issue.
---
Best Value:
SEEHONOR 25-Can Insulated Backpack Cooler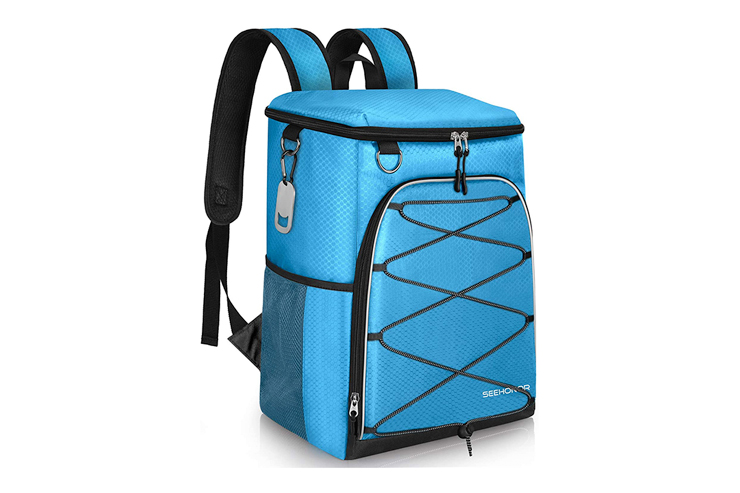 This is the one that started this conversation. South Jersey Beer Scene's Tom Renzulli received this as a gift and I was instantly jealous. It is very lightweight with a padded back, has a generous amount of pockets, and was able to keep everything cool for the full 8 hours. There was a small amount of condensation on the back of the pack after an hour, but nothing crazy.
The main reason this was not our first choice is that the straps on the backpack could be a bit wider. When it is loaded with beer and ice the thin straps dig in a bit to your shoulder as opposed to the Tourit cooler we picked as our favorite. We also liked the Bungie cord and the inclusion of 2 D-type hooks to hang stuff from. There is also a reflective strip, 2 side mesh pockets, and a mesh pocket inside the cooler lid itself. It does come in some pretty cool colors which set it apart including Orange and Purple. Good value here for a sub $30 backpack cooler.
---
All of these popular brands of affordable backpack coolers have many styles, colors, and sizes and most of the reviews are extremely positive. One thing you may want to take into consideration is just how big you need. The larger bags do get heavy and would be cumbersome if you had to carry 30 beers on your back for a long distance. We think one way to avoid this is to lighten the load as you go! But seriously, ice melts and makes water and sloshes around in the bag, definitely recommend one of the ice packs that we used above rather than traditional ice.