In this season of brewery anniversaries, our friends at Three 3's Brewing Company of Hammonton joins the party celebrating their 2nd Anniversary on Saturday, February 2nd at 1 PM. There are lots of fun things going on including free raffles every hour, Pop Shop Food Truck, Cake, and new beers tapping at 1 and 5 pm. They have been making daily announcements of the beers on tap and today the 12th one will be announced on 2/1 at 3:33 pm on their Facebook page, so make sure you check them out!  I also have a little inside information that another announcement may be made at that time, so make sure you go to Three 3's on Facebook!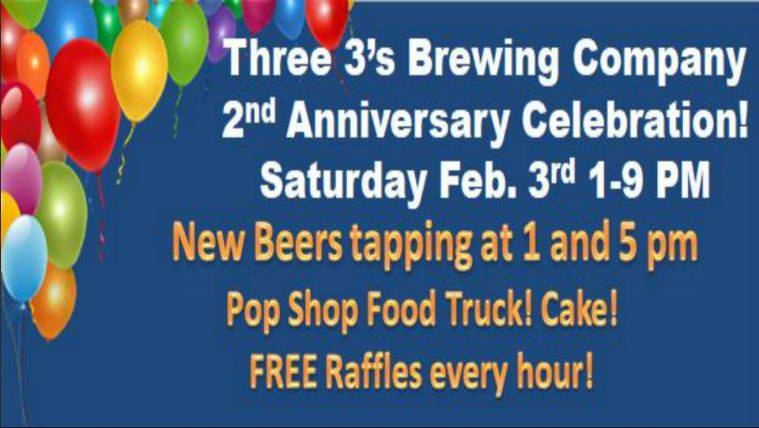 Things have really boomed for Three 3's since their last anniversary.  They have increased their distribution over a wider area of the state and beer aficionados everywhere are always quick to come try their new releases.  Three 3's was widely known for producing great IPA's, but they also have really expanded their tap list with some great Stouts, Pale Ales, Saisons, and Porters.  Just last week they released a unique collaboration that they did with Brotherton Brewing Company called Unfathomable Transgression, a unique "Jersey Style" Hazy Lager.  Bugg Juice was also the winner of the 2017 IPA Smackdown at Cork City in Hoboken in a blind taste test. In addition, Totally Drenched was named Best DIPA at the Maloney's IPA Competition, and they won a Kick the Keg event at the Mellow Mushroom in Toms River.  That is what I would call a pretty good run! I was able to ask Mike Geller of Three 3's a few questions regarding the brewery and the answers are quite interesting!
Since your last anniversary things have really boomed for the brewery,  What are some of the things that you attribute this too?  
We don't think there's any one specific factor this can be attributed to, but we'll certainly share some thoughts. First and foremost is the support of the local community. Without local support, a tasting room cannot succeed, and we're extremely grateful for the support we have and continue to receive. To grow outside the local area, we've been more active in participating in beer festivals throughout the state, and beer events in general. The exposure to people who may not know where Hammonton is located is invaluable. Being in a small, close-knit town has advantages and disadvantages and while our local community's support is extremely important, the small town setting necessitates gaining acceptance in the marketplace across the state. Seeing this acceptance and the demand for cans led us into canning one of our most popular beers, Drenched at the end of the summer. I think cans play an enormous role as they're easily shared, traded and moved not just around town, but across the country. This acceptance and an investment into a pilot system has allowed us to create small-batch beers through our Evolution line which have been extremely well received. It's a cool way for us to get really creative and make something exclusively available in our tasting room.
Where do you see the brewery when you celebrate your next anniversary?
By next year, we hope to grow fairly significantly. We're in the final stages of negotiations to begin distributing into Philadelphia to get our beer out into a large market that is just across the river. By next year we hope to expand our cellar capacity. We're in the process now of adding our first Brite tank, which will provide much needed additional capacity and will help us in an effort to make cans available more regularly. We also anticipate releasing more beers through our Evolution Series and launching a new experimental series focusing on darker beer styles. We'll hopefully be able to share more soon on that.
Three 3's started canning this year.  Will we see more this year?  Any thoughts on distribution to other parts of the state?
Definitely, we have plans to continue canning and are currently planning the next run. As for distributing cans, we did distribute a small number of cans from both runs we've done. Unfortunately, with limited capacity, this meant that stores received one or two cases which didn't keep the beer on the shelves regularly. On that note, we will be launching a brand new beer this spring, exclusively in cans which will leverage some of the lessons learned through our Evolution series. We can't say much more now, but stay tuned at AC Beer Fest for more details!
Congratulations to the entire staff of Three 3's Brewing Company for reaching another milestone.  We look forward to big things in the upcoming year.