James Griffin can build anything! That's just one thing I learned about the founder of South Jersey's newest brewery, Mechanical Brewing in Cherry Hill, which will have its Grand Opening on November 27, 2020. Now that opinion is from someone who has trouble working a screwdriver without bleeding, but from the hop/gear company logo to the tap handles and the sheet metal bar, James' artistic and mechanical side shines through.
I had the pleasure of visiting with James and Brewmaster Rick Vickers before their opening to talk about the brewery origins, beer, family and I also got the opportunity to ask the iconic SJBS 10 questions.
Origins
James' love of the building and the mechanical side of things comes from his late grandfather, Wayne Scull, who owned a machine shop in Philadelphia. He was a huge influence on James and the brewery is a bit of a homage to him. A shadowbox on one of the walls contains many of the tools and equipment he used. The office door behind the bar bears his nameplate and Scullbier, a delicious Baltic Porter, immortalizes him in the tasting room. James says, "One of my regrets is he isn't around to see the brewery and everything we have done here."
James comes to us from Hickory, Va. and migrated to NJ in 2004, which he remembers as the year of the NHL lockout. His first job experience in NJ was as a professional gambler in AC, which some brewery owners would tell you is a great prerequisite for opening one. In 2007 James opened his first business, FinishLine Auto Salon, installing vehicle accessories, electronics and, lighting to personal and fleet vehicles. This also gave him a chance to put his creativity, artistic and mechanical skills to use.
He had always liked touring and visiting breweries in his travels, so when the opportunity came up to open his own here in NJ, he took advantage and the plans for Mechanical Brewery started to develop. However, as with many businesses, there were the usual delays and hiccups, including the unusual delay of a worldwide pandemic. James states, "We had all our licenses in April and would have opened sooner, if not for the coronavirus emergency."
He was able to get back on track and created a unique and fun tasting room, including a color-coded tap list display. Magnetic letters in vibrant primary colors light up the board, with creative names like Antikythera, a kettle-soured red ale named after a 2,000-year-old mechanism found on the floor of the Mediterranean near the Greek island of the same name. Some historians have dubbed it "the first computer", but I dub the beer delicious.
Flight Club Crew
In keeping with our current times, instead of the Mug Club for members, popular with some breweries, James established a Flight Crew club, where members get discounts on beer, merchandise and can even design and construct their hop cog for the wall. This was also done creatively, inspired by James' daughter who thought that the color pieces looked like Legos. New members, armed with tweezers, get to choose their colors from the pieces and put them together like a puzzle. My creation is on the wall, you can see it in the pictures below. Maybe not the greatest color design but, hey I'm not the artist in the family!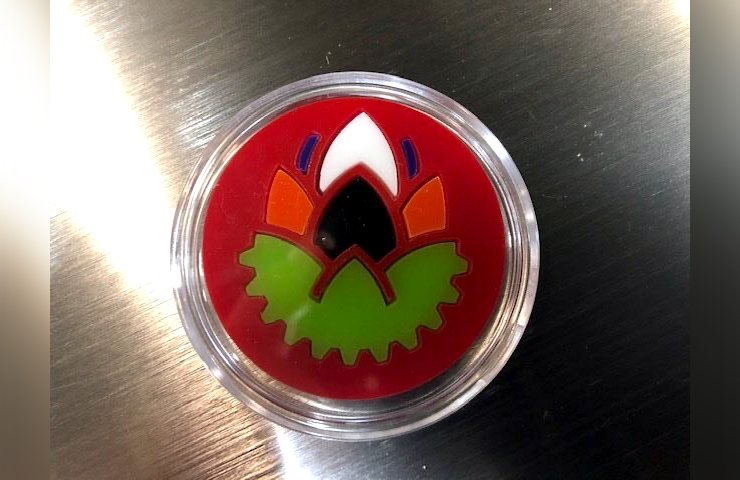 Rick Vickers, Brewmaster, joined us and we were able to discuss his brew history. Rick is a 20 year home brewer, and South Jersey native, very well known in the local beer communit. James said, "I didn't know how well known he was until we went to a Brewers Association meeting and everyone knew him!"
The delay in the opening has enabled Rick to get to know the new 3.5 barrel system, which includes Blichmann Unitanks, enabling him to ferment under pressure and carbonate all in one vessel, saving time and space.
And here are the world-famous 10 Questions!
1. What was the first beer you brewed? How was it?
Rick Vickers: I was inspired by Charlie Papazian (AHA founder) and got a kit from a local homebrew shop for a Cinnamon Stout. It was terrible! I tried it again a year later…it didn't get any better! I did get better at the process and eventually arrived at a Cranberry Wheat, which was a success.
2. What is your favorite style to brew and why?
RV: I like to brew Gose. Easy drinking and very easy to make!
3. Do you pay attention to ratings, i.e. Untapped, Beer Advocate?
James Griffin: We don't have many ratings as we aren't officially opened, but we will see how it evolves, but we probably will not let it affect what we do.
4. How do you stay connected to the local area in relation to resourcing ingredients?
JG: We haven't yet, but it is definitely something that is on our radar once we get established.
5. What is one tip you would give to homebrewers to help them make better beer?
RV: Know the basics and be subtle with your adjuncts and additions. Fermentation temperature control is also key to a good beer.
6. What is one piece of advice you would give to someone who wants to open a brewery?
JG: Don't do it during a pandemic!! Also think of what it might cost and double it!
7. If there was a beer you could brew without regard to ingredients, production cost, or sales, what would it be and why?
JG: I never thought of that being a limitation. If there is a beer we are going to brew and it costs more to produce it, we will charge accordingly.
8. Looking back from the beginning of your plan forward, what has surprised you the most?
JG: The crazy hurdles we have had to go through, Covid, honestly just about everything has been a surprise this year!
9. Other than your beer, what is your "go-to" after a long day at the brewery?
RV: Anything from Tonewood. I always have Fuego in my fridge, but String Theory, Freshies are all excellent!
JG: I love Cali Creamin from Mother Earth out in California. Nice, delicious vanilla cream ale.
10. Where do you see the brewery in a year?  In five years?
JG: With everything going on now, we want to look at the first year and see what happens. We are not planning on distributing initially, so we want to see how the taproom operates and then we will take a look and see what we can do.
James and Rick, thank you for taking the time to let us get to know you and the brewery.
For more information on Mechancial Brewery and their Grand Opening visit https://www.mechanicalbrewing.com