For nearly half a century Atlantic City's Steel Pier was home to one of the most amazing attractions in the world,  the Steel Pier Diving Horse.  Up to 4 times a day an energetic, well-trained, water-loving horse would dive from as high as 60 feet from an elevated platform into a large pool for a throng of spectators. Usually an attractive young woman in a bathing suit would ride on the back of the fearless steed as it jettisoned through the air and into the water. The horses trained for several months and only the most valiant were selected for the big show. 
As Legend has it, the idea of the Diving Horse was born in Texas by "Doc" William Frank Carver, a 19th Century sharp shooter who traveled the Wild West performing shows that included animal acts and shooting exhibitions. The story has it that while his show was traveling over a bridge in Nebraska, Carver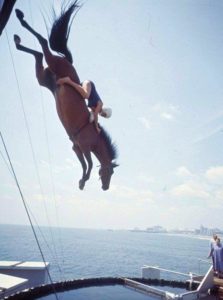 and his horse fell through a wooden bridge plunging into a river. This mishap gave birth to the Diving Horse, which quickly grew to become his favorite act in his traveling show. Doc's children Al and Lorena helped train and take care of the horses. It is said that Lorena was the first rider of diving horses and she trained her own favorite horse, Ruby Red Lips,  to make the dives. In 1923 Sonora Webster joined the company and quickly became one of the most well-known divers starting at the young age of 15.  Senora would go on to marry Al and continue to dive and help Al run the company after Doc Carver's death in 1927. The traveling show was eventually split into two distinct companies with one of them settling in Atlantic City in 1928. 
The continued to run on the Steel Pier until 1978, when pressure from animal rights group forced it to close, even though during its 50 years on the Pier not one animal was harmed. When the animals did jump, they jumped on their own. No cattle prods, whips, or any other devices were used to force the horse to do the dive. In fact, sometimes it would take a horse up to 20 minutes to decide to jump. In some cases the horse would just turn around and walk down the ramp and not jump at all. When an injury would occur it would be to the diver, and that was usually from the horse thrashing in the water to swim after a dive. The major injury happened to Senora Carver when she landed in the water face first. She wasn't expected to be propelled face first and her eyes were open causing her to rupture both retinas and leaving her virtually sightless. This did not stop her from diving as she continued to do so for 11 more years until her retirement.
The Tun Tavern is no stranger to history. The original Tun Tavern was established in Philadelphia in 1685 by Samuel Carpenter in what is now known as Penn's Landing. The Tun Tavern hosted a number of first meetings for individuals and organizations including Benjamin Franklin's use of the brewery to recruit members for the Philadelphia militia as it prepared to fight a Native American uprising. The Tavern would also later host meetings for George Washington, Thomas Jefferson and the Continental Congress. The Tun was also the place where the United States Marines held their first recruitment drive.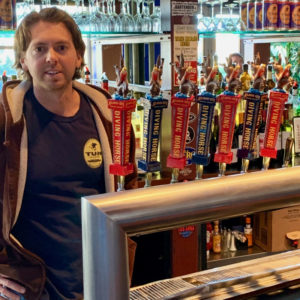 The reincarnated Tun Tavern in Atlantic City was established by Montgomery Dahm and opened in 1998. As of this date it still is Atlantic City's only brewery using the famed quality water found in Atlantic City to make craft beer. With Montgomery's love of history, his service to this country, and his affection for the Atlantic City area, the development of the new Diving Horse line of beers seemed like a no brainer. With new Brew Master Brad Judge at the helm of the Diving Horse brand, one can only expect excellence, and that is what he has accomplished. Coming off of his collaboration with Atlantic City's own Little Water Distillery's Whitecap Barrel-Aged Stout, Brad has proven to be an up and coming brewer in South Jersey ( See our "New Tun Tavern Brew Master Brad Judge Crafting Great Beer in Atlantic City).
The Diving Horse line of beers has three distinct flavor profiles on its roster. The Diving Horse IPA is a New England Style IPA. This hazy beer is full-bodied, yet smooth, with an intense flavor profile brewed with a combination of barley, oats, and wheat. It is heavily dry hopped with Amarillo, Mosaic and Citra. The flavors and aromas of tropical fruits, melon, and citrus will definitely impress those with the more fickle taste buds. 
The second beer under the Diving Horse line is the reimagined High Altitude Double IPA. This beer is brewed with oats and wheat. It is aggressively hopped with Simcoe, Citra, and Mosaic leaving it with a citrusy, tropical fruit and pine flavor profile that makes this a very drinkable double IPA. (Almost too drinkable in my opinion!)
The third beer in the Diving horse line of beers is the Red Lips. This is an American Red Ale named after the famed diving horse owned by Lorena Carver. This beer has a slightly sweet and toasty malt profile with a light hop bitterness that is extremely drinkable.
With their launch of the Diving Horse line of beers early this May, The Tun Tavern has created the perfect balance of Atlantic City's past and future. With their reputation in the food industry already being top-notch and Brad Judge as their Master Brewer the Tun Tavern is now Atlantic City's next must visit attraction.