Back in January when I sat down with Paul and Jen Simmons to talk about their upcoming 4 year anniversary I also did a "10 Questions with the Brewer" segment.  Paul is a really great guy and we talked for well over an hour, and I could have talked to him for another 10 more!  These articles are one of my favorite things we do here at South Jersey Beer Scene and Paul's was no exception!  We get a lot of similar answers, but how they each got there is often times very different.  Glasstown will be having its 5th Annual Adult Easter Egg Hunt at the brewery on 3/31 at 11:45 AM.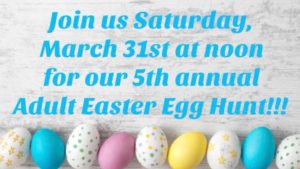 Paul, Jen, and the rest of the staff at Glasstown hide 1500 Eggs with a chance to win prizes!  You must be 21 or older to participate, and the number of eggs you will be allowed to find will depend on the number of people who show up.  This is a really fun an unique event that gets bigger and bigger every year, so get out to Millville and find those eggs!
What was the first beer you brewed, and how was it?
It was an Amber Ale kit from Northern Brewer. I had been out in Colorado and had a New Belgium Fat Tire, and really enjoyed it so I wanted to make something similar. It turned out really good, and it went really fast. It was right after that I brewed a Helles Lager since I just got a refrigerator for the garage to control the fermentation temperature. Initially, it tasted good, but after about 2 months it started getting an onion taste.
What is your favorite style to brew, and why?
It would have to be IPA'S. I am a hop junkie, and have to try IPA'S wherever I go. There are so many ways to change the characteristics of them from the kind of hops, to the time you add them to the boil. It's just a very dynamic style for something that seems so narrow. I also enjoy a big, heavy, barrel aged Stouts. I'm not really a whiskey guy, but I do enjoy a hint of whiskey in my beer.
Do you look at ratings on Untapped, Beer Advocate, or Rate Beer, and do they influence your recipes?
I have completely given up on reading those types of sites. For the first 2 years, I read every review on Untappd, and freaked out about a thousand times. If you don't like a certain style then you can't give it an educated review. Just because you don't like a style doesn't mean it's a 2 star beer. It's not just my beers either. When I see other local breweries getting 2 stars I feel angry for them, because I know that beer isn't a 2. I truly put more stock about our brand from what people say on our Facebook page, at the Taproom, and at festivals. It would definitely be a NO when it comes to them influencing our recipes.
Author's Note:  I agree with something that Paul said. I too think those types of sites will continue to lose credibility unless they change the rating system.
How do you stay connected to the local area in relation to sourcing
ingredients
?
We started using Rabbit Hill Farms lately as have a number of local breweries. In the fall when we make our Honey Brown we use local honey, and when the time comes to make something with blueberries, and cranberries we have a local source for that too. One other way we source local is with our glassware. Millville is known for their glass factories, and we would use Gerresheimer Glass Inc. for our growlers until they moved to Chicago. We now get our glassware from Duran Glass in Millville. All of our merchandise is made local, and we try to buy as much equipment local as well.
What is the one tip you would give home brewers to make better beer?
The answer that was given by Paul was one I heard often, "You really need to control your temperature during fermentation. It is extremely difficult to put your wort and yeast into a glass carboy, and not have the temperature spike. If you want to consistently make good beer at home you need to control temperature during fermentation."
What is the one piece of advice you would give to someone who wants to open a brewery?
Don't be afraid to start small. We didn't have the money to start out with a 15 BBL system like we where told. You will need a realistic budget to work off of. We started out only brewing 12 gallons at a time, but if your numbers are right, and you figure out that you can hit those numbers you'll be okay. You also need to be mechanically inclined so you can fix things on the fly. If you can't afford something you need to know how to make it cheap.
If there
were
one beer you could brew with no regard to cost,
production, or sales, what would it be?
Without question, it would be barrel aged beers. I would love to brew something, and stick it in a whiskey or wine barrel, and forget about it for 3-4 years. Firestone Walker does this, and I just think it's so neat.
Looking back to opening day forward, what was the one thing that happened that surprised you the most?
We started out brewing mainly IPA's, but quickly found out that the Millville area had a large dark beer loving colony, so we rapidly switched gears, and started brewing some. We where totally caught off guard by that, but we love making, and drinking them. Judging by the response everyone else likes drinking them too.
Other than your beer
, what is your go to after a long day at the brewery?
Usually, it would be Founders All Day IPA, but I do like to enjoy some barrel aged stuff like Bourbon County or KBS. I also got my hand on a couple Founders Backwoods Bastard that I like to enjoy, but mostly All Day IPA. You can have 3-4 and get sloppy.
Where do you see the brewery in a year
? In 5 years?
Just to continue canning. Hopefully be able to hire another part time or full time person. We would love to add another tank or two, and another fermenter or two. Also, start spreading out a little farther with our distribution zone. See if we can start opening 6-7 days a week. In 5 years we would want to be up to a 10 BBL system, and swap out some of the 7 BBL tanks for 20 BBL tanks. Increase our distribution area to about 2/3rds of the state, and maybe start sneaking into Philly. The ultimate 5 year goal would be to open a Farm Brewery on a piece of land we have our eye on. We would love to do a whole sustainable thing with growing some hops, and barley, and have some animals. We want to make it more of a daytrip for the whole family where you can walk around having a beer while the kids feed the animals spent grains, and learn about the whole brewing process. In the fall we would have a pumpkin patch, and hayrides.
Bonus Question. What's the best beer you ever had?
That would have to be Firestone Walker's Stickee Monkee.
Bonus #2. What do you listen to while brewing? I got this idea from Tadhg Campbell of Slack Tide Brewing.
It's a mix mash of everything. Primarily it's 80's  90's rock, and early 2000 alternative rock. There are a few rap days, and some jazz days thrown in for good measure. If we are canning, and Rage Against the Machine comes on it seems to speed up the process.
Thanks so much to Paul and Jen Simmons of Glasstown Brewing Company for spending some time with me!  They are truly 2 of the nicest people that you will ever meet!
Enjoy Your Pour!