One of the first craft brewery locations in NJ has been revamped, reimagined, and reborn as Toms River Brewing. Toms River Brewing is located at the old Rinn Duin Brewery in Toms River and has gone through a complete transformation. The purchase was a gradual transition over the last couple of years and was completed in April of this year. The renovated brewery had its grand reopening on November 2.
Toms River Brewing is owned by Jim Mulligan, who also owns several other businesses, so the day to day operation falls to Lacey Stryker. Lacey's official title is VP of Marketing, Tap Room and Office Operations, so as you can see she wears many hats!
I got to catch up with Lacey as well as the brewing team of head brewer, Bob Warzecha, and assistant brewer George Lissenden. Paul Harlan is also on the brew crew but wasn't there when I visited.
Lacey started at Toms River Brewing in April of this year but has a long career of working in various capacities in the beer wine and spirits industry. Much of her experience was in advertising and marketing, but she really got more involved in the day to day production working at Truckee River Winery, located near Lake Tahoe, in California. Her travels took her further east as she worked in Baltimore for a bit and finally made her way back home to NJ.
The redesign and renovation of the taproom was a major hurdle they had to leap in order to realize their vision for the new brewery. After numerous blueprint and design plans, construction began in August. They knocked down one of the tap room walls and raised the ceiling, not only enabling them to increase the area by 400 square feet, but giving the bar area more of a wide open feel. A new bar and a digital tap menu board was added to modernize the look of the facility. High top bar tables were also added along the brew house viewing windows, creating a welcoming atmosphere and giving customers a front row view of the action.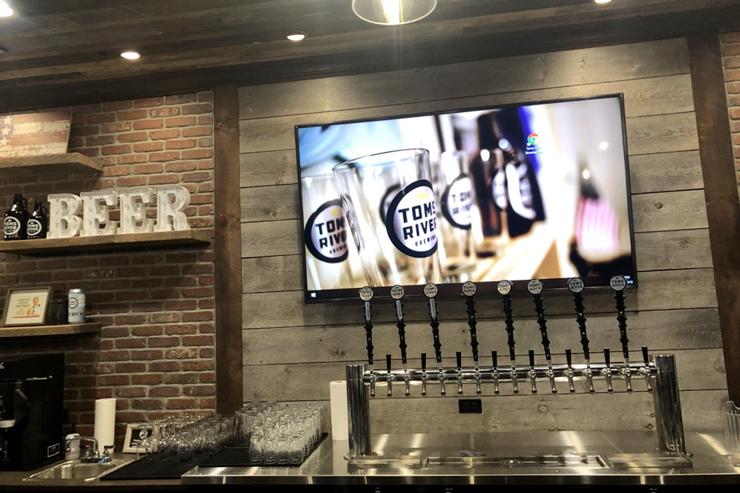 Speaking of the brew house, it was also not immune to the changes as the large bottling line was dismantled, enabling them to add a 5 barrel pilot system. This along with the original 25 barrel capacity system has helped increase distribution and TRB product can be found in over 200 locations throughout the state.
"Bob the Brewer" has 25 years of home brewing experience and was at Rinn Duin almost from the outset. George was with them about 2 years, after first gaining some valuable experience at The Brewer's Apprentice home brew shop.
Both brewers enjoyed their time at Rinn Duin and appreciate the experience and opportunity it afforded them but also liked the direction and philosophy of the new business, so they stayed on board.
"We are like one big family here at the brewery and I think that is a huge piece of our success." said Lacey. "We also strive to be an integral part of the community, so we have and will be doing a lot of events to support our town."
As an example, the brewery's Veterans Day beer Boots on the Ground is an IPA brewed with Yakima Chief's special Veterans Blend of hops. The Washington state hop provider collaborates annually with Veteran brewers from all branches of the US Armed Forces to select the hop blend as well as a non- profit to receive a donation from the sale of the hops.
In addition to the beer, Toms River Brewing marked the occasion by releasing limited edition Boots on the Ground T-shirts, with a portion of the proceeds benefiting the Gary Sinise Foundation. In addition, prior to the 2019 Thanksgiving holiday they held a very successful food drive to assist the Community Food Bank of New Jersey.
Our conversation circled back to beer and we moved on to the iconic South Jersey Beer Scene 10 questions!
1. What was the first beer you brewed and how was it?
Bob Warzecha: The first beer I brewed was a Christmas Ale. It's been a while but I remember it as being pretty good.
George Lissenden: My first was a Brown Ale. As I remember it was a complete disaster! I've gotten better since then!
2. Favorite style to brew and why?
BW: IPA, specifically Irish Eyes IPA. Why? It's the first IPA we brewed here at TRB so it is kind of special.
GL: Pilsners are my favorite to brew. Those are a challenge, you can't hide behind hops or adjuncts.
3. Do you pay attention to ratings, i.e. Untapped, Beer Advocate?
Lacey Stryker: No, not really, we focus on sales. What sells in our tap rooms and what sells at the bars and restaurants we distribute to. Our Untapped is also, somewhat skewed, as some of the beers from the previous brewery still show on our account.
4. How do you stay connected to the local area in relation to sorting ingredients?
LS: We work with Zenjas Honey Farm, right here in Toms River to source some of our ingredients and also send our spent grain to some local farms. We are still fairly new so one of our goals is to continue to develop those local relationships.
5. What is one tip you would give to home brewers to help them make better beer?
BW: You have to have a passion for brewing. When you brew with that passion, people will like the beer!
GL: Notes, notes, notes! Write down everything your successes and failures. The internet and you tube are also great sources for "how to"?
6. What is one piece of advice you would give to someone who wants to open a brewery
LS: Hire an interior designer! We did a lot of the design work for the tasting room ourselves and it would have been a lot less challenging for a professional. Also, hire smart, capable people that will help you create that family atmosphere.
7. If there was a beer you could brew, without regards to ingredients, production cost or sales, what would it be and why?
BW: A barrel beer, so some kind of barrel aged dubbel, maybe with a rare ingredient like truffle.
GL: I like sours, so some kind of wacky sour would be cool to brew.
8. Looking back from opening day forward, what has surprised you the most?
LS: How rapidly things have progressed and how much we have accomplished in such a short time! In the last 5 months we've renovated the tap room, added a 5 barrel pilot system and developed a tremendous distribution channel. I'm only here several months, but it seems like I've been here 5 years!
9. Other than your beer, what is your "Go to" after a long day at the brewery?
LS: PBR! Sorry not necessarily craft, but crisp and refreshing to me.
BW: Kane, Sneakbox is one of my favorites. I also like anything from Trillium or Treehouse.
GL: Founders All Day IPA, all day!
10. Where do you see the brewery in a year? 5 years?
LS: In a year, distribution throughout NJ, from Cape May to High Point. 5 years, grow our footprint so that our distribution expands to the entire East Coast and beyond.
Bonus: What kind of music would we hear on a brew day?
BW: Janis Joplin was always my favorite so you might hear the Cheap Thrills album playing.
—
Share some love for Toms River Brewing Co.