Staff Sergeant Torie Fisher was nearing the end of her military career and was looking to do something different. After 2 tours of duty in Iraq, deployed in 2004 and 2008, she proudly served her country but knew it was time for a change. So Torie, being a home brewer, decided to combine her love of the craft with the love of her veteran community and the idea of Backward Flag was born. "I knew from the beginning that our brand would be geared towards veterans and law enforcement," Torie said as we spoke at the brew house over a glass of Mission Continues, a limited edition Black Ale made with saffron.
The ale is really a microcosm of the mission statement and vision for Backward Flag. The brew is named for Mission Continues, an organization that assists returning veterans in adjusting to life at home. The saffron is from Afghanistan and is supplied by a company called Rumi Spice, which was founded and is run by veterans of Afghanistan who fell in love with the country and wanted to give back. Other ingredients are Counterstrike Coffee and Micacao chocolate tea made from the shells of the cacao bean, again both veteran owned companies. And 50% of the profits from Mission Continues goes to non-profit veteran organizations.
Torie's original plan was to open a brew pub, however, with no restaurant experience, she thought that wasn't realistic, so she decided a brewery was a better option. She still worked at the Lakehurst Joint Base and wanted to remain nearby so she looked at various locations throughout Ocean County. While bringing her daughter to a day care location in Lacey, she happened upon the perfect property right across the street and that Challenger Way location became Backward Flag Brewing Company. Torie has held true to her initial commitment and Backward Flag is the site of many benefits and fundraisers to support our military and law enforcement community. Her nonprofit agency, Arms2artisans, will be up and running in January 2018.
Here are our 10 questions for Torie:
What was the first beer you brewed and how was it?
Stone Brewery Smoked Porter. It was awful… All smoke, no porter!
What is your favorite style to brew and why?
Stouts…my favorite beer to drink and as a brewer there is a lot of flexibility.
Do you look at ratings on Untapped, Beer Advocate or Rate Beer and, if you do, does it influence your recipes?
No….and Yes…We brew what we like to drink and if it sells that means the customer likes it. We do look at Untapped, etc for trends and quality control, is our beer under carbonated, too sweet, etc.
How do you stay connected to the local area in relation to sourcing ingredients?
We try to work with a lot of businesses owned and operated by our veteran and law enforcement partners, which goes along with our mission statement. The Mission Continues black ale is an example of that. We also do work with The Fir Farm in Colts Neck for some of our hops and Rabbit Hill Farms in Shiloh is a maltster we could possibly be working with in the future.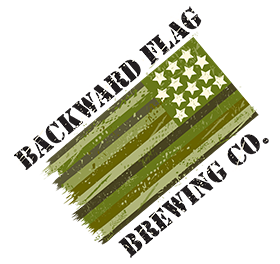 What is one tip you would give home brewers to make better beer?
Source your information from books and other resource sites. You'll learn so much more than trying to do it on your own.
What is one piece of advice you would give someone who wants to open a brewery?
Decide whether you want to work in a brewery or own a brewery. If you are an owner your brewing days are numbered. An owner has 20 different people that need your attention and help. I still write most of the recipes, but without my head brewer, Melinda Gulsever (National Guard and Black Hawk engine mechanic), we wouldn't be able to produce what we do.
If there was a beer you could brew without regards to cost, production or sales, what would it be and why?
You're drinking it now. Mission Continues is what I look for in a brew. It's complex, delicious, most of the ingredients are from veteran owned companies and 50% of the profits go to veteran owned organizations.
Looking back from opening day forward, what was the one thing that surprised you most?
How quickly things can change! I started with 2 partners who were involved in the operation, now I have 2 new partners who mostly provide financial resources for the company. I am also surprised at how quickly we've grown.
Other than your beer, what is your "go to" after a long day at the brewery?
Left Hand Milk Stout on nitro. Creamy and delicious!
Where do you see the brewery in a year? In 5 years?
We are excited that our new brew system will be here in October which will more than double our production to 10 barrels. In one year we hope to be able to meet the demand that comes with that expansion. We don't really want to grow much more than that, so our future focus will be on social issues affecting our veterans and helping them as they transition to civilian life.
Visit Backward Flag Brewing Company on the web at www.backwardflagbrewing.com
Facebook @backwardflagbrewing
Instagram backwardflagbrewing