I got a surprise trip to Disney World (thanks to my amazing wife, Kelsey) for my birthday this year. From drinking around the World Showcase in Epcot, early morning booze on Batuu, and everything in-between. Here is a helpful guide of "Do's" and "Do Nots" for navigating the Black Spire Outpost landscape of Batuu.
Do: Plan your attack
Seriously, this isn't amateur hour. You need to come prepared to maximize your time especially when it comes to the new Star Wars land, Galaxy's Edge. This part of Hollywood Studios opened in late August of 2019 so expect larger crowds in this area and  longer wait times for the Millennium Falcon ride and the Star Wars themed food and drinks available in the park.
Do Not: Go straight to the Millennium Falcon Ride
Its what everyone will be doing. If you are lucky enough to score "extra magic hours" by staying on Disney Property (meaning you can get there before normal park opening time!!) or even if you get there at opening, the wait time for Smugglers Run won't be super long so this is the perfect time to head where the crowd isn't. Get some food and drinks at Oga's Cantina. Even if its 6:45am. Hey its vacation! We were able to head right in, with no wait and enjoy a few drinks before flying the Falcon.
Do: Share Menu Items
To help combat the crowds, you have a 2 drink limit at Oga's Cantina so its best to work as a team. There are many cocktails available and currently 4 specialty beers on tap. We took the opportunity to try 1 beer and 1 cocktail each. The Jedi Mindtrick and the Degobah Slug Slinger for our first round and the White Wampa Ale and Gold Leader Lager for round 2. Both beers were very well made and delicious (they are sourced from some bigger name breweries) Awesome place, great interactions with the cast members and a really cool vibe.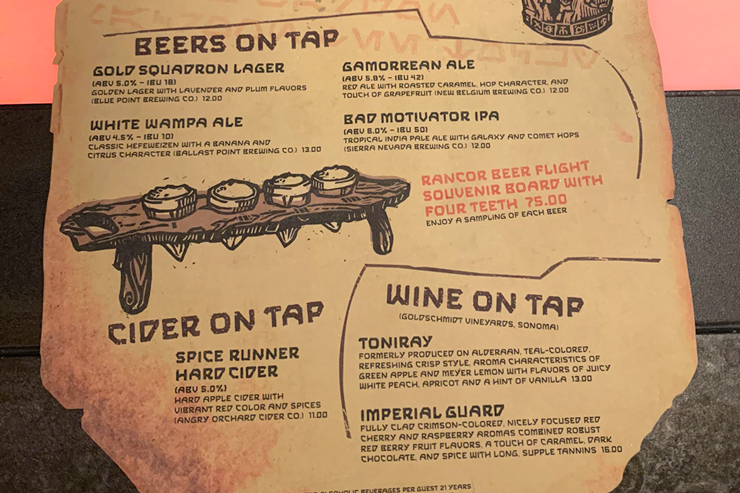 Do Not: Get side tracked by cast members…or do?
Well, unless you totally want to build a light-saber. When we went back to Batuu for another go at the Falcon, we got stopped by some employees of a certain junk yard to see if we wanted to make our own space junk (light sabers are illegal in the eyes of the First Order). I'm thinking that this is Disney's way to keep people from going to the ride to keep the line a bit shorter. We were then stopped by some Storm Troopers asking us what we were doing, as if we were hiding Baby Yoda. This place (like all Disney areas) really goes deep into the details and expect a fully immersive experience on Batuu.
Do: Use the My Disney Experience App
This is the best way to be updated on wait times for rides. Pro Tip: keep your eyes peeled on wait times throughout the day (especially towards park closing!!) and update your plan accordingly. Sometimes you have to throw a Hail Mary and deviate from the original plan because when the newest ride has a 10 minute wait, you go! We were lucky enough to notice that just before closing, the line was the shortest we'd seen all weekend. So we hustled back to Galaxy's Edge for another ride!
We loved our time at Galaxy's Edge and cannot wait to come back to see what they add to this universe as the park evolves. We were impressed by not only the rides, but how the food and drink fits into the overall atmosphere of the park. As we finished our last beer and rode our last ride all we can say is, "May the Force, and some beer, be with you".
What are some of your favorite survival tips for Star Wars Galaxy's Edge?