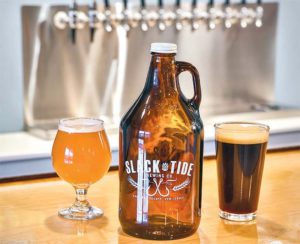 In this debut article for South Jersey Beer Scene, I would like to talk about two things that I love: Food and beer. Pairing beer with food is a great way to experience the exploding local craft beer varieties out there. It can also be a great way for couples to get together and enjoy these flavors and have fun. My goal is to help you find the right beer for the right food. Today I will be highlighting flagship beers from  Slack Tide Brewing Company located in Clermont, NJ.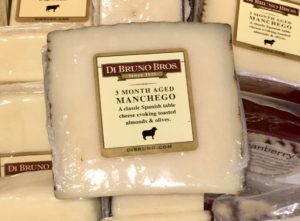 Cheese Course
When thinking about pairing beer and food, quality does count. Here in South Jersey we are lucky enough to be able to find Philadelphia's own Di Bruno Brothers' meats and cheeses here in South Jersey at many bottle shops and specialty stores, and their products are some of the best in the area. Nothing would go better with their Manchego cheese then Slack Tide's Bell Buoy (Belgian blonde). This Spanish sheep's milk cheese paired with Bell Buoy's sweet dry finish really compliments the buttery, flavorful cheese.
Appetizer
For an appetizer, I would recommend Slack Tide's Angry Osprey (American IPA) with some Grilled Pineapple Habanero Shrimp. With an IBU at 76, Angry Osprey has just the right amount of bitterness to go with spicy foods. The delicateness of the shrimp, along with the sweetness of the pineapple really bring out nuances in the Angry Osprey you don't get when drinking it all by itself. (although it is fabulous alone too!)
Entree
Now for the main course. My pick would be Slack Tide's 5 Fathom Pale Ale to be paired with a nice beef filet or rib-eye steak. I would also encourage you to melt a little bleu cheese on top which will send this over the top. 5 Fathom is a great beer on its own, but combining it with a nice juicy piece of beef really adds to the enjoyment of the beer (and the steak!) Steak and Beer is clearly a home run in any beer drinker's repertoire, taking the time to enjoy it with a great beer makes it that much better.
Dessert
And now for everyone's favorite, dessert! With its roasted coffee flavor, Slack Tide's Monkey Face (dry stout) would be a great companion with some Chocolate Covered Strawberries. The sweetness of the fruit and chocolate are fantastic with the beer!  Who needs coffee with dessert when you can have a beer!
Slack Tide Brewing Company offers many great seasonal brews that would go great with different foods which I will certainly explore in a future post. With the craft beer scene exploding in South Jersey, I will be suggesting more beer and food pairings from different breweries. Also, with so many eating establishments putting local brews on tap, I will be recommending items on their menu, too.
Enjoy Your Pour!