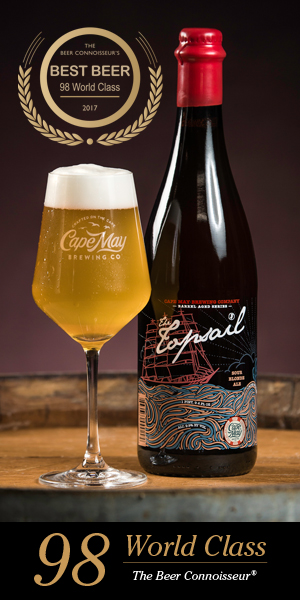 Congrats to Cape May Brewing Company for this great honor!  In addition to the best beer, Cape May Brewing Company was also named second-runner up as Best Brewery finishing just behind Heavy Seas of Maryland, and Mother Earth Brew Co. of California.
The Topsail is a Sour Blond Ale that was aged nine months in barrels that previously held "The Keel", another great offering in the Barrel-Aged Series. We have been really impressed with Cape Mays Brett offerings (we had a great Coastal Evacuation with Brett on the day of The Topsail release at the taproom) and look forward to more great things in the future.
Cheers to everyone at Cape May Brewing Company for helping shine the spotlight on South Jersey's vibrant, and still growing, craft beer scene!
From The Press Release:
Cape May, NJ — Cape May Brewing Company is humbled to announce that an offering in their Barrel Aged Series, The Topsail, has been honored by Beer Connoisseur as 2017's Best Beer, and Cape May Brewing Company was named second runner-up as Best Brewery.
"This is truly an outstanding achievement," says CEO and co-owner Ryan Krill. "The Topsail has been uniformly well-received by our fans with glowing reviews from those closest to our hearts. However, the rating of 98, the designation as a World Class beer, and being named Beer Connoisseur's Best Beer is an honor beyond compare."
In his review of The Topsail, judge Dan Martich said, "You'll want to seek this beer out. The refreshing fruity notes makes this a summertime favorite. I can see anyone enjoying this beer in a backyard, by the shore, lake or mountains with chargrilled veggies, fruit or white meat fish to complement the fruity notes of this stellar brew."
In addition to the accolades from Beer Connoisseur, The Topsail was honored with a Gold Medal in the Wood/Barrel-Aged Sour Beer category at the US Open Beer Championships in July.
"I think it's a great example of each component working in a harmonious blend," says CMBC Head Brewer Brian Hink in his interview with Beer Connoisseur. Giving credit to each step of the process — from the production team designing the base beer and selecting the barrels to the marketing team in their selection of bottle art, he says that The Topsail is "not something any one person could achieve, but a culmination of a number of working parts."
In their announcement of Cape May Brewing Company's second runner up status for Best Brewery, Beer Connoisseur wrote, "New Jersey's Cape May Brewery has unquestionably demonstrated its place as one of the country's top brewers. The brewery consistently delivers exceptional beers, and with this year's Top Rated Beer of 2017 — The Topsail — it has proven it can brew with the world's best."
For more information on The Topsail, including its inception and the story of how it was brewed, please see "The Topsail Sets Sail" at Cape May Brewing Company's blog, Straight to the Pint. For more information on Cape May Brewing Company — including for tours and tastings — see capemaybrewery.com.
###