Equilibrium Brewery of Middletown, NY will be dropping their first Craft Beer in New Jersey on 7/19 at Circle Liquors in Somers Point, Atlantic County. Equilibrium has quickly attained "It" status amongst beer fans for their beer and will be bringing some great stuff to New Jersey.
Jordan Crawford, Beer Manager for Circle Liquors, is pumped for the event. "Equilibrium is one of the premiere breweries in the country and it is insane that we will be selling their cans. I still can't wrap my head around it, I'm totally geeking out".
Thunderbolt Distributing of Millville, NJ brokered the deal to bring this sought-after beer to the Jersey Shore. "The team at Thunderbolt Distributing is excited that equilibrium is coming to NJ and honored to have been chosen to distribute their amazing craft beers. We can't wait to start this partnership and let the beer drinkers of NJ taste what they have been missing" Co-Owner Scott Akins told us
"We consider ourselves an experimental brewery with emphasis on research and exploration. We are driven by inspiration and curiosity as both scientists and beer drinkers. We want to share the results of our research and inspiration as it occurs in an organic process"

– Equilibrium Brewery
Equilibrium was founded by two MIT graduates, Peter Oates and Ricardo Petroni, in 2014 and they have recently started construction on a 2nd facility that will quadruple their production. Their beers are some of the most highly rated on Untappd and routinely sell out in hours when a release occurs. We would highly recommend that you get to Circle early as a line is expected.
The Equilibrium Lineup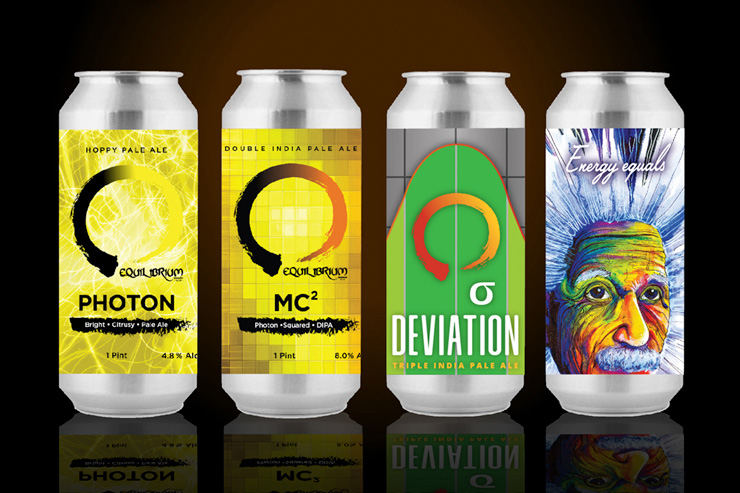 Descriptions from the Equilibrium Website:
Photon

Photon is our light and crushable American Pale Ale loaded with pacific northwest hops. It pours a very hazy orange, releasing well-blended notes of apricot, tangerine, peach, mango, and pineapple. It tastes of soft juicy tropical fruits, hop resins, and a hint of biscuit. A smooth rounded bitterness with a touch of dryness ensures you're ready for the next sip. This drinking experience is further enhanced with a soft and billowy mouth-feel that has made this the go to ale for the Equilibrium crew, especially when a productive day needs to follow a fun night.

MC2

MC2 is Photon's big brother. We literally took Photon's hopping rate and squared it. This DIPA is our tribute to the amazing relationship that energy and mass are balanced, proportional to the speed of a photon squared. It pours a hazy tangerine color, releasing bright tropical notes of mango, pineapple, and apricot. MC² tastes like succulent mango juice loaded with chewy hop resins. It's very drinkable for 8.0%; be careful, this one can sneak up on you.

Deviation

Something that lies away from its natural central tendency is called a Deviation.

We took Straight out of the Laboratory's massive citra hop bill and applied our new Energy Dry Hop process from Energy Equals to bring you even more juiciness and drinkability than already found in our line of TIPAs; i.e. a TIPA deviation.

Deviation pours a very bright tangerine color and has an absolutely explosive tropical nose with the brightness exuding from the can as soon as it's cracked open. We find the flavors to be remarkable and some of our deepest yet. Fresh squeezed OJ, mango, lychee, and pineapple lead the way with light hints of lime and grass. The finish is big while being light in body, balanced, and extremely smooth for its ABV. The escalating #EQjuice buildup really shines here.

Energy Equals

Energy Equals is a companion beer to MC2. It completes the equation. Aside from debuting some awesome artwork from local illustrator, Julia Green, we wanted to start with MC2 as a base as it's the beer we know best and incorporate new process techniques from dHop16, Imperium, and Experimentum as a comparison to see how these process tweaks would manifest and play out. Energy Equals has enhanced flavor characteristics of mango, pineapple, citrus, and apricot. With the new technique in place, we notice a much deeper flavor profile while being extremely bright and lighter in body. It's extremely crushable with our #EQjuice finish.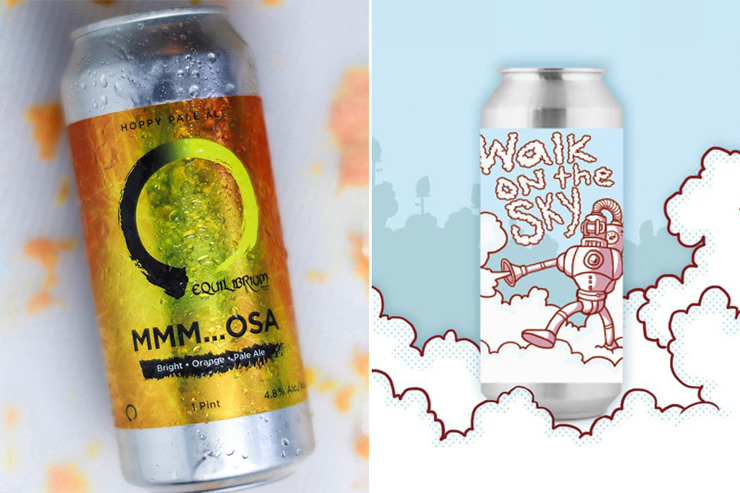 MMM OSA

Mmm… Osa is our beloved Photon American Pale Ale conditioned on freshly zested oranges at a rate of 6 oranges per barrel. It is everything photon is, with a dominant orange presence; this citric delight is our preferred way to start the afternoon

Walk on the Sky

Walk On The Sky uses the same amount of oats as Cirrus, but utilizes different hops and a touch of lactose. Citra, Simcoe, Mosaic, and Idaho 7 gives off an aroma of luscious tropical fruit and earth with intense flavors of apricot, mango, and pineapple juice with a hint berry and pine. The balanced lactose addition makes this beer creamy, smooth, and sorbet like with our #EQJuice finish in full swing.
—
To learn more about Equilibrium Brewery visit their website at https://www.eqbrew.com
Planning to get your hands on some Equilibrium?