For those of us that enjoy a little beer culture it is always exciting to see a feature film dedicated to the craft. Over the years, unfortunately, there have not been many to be found. That was why we were excited to be able to review "Beers Of Joy", a fascinating look at beer culture that's main premise focuses on Joe Vogelbacher, CEO and Co-Founder of Sugar Creek Brewing, and Ryan Daily, an Anheuser-Busch employee and their quest to pass the Master Cicerone Test, which is notoriously difficult. The other 2 storylines focus on Tonya Cornett, Brewmaster of 10 Barrel Brewing (an Anheuser-Busch InBev owned brewery) on a quest to find the perfect Berliner Weiss Recipe visiting European Cities, and "Home-brew Chef" Sean Paxton who is exploring the history of brewing and food in United States.
Disclaimer
I realize that this movie was funded in part by Anheuser-Busch InBev and the conglomerate has a substantial presence in the film, often times uncredited. Taste-tests that feature AB Inbev products like Leffe and Hoegaarden, visits to European breweries which feature AB Inbev Corporate ties and visible AB logos (While visiting Italy, Birra del Borgo another AB Inbev brewery is featured), Tonya met her guide and translator, Ferdinand Weingarten, who comes walking out to meet her from a building with the unmistakable AB Inbev logo.  So, in order to give an honest take on this film I have to take my craft beer hat off and look at this movie from a beer lover's perspective, watch it as someone who does not follow the inner workings of this industry where big companies like AB Inbev, Constellation, and Miller-Coors threaten the very existence of independent breweries all over the world.
My Review
The movie itself is very entertaining and beautifully filmed. All of the people in the film are very likable and bring their own unique personalities to the film in such a way that you root for them. It is clear to see how passionate that these 4 people are about beer and how it has become a huge part of their life. I really loved the focus on the Master Cicerone test, the film did a great job showing you just how difficult this title is to attain, I certainly can't imagine the years of study and experience it takes to get there. Joe and Ryan are clearly levels above most in their beer prowess and it definitely shows on the screen. When test day arrives in New York City, you are rooting for these guys to pass!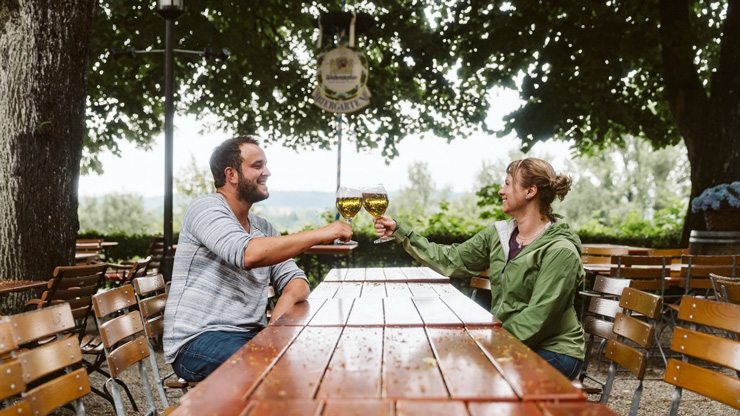 Tonya's globetrotting story was incredibly interesting and informative as she travels through Europe. You can see how excited she was to be in the presence of great old world brewmasters and to visit such revered breweries as Weltenberg Abbey and Weihenstephan—plus the visuals are incredible.
"Home Brewing Chef" Sean Paxton assembles a feast using beer after exploring the roots of brewing and culinary techniques and how they inspire modern day cooking and brewing. A self-taught chef and home brewer, Sean is easy to relate to and feels like someone that I would love to hang out with!
For Beer Nerds and Newbies
This is a well done and fascinating documentary, I really enjoyed the movie. For a beer lover this is an absolute no-brainer. It features a great lineup of beer personalizes and places that beer lovers everywhere will be glued to the screen to watch. For the non-beer people, this documentary grabs you at the beginning. You are immediately invested in the 4 principles in the film and want to follow their quests to conclusion. The film is shot beautifully and is visually stunning at times. I also applaud the producers for making a complex subject accessible to everyone—from beer nerd to beer newbie.
So revisiting the AB-Inbev thing, I don't know if a movie like this gets made without the help of a large company such as them (Editors Note: Popular Mechanics was also a sponsor). I also understand that funding a movie gives you a certain amount of leverage but, in my view, the AB stuff does not take away from the quality and enjoyment of this film. I am just happy to see a passionate group of people to be able to tell their story in a quality production such as this.
I highly recommend that you seek out and watch this film!
—
For more information on where you can see the film visit Beers Of Joy! On-Demand
Have you seen Beers of Joy?