Flying Fish Brewing Company will be releasing Few & Far Double IPA in cans this Friday, 7/13/18 at the tasting room in Somerdale, NJ.  This is a limited purchase event with just 80 cases available.  You can pick up your beer at 3 pm and there is a limit of 3 4-packs per person.  Flying Fish has been bringing some interesting stuff to cans this year and this one is no exception.  We are really excited to get our hands on these and see how that Irish Malt contributes to the flavor profile.
Flying Fish President Lou Romano told us, "Our brewing team is always challenging themselves to explore new flavors and work to differentiate aroma and flavor in our IPA offerings. The Irish malt and American hop combinations used in Few & Far really set this beer apart and make it unique, and it's exciting to compare Few & Far with our other great Double, Exit 16."
So stop out, grab your beers, and try a few in the tasting room!  Make sure you tell them that you saw it on South Jersey Beer Scene!
Here is the official release: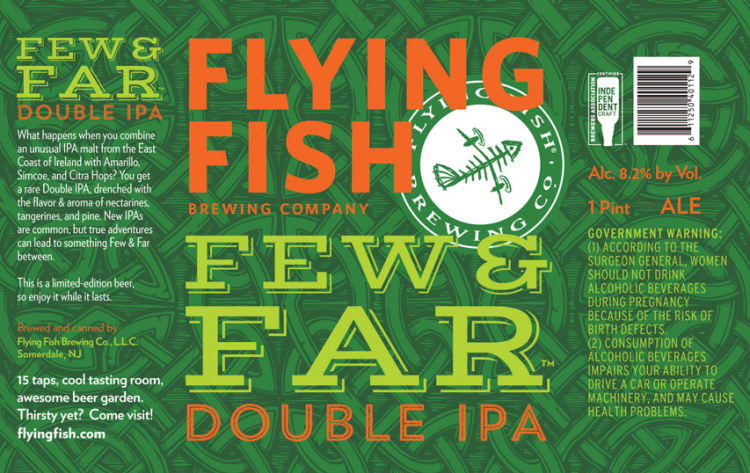 What happens when you combine an unusual IPA malt from the East Coast of Ireland with Amarillo, Simcoe, and Citra Hops? You get a rare Double IPA drenched with the flavor and aroma of nectarines, tangerines, and pine. New IPAs are common, but true adventures can lead to something Few & Far between.
This Friday, we're releasing our latest brew, Few and Far Double IPA. Few & Far will be on draft and in 4 packs of 16-ounce cans for sale in the tasting room. This is a limited release! The limit is 3 4-packs per person and we only have 80 cases to sell. Get here when the doors open for your best chance before it sells out.
Flying Fish Brewing Company is located at 900 Kennedy Blvd, Somerdale, NJ