Gusto Brewing Company in North Cape May is now open for business! I visited with owner Zack Pashley and Head Brewer Dan Petela last week to talk about all things Gusto and was really impressed! These guys have a passion for beer, and the brewery is a reflection of that. Both of the guys were full of enthusiasm and are really excited to have finally opened the doors so that everyone can try the great beer that they are making.
Zack, who co-owns the brewery along with his wife Adriana, has chased this dream for about many years and was able to open the doors to the brewery right before Christmas. Located in North Cape May, the brewery is spacious, filled with natural light that brightens the room from both the East and South windows. A large bar fills one side of the room and faces the actual brewing area, and the room has ample seating with plenty of tables and chairs.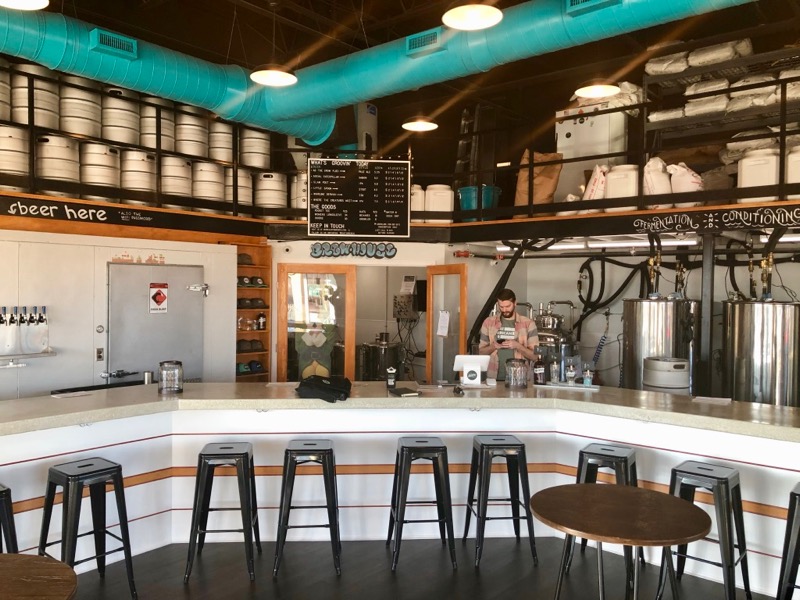 Chasing that Brewery Dream
After Zack spent 6 years active duty in the United States Coast Guard, he settled back in Cape May County and started working on his dream of opening a brewery while working at Cape May Brewing Company and attending College on the GI Bill. Zack had met Head Brewer Dan Petela at school (Dan mentioned that they played ping pong at ACCC), but really cemented their relationship at Cape May Brewing Company where Dan was working as the Assistant Tap Room Manager at the same time Zack was there. They were both avid home brewers and both of them had aspirations of owning their own brewery. "That's the dream, right?" Dan told us.
Zack always wanted to open the brewery in his hometown. "What we wanted to do was create a brewery that serves a community and not a region, per se, and I just thought that this corner spot with all of the natural light, close to the ferry, in our hometown, was the only spot to do it and we had to make it happen."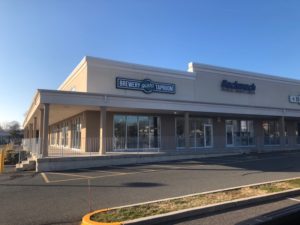 After settling on the location, Zack began to build the brewery. One of the pieces of equipment he already had was a 1 BBL Brewhouse that he bought a while back. "I actually bought it about 6 years ago on Kickstarter while I was in the Coast Guard when I knew I wanted to start a brewery" said Zack. To finish the system, 7 2BBL fermenters and 2-2.5 BBL Brite Tanks that came from Strong Rope Brewery in Brooklyn were added. "We double batch everything" Dan told us. Zack and Dan also told us that they would love to upgrade the brewhouse to a larger system to allow them to brew the same amount of beer in half of the time, which would definitely give them more time to spend at home with their families.
Keep it Small. Keep it Weird
Gusto's tagline is "Keep It Small + Keep it Weird". I asked the guys to elaborate and Zack said "It is something that we want to live by. Some of my favorite breweries I have ever been to are little holes in the wall, some only slightly larger than us". Dan added "and we are going to have some pretty weird beers coming up too!"
Gusto plans on having a constantly changing tap-list, rotating their selection and occasionally bringing some of the popular ones back. I was suitably impressed with their beer list on the day I visited, 6 unique beers with some very interesting ingredients were available including a Zero IBU IPA, an ESB, a Saison, an Oatmeal Stout, a tasty Pale Ale, and an IPA. It was great to see the varied styles and the originality that encompassed this well thought out list.
A few things that you need to know about Gusto:
Gusto will fill any 32 0z Growler for you to take off premise. They offer growlers for sale, but if you bring your own make sure you have a lid just in case the ones they have do not fit.
They plan on being open from Thursday-Sunday in small 4-6 hour shifts. Be sure to check out their website at www.gustobrewco.com or their Facebook Page HERE while planning your visit
Gusto has a great selection of merchandise for sale in the taproom!
Gusto is kid friendly, but at this time you cannot bring your dog to the brewery
Congrats to Zack, Adriana, Dan, and everyone on the Gusto team on their opening! It is great to see another brewery opening up here in South Jersey and yet another great group of people that are behind it.