Leprechaun: They are usually depicted as little bearded men, wearing a coat and hat, who partake in mischief. ) (Thank you Wikapedia for the info) 
Some may say this describes me, but I am not here to debate my possible resemblance to a mythological fairy, but to talk about the beer, the brewers and the breweries I encountered on my recent trip to Ireland.  
So sit back, have a pint o' Gat, a bag o' chips and have a grand time reading this as South Jersey Beer Scene goes to Ireland! 
DUBLIN
They call New York the city that never sleeps, but I would nominate Dublin for the prize.  They love their soccer in Dublin town and celebrate joyously, heartily and loudly! Chanting, singing,  (in tune I might add!) and trumpeting at all hours.  Did they win? "We tied 1-1, but it was a good match!"  
Pubs galore, including O'Neill's a classic establishment on Suffolk St., near Trinity College, with over 40 beers on tap!  Tip: Don't get there at 9 AM for breakfast, as they don't serve alcohol until 10:30! So it happens that the first beer I had in Ireland was not, in fact, a Guinness but a Dublin Blonde from the Irishtown Brewery which I enjoyed at Madigan's Pub on O'Connell Street. A very nice, crisp lager. Here is my conversation with the barkeep
 "I'll have a Dublin Blonde." 
"My wife is off today, but I'll give her a call!" 
A very welcome interaction on a rainy day, going on 24 hours with no sleep! 
Did I mention Guinness? The Guinness Storehouse (#1 tourist attraction in Ireland. Stop #13 on the hop on hop off bus) is an experience!  A little known fact, the largest Guinness brewery in the world is not in Ireland, it is in Nigeria, which is also the second largest market for consumption of the brew. So much for not drinking stouts in warm climates!  (FYI Great Britain is first, US is 5th)
In 1759, home brewer Arthur Guinness from County Kildare decides to leave his small ale brewery and make his fortune in Dublin.  He comes upon a dilapidated brewery at St. James Gate signs a 9,000 year lease for 45 Irish Pounds per year (that's $66) and the rest is history.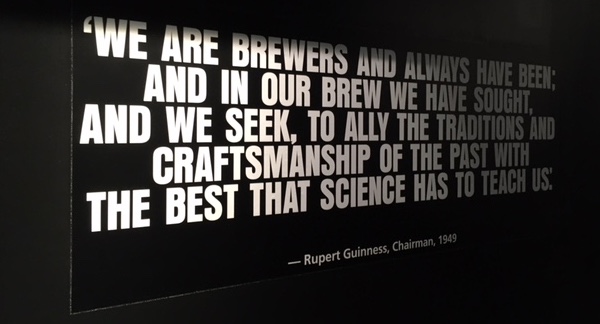 We made reservations for the Guinness Connoisseur Experience, which is a 90 minute presentation in a beautiful private bar on the 3rd floor of the Storehouse. Surrounded by portraits of the Guinness family, the beer tender introduces you to the rich history of the brewery and the brand, as you taste the original Guinness drafts as well as several other variants. These include the Extra Stout, West Indies Porter and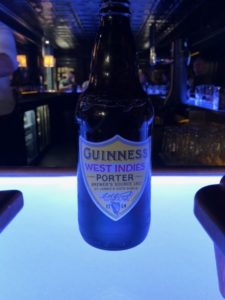 the Guinness Citra IPA, made with American hops. I enjoyed the West Indies Porter, which is based on the original Guinness Porter recipe and is a tasty higher alcohol alternative. 
The Citra IPA is produced by Open Gate Brewery, an experimental offshoot of the main Dublin site. Open Gate has been in existence for over 100 years, but is now open to the public.  But man does not live by beer alone, so I didn't have time to visit, however, the Open Gate Brewery and Barrel House in Baltimore just recently opened, so fresh Guinness experimental brews are now only a road trip away!   
On the top floor of the Storehouse is the glass walled Gravity Bar, where you can have your free pint and a spectacular 360 degree view of the city.   
P.S. If whiskey is your drink, you have Jameson, as well as Pearse Lyons and Teeling distilleries on the various bus routes.  
THE BURREN
Traveling across country we encountered The Burren, which is a beautiful stark landscape of limestone fields and cliffs, dotted with stone walls, sheep and castles.  In the northern end of this area, not far from the Cliffs of Moher, lies the little town of Lisdoonvarna (population 739). One of its most famous residents, Pete Curtin, is the proprietor of the gastropub, The Roadside Tavern.  Pete's family has owned the tavern since 1893 and it is it is also home to the Burren Brewery, where Pete brews his classic Irish Red, Gold and Black beer, only available on premises.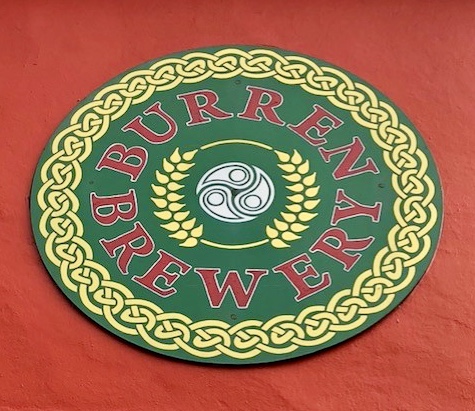 "What are ye standing around for, take a seat?" was my invitation from the owner as we sat and talked about brewing, super humans and IPAs. It was an educational and very entertaining conversation. 
"You Americans are hop crazy with your double and triple hopped IPAs, 13% alcohol beers.  You drink one and you pass out!"  
But to be honest, there are very few commercial hop farms in Ireland so most have to be imported. Our American hops don't grow well in the climate and soil of Ireland, so those that do grow are of the English or German varieties. 25% of the crop was lost in 2015, so there are various clubs and organizations springing up to encourage hop growing as a community project.   
The brewery recently added another beer to the menu. "I call this Euphoria, the happy beer, because when people drink it they are overjoyed!" and Pete poured us an ancient ale called a gruit which is flavored by herbs and botanicals, rather than hops. Euphoria is brewed with 6 herbs including lemon verbena and rosemary and 3 wild yeasts. I think it was good, but I only had a small sampling, as my wife, who doesn't like beer, liked the gruit and drank the whole glass!
As we were talking about the bar, my son mentioned that vodka is his drink of choice, not beer. At which point Pete said, "He likes that high alcohol. The man is super human."  
We talked a little more about the history of the tavern and the town and spent some quality time drinking beers with him. With my Guinness shirt and Irish flat cap on, I asked him if this Italian guy from Jersey could pass for Irish.   
"Nahh!" he exclaimed loudly and added a few other phrases that can't be printed here!   Unable to top that, we bid Pete a fond farewell and continued on our way. 
DINGLE PENINSULA
One of my wife's favorite movies is "Leap Year", which takes place in the village of Dingle (at least in the movie it does) on the southwestern end of the island. The village is as pretty as the movie, a beautiful little seaside town with great shopping, views and a lot of great pubs. They have an extensive list of local beer selections, including Stag Ban Pale Ale from 9 White Deer Brewery in County Cork, Dick Mack's Session IPA (an IPA sighting!) and Cul Dorcha an interesting, smoky dark ale from West Kerry Brewing.  This is the second excellent beer I had encountered from West Kerry, as we had picked up a couple of bottles of their Beal Ban Golden Ale at the local convenience store.  So we went on a quest to find the brewery, which was in the village of Ballyferriter, just a short distance from Dingle.  
We took the scenic route (there's not really any other route to take when you are in Ireland) around skinny mountain roads, with sheep and cows (bunches of cows…you had to be there) guiding us, we came to Tig Bhric Brew Pub, home of West Kerry Brewery.  As with Burren, the tap list was not as extensive as our South Jersey breweries and included a dark mild cask conditioned beer. Contrary to what some say, they do NOT serve warm beer in Ireland. The cask is conditioned in a cellar, so is served at cellar temperatures which is 50 – 55 degrees, so warmth may be in the taste of the beholder.  
I had a great conversation with Adrienne Heslin, the first woman to own a brew pub in Ireland and the only woman pub owner and brewer.  Adrienne is a major voice and proponent for the Irish craft beer industry and currently serves as Treasurer of the Independent Craft Brewers of Ireland. This association of 26 independent breweries advocates and lobbies for changes in the archaic laws governing the industry in Ireland.   (Sound familiar?)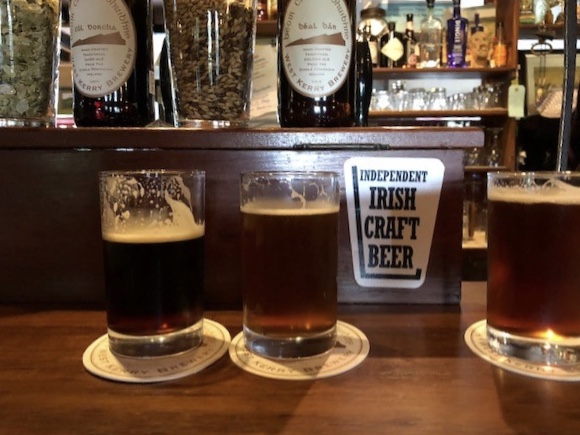 The group was instrumental in a recent law change which will allow craft breweries to sell their beer on premises. Previously they were able to conduct tours, but not able to sell their brew! 
Adrienne is also an accomplished artist and sculptor and uses many of the herbs in her garden (rose hips, elderberries, blueberries) in her beers.   She is also the only brewery in Ireland to sport a South Jersey Beer Scene AND an Ocean County Home Brewers Association sticker! 
IRELAND BEER SCENE
After some growing pains early in the 2000s, the Irish craft beer scene is on fire, with 500% growth over the last 5 years. There are 72 in operation now with more planned, each more adventurous and daring than the rest, so for you IPA lovers, the Irish Pliny the Elder may be just around the corner. Most of these smaller brews are not available right now in the US, but hopefully as the businesses continue to flourish we will see some of them hitting our shores. 
Hope you enjoyed the read and perhaps South Jersey Beer Scene will send me back to get an Irish web page started.  Thanks to my family for indulging my beer fetishes while in Ireland and for a great time and thanks to my buddy Kevin Riley, Philly Beer Trail, for the ideas and tips.  
Slainte, all!