Developing…
State Senator Vin Gopal (D) of legislative district 11 of Monmouth County has introduced Bill S-3154 to the State Senate which is listed on the state legislative sight as "making various changes to law governing limited breweries".  This is the 2nd Bill of its kind that has been introduced as a reaction to the ABC 's recent "Ruling Regarding Limited License Breweries" that has since been put on hold pending further investigation.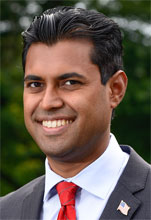 Senator Gopal, the Senate Majority Leader, is one of the young leaders of the Democratic Party who defeated longtime Republican Incumbent Jennifer Beck was sworn in January and is one of the rising starts of the State's Democratic Party.
On October 31st, Senator Gopal visited Carton Brewing in Atlantic Highlands with colleague Senator Declan O'Scanlan (R-Monmouth) and said on his Facebook Page, "It has been a pleasure working with our local breweries to ensure this growing industry is fully supported. Our local breweries are vital to our economy."
We have reached out to Senator Gopal's staff to get a comment on the legislation and have not received anything as of this moment.  Once the bill has been posted we will give analysis of the provisions as well as the full text.
It is a really crazy and confusing time here in New Jersey for the local brewing community and hopefully the legislation will be able to bring some clarity to the 2012 Rules regarding limited license breweries and  promote further growth of the industry here in New Jersey.
Stay tuned to SJBeerScene.com for all the breaking news!