This week's What's On Tap Radio Show was a little different.  We didn't drink any beer.  That's right, we didn't drink any beer but did have a great hour with Don and Scott Avellino from The Revivalist Spirits, a small batch distillery located in Chester, Pa.  Don and Scott had a tough job, showing dedicated beer drinkers Gary Monterosso and myself that Gin is much more than that dusty bottle of liquor that seemingly was in the back of your parent's liquor cabinet for your entire life.  Long story short, they succeeded.
Don and Scott started the distillery, Brandywine Branch Distillers, about a year and a half ago with the idea that they could do something different with one of the oldest types of spirits the world has known, gin. As opposed to the London Dry Gins that we all know, Revivalist has developed what they call "Expressions" that are far from the London Dry style that we are familiar with.  These Expressions are 4 distinct small batch craft gin recipes that are distilled with a season of the year in mind.  This is not your father's gin.
We tried each one of the Expressions and were absolutely blown away by them. First up was Equinox which has flavors reminiscent of a Spring day with notes of mint and citrus.  Next up was Summertide, a beautifully balanced gin with a fragrant floral character of Rose and Jasmine, but still has that Juniper undertone and a really interesting finish with a hint of mint.  Harvest is the autumn version and was my personal favorite.  I am usually not a fan of specialty fall beer as I feel that fall flavors interfere with the malt and hop characteristics of a beer if not done absolutely perfect.  The Harvest Expression perfectly blends the fall flavors of cinnamon, nutmeg, and clove along with the touch of citrus and juniper in a way that you can taste all of the nuances of this complex spirit, allowing you to enjoy the entire flavor profile, one ingredient did not overpower any other.  We next sampled Solstice, and the first thing that I noticed was that this particular gin expression was not clear in color, it was somewhat orange/red.  The guys told us that this was due to it being aged in barrels that once housed red wine.  This was another fantastic offering, you could taste the character that the red wine barrel added along with hints of anise and ginger.  This is quite the winter warmer!  We also able to sample Dragon Dance, their Jalapeno infused botanical Gin that would be the perfect booze for a Bloody Mary.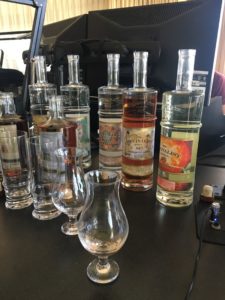 Revivalist also has 2 types of Barrel-Aged American Bourbon choices which are also terrific.  Custom Cask and Brandywine Branch are both aged in American White Oak barrels that are charred to their specifications.  Both are distilled with the same philosophy as their Expressions, well thought out and distinct.
When Gary first told me that we would be talking gin and bourbon this week I felt a little out of my element.  But after sitting with Don and Scott and trying their Expressions,  I have come to the conclusion that we are looking for the same characteristics in a fine spirit as you would look for when tasting a beer.  Appearance, nose/aroma, mouthfeel, taste, and how it finishes is important in any libation, and these Gin Expressions really changed my mind on what a gin could be.  Thanks to Don and Scott for opening my eyes to craft gin and showing us how craft distillers can impart different flavor profiles to gin just as craft brewers do with beer.
You can listen to the show below, or archived on SNJ Today!
Follow Revivalist Spirits on Social Media
Facebook  @revivalistgins
Instagram @therevivalistgins
Twitter  @graintobottle