Tuckahoe Brewing Company will be having a double can release on Monday of The New Old School and The Long Hug. Tuckahoe continues to grow and change with the times and has entered the can game with several releases in the last year including Quatrain, Snack, and New Brighton Coffee Stout.  It is great to see that one of the founders of the craft beer movement in South Jersey continues to add new flavors and styles to their great lineup of flagship beers.
The Long Hug was the official beer of the Atlantic City Beer Festival and, by popular demand, it now will be available in cans. This multigrain Saison is brewed with grapefruit and lemon, and dry-hopped with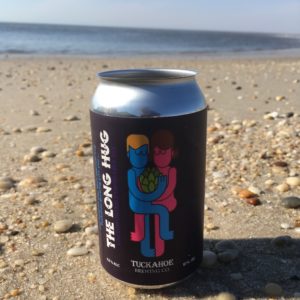 Sorachi Ace to enhance the citrus aroma. The beer fermented with French Saison yeast to highlight peppery citrus and spice.  Coming in at 4.2% ABV, this Saison is highly drinkable and was the runaway winner during the Atlantic City Beer Festival Official Beer Selection event that we were lucky enough to be a part of.  And I would be remiss if I did not mention the fantastic can art with "Uncomfortably Drinkable Ale" hovering over a picture of what may or may not be a homage to a certain yellow-haired commander in chief.  The Long Hug will be available in 12 oz. cans which are the perfect size for summer fun.
The New Old School is a traditional West Coast IPA bittered with Columbus and dry hopped with Centennial, Cascade, and Falconers Flight for a balanced blend of pine and lemon/lime that comes in at 6.5% ABV.  The can art for this is really cool as well and was created by local artist Mike Bell.  The New Old School will also be available in 12 oz. cans.