Zed's Beer in Marlton, New Jersey's newest Brewery and Tasting Room,  will be opening to the public this Saturday, September 9th, at 12 pm.  The 5 barrel brewery is located at 19 North Maple Street, in the heart of Marlton's historic district.  Founded by Geoff Bado and Lori White, the brewery will be the first in Marlton and will offer what Geoff refers to as "approachable craft beer" with ABV's and IBU's on the lower end of the spectrum, but without sacrificing taste and complexity.  "When you look at craft beer it has a stigma to it" and that the perception is that craft beer is "only for people looking for a big hop bomb", Geoff told us.  What Zed's will be doing is taking some of the intimidation out of craft beer by offering beer that is approachable for the novice, but still interesting to those who are craft beer veterans.   For example, Zed's Beer brews an English Mild with 7 different grains that will ferment out to 3.9-4.1 ABV when done but is still complex and interesting.  "You can also have 1 or 2 of these and still have a conversation,"  Geoff said.  This is important to both Geoff and Lori who opened Zed's with the idea of being more than just a brewery, but a place for the community to come and hang out with their neighbors and enjoy a beer or two and still be able to hold said conversations.
Zed's Beer gets its name from Geoff's Great Grandfather who was a coal miner in Hungary and was known to brew a batch of beer and share it with the entire village.  Zed would fill his neighbor's steel pails with beer when it was ready.  Geoff's Grandfather carried the tradition to the United States and ran a beer garden in Pittsburgh.  He was known to keep the bar open as long as his customers wished to stay, a quality that we all admire of our favorite drinking establishments!  Geoff got bit by the brewing bug 24 years ago when Lori bought him a Mr. Beer as a gag gift (oh the irony) and he made, by his own admission, "the crappiest beer ever!"  But Geoff was hooked.  He grabbed his Mr. Beer and drove to the local home brew store and wanted to know what he needed to do to make better beer.  The purveyor of the store came up with a recipe, gave Geoff the proper ingredients, and sent him home.  Geoff told us he "followed the recipe to a T" and made what he calls "passable beer".  When I asked Geoff how long he brewed in that Mr. Beer kit, before he could answer, Lori interjected with "20 Minutes!"  Lori then told us that he went from the Mr. Beer kit to a 5-gallon setup, and continued to grow to where he is today.  Geoff honed his craft as an award winning member of the Barley Legal Homebrew Club and he is also a certified beer judge for the Beer Judge Certification Program (BJCP), one of 6500 such in the country. Lori is also a home brewer who likes to brew in smaller 1-gallon batches and, for the last 20 years, she has also served as Geoff's assistant brewer and official taste tester (we are jealous!).
Prior to opening the brewery, Geoff attended the acclaimed Siebel Institute and took a course on the business side of the operation to fine tune his plan for the brewery and its operation.  "It was an amazing week!  I believe they had 30 breweries in the facility and talked about everything from small 1-2 barrel breweries, niche brewing, and how to expand".  When I asked Geoff what he took away from this he responded "It actually confirmed what I was looking for" and it "helped me focus on what equipment made sense, and what to keep in mind when looking for it".  Geoff also got to speak with Randy Mosher, famed author of "The Brewers Companion", about marketing and positioning which Geoff deemed "invaluable".  I asked him if it changed the way he was going to brew, he said "it did a little bit, they are very traditional and one of the main points they hit on, which is something we've (Geoff and Lori) talked about, is lineage or traceability, and knowing  where our hops came from,  and knowing where our grain comes from".  Lori added, "Even working with small farmers to know the provenance of everything, this is what distinguishes craft beer from commodity beer"
The tasting room itself is an inviting, wide open space with the brewing area in full view of the bar and seating area.  It has a sleek, industrial look that only adds to the brewery experience.  Glassware is well-thought out by Geoff and Lori to put their beer in the right type of glass.  Growler fills will be available soon, followed by Crowler fills in the next few months.
The much-anticipated opening of Zed's Beer is happening this Saturday, September 9th from 12-10 pm.  There will be 9 beers on tap including:
Zed's In NJ-Jersey Blonde
Zed's On The West Coast–IPA
Zed's On A Plane-Weisspale
Zed's In The Backyard-Copper Cream
Zed's In Ireland-Dry Stout
Zed's In The Orchard-Golden Peach Ale
Zed's At Brunch-Beermosa
Zed's In London-English Mild
Zed's In The Pacific-Vanilla Porter
There will also be the opportunity to buy a special limited-edition Zed's Gold Lettered Glass to hold your first pint.  I have seen this up close and it is really cool!  They made 144, Geoff broke 2, and they are holding on to 2 of them.  I have seen this glass up close and it is really cool!  $10 bucks gets you the 16 oz glass filled with your favorite Zed's Beer offering.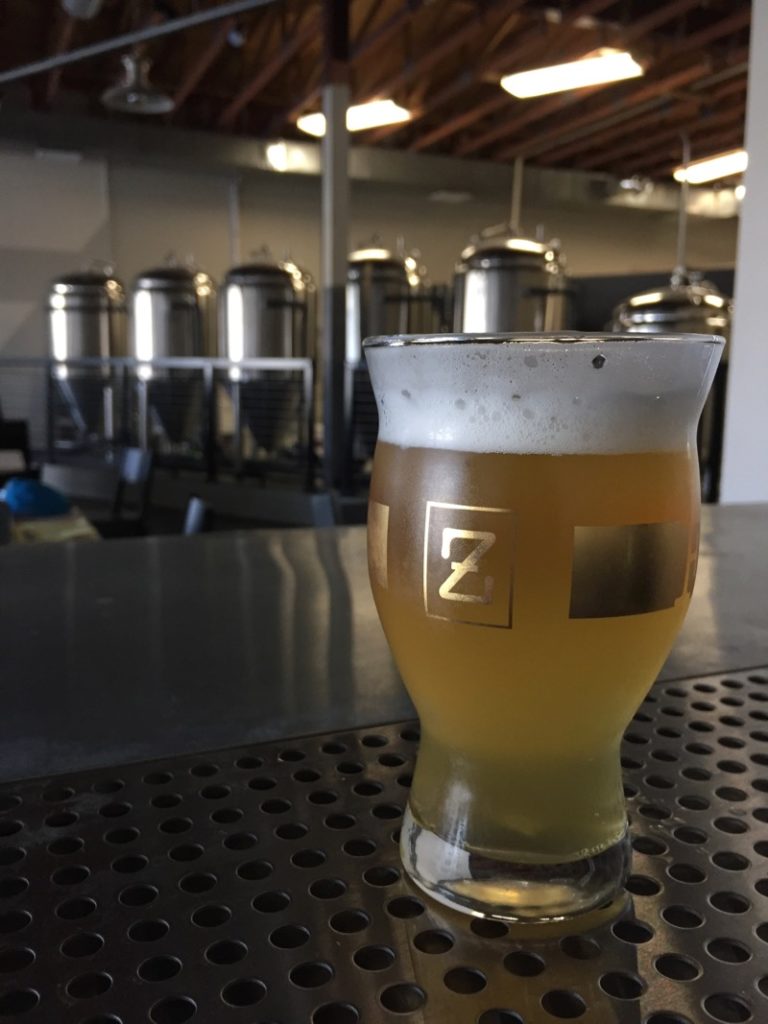 Congratulations and best of luck to Geoff, Lori, and the rest of the Zed's Beer Team, and special thanks to Geoff, Lori, and Juli of JMSloves Communications for sitting down with me and talking beer, great people who are a great addition to our South Jersey beer community!  Cheers!
Follow Zed's Beer on Facebook @drinkzeds
Follow Zed's Beer on Instagram drinkzeds
Follow Zed's Beer on Twitter @drinkzeds