In this edition of "10 Questions With…"  I traveled to Hammonton to talk with Shawn Grigus and Gayle D'Abate of Tomfoolery Brewing Company. The 7BBL brewery is located in the old bottling plant of Eastern Brewing Company of Old Bohemian fame, which is conveniently located near downtown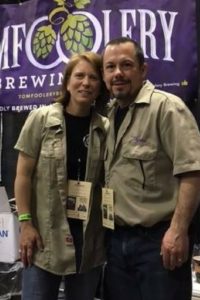 Hammonton. As you walk in the door, you immediately know that this historic building was meant for one thing, beer! They have a canning machine and a small bottling machine which really adds to their versatility.
With backgrounds in biochemistry and electrical engineering, Shawn and Gayle make a formidable team that brews some great beer. As founders of the local homebrew club, Brew Jersey. and owners of Tap It Homebrew supply store, they definitely have what it takes to be a force in this emerging market. While talking with them I quickly realized why they are so well liked and respected in the brewing community. As with all the breweries in our area, I wish them the best of luck going forward. I sampled most of what they had on tap and found them all to be great and true to their styles. Today they will be moving into their new bigger and temperature controlled tasting room.  The Grand Opening will include a special limited draft release of Blood Orange Irish stout.
What was the first beer you brewed and how was it?
Shawn brewed an Oak Butt Brown ale which was a recipe out of John Palmer's "How to Brew" book. It was drinkable, but it wasn't very good. It was muddled with a lot of different flavors, but nothing popped. It just wasn't a balanced beer. Gayle's first beer was Shawn's pale ale recipe, and it was obviously very good because of better equipment, and it was a proven recipe. Shawn added that his guidance didn't hurt either
What is your favorite style to brew and why?
We actually have 2 answers for this question. First would be our pilsner. It's a simple beer and a simple recipe, but not a simple beer to brew. The 2nd would be an I.P.A. We hate to even use that answer, but the reason is because of the aromas during the brewing process. The customers enjoy the smell as well, but the cleanup part is not easy due to the amount of hops.3.
Do you look at ratings on Untapped, Beer Advocate, or Rate Beer and, if you do, does it influence your recipes?
We do monitor the ratings to get a general idea of what people want, and are thinking. You do need to dig a little deeper on some of the reviews to see how they rate other beers of a similar style. As far as influencing our recipes, that would be no.
How do you stay connected to the local area in relation to sourcing ingredients?
Our blueberry beer doesn't come out until the middle of July because we wait until the middle of June to get fresh blueberries. When it's gone it's gone until next year, because we will not use syrup or extract. We are also using a lot of grains from Rabbit Hill Farms. It seems more and more brewers are using grains from this farm in Shiloh, NJ which is awesome to see.
What is the one tip you would give home brewers to make better beer?
Don't rush it to the glass. Take the time to let it ferment out, and age appropriately. Your beer will definitely suffer if it's rushed out. You really want the flavor to pop in whatever style you are brewing. Make sure to treat the water to really push your home brew over the top.
What is one piece of advice you would give someone who wants to open a brewery?
The one thing we would tell someone to do is to go work in a commercial brewery, and get familiar and talk to the owner to find out what he had to do to get there. You must be committed to your passion. Be prepared to work hard and long for your dream.
If there was a beer that you could brew with no regards to cost, production, or sales, what would it be?
This is a hard question since we pretty much brew what we want to brew. We will always try to brew something once to see how it turns out. We do 5-gallon experimental batches every Thursday where we can see what the consumer's response is. If we had to pick one it would be a Brown Ale.
Looking back to opening day forward, what was the one thing that happened that surprised you the most?
In unison, they both said, "The amount of work" which goes back to question 6. There is so much more to it than just brewing beer. Also, the great response from the public, and the comradery between the fellow breweries.
Other than your beer, what is your go to after a long day at the brewery?
A tall glass of ice water (laugh). A refreshing quality beer from another independent craft brewer. Victory Hop Devil or Yards Brawler are 2 beers that come to mind.
Where do you see the brewery in a year? In 5 years?
Next year you will see a huge increase in production. We have the infrastructure to expand and really start to push out beer. In 5 years we want everybody in this region to know our name and our beers.
Thanks to Shawn and Gayle and congrats on the new tasting room!
Follow Tomfoolery Brewing Company On Social Media!
Facebook: @tomfoolerybrewing
Twitter:  @tomfoolerybrew
Instagram: tomfoolerybrew