I have been waiting to do this article since 2017 when I first heard that the town I was born and raised in, Somers Point, Atlantic County, NJ, was getting a brewery of their own. The brewery was to be located in the old Somers Point Ice building on New York Ave, just off of Rt 9 (It was most recently Sea Isle Ice). I would always get my ice from there to chill down my adult beverages when I was young. I remember sometimes they would just have a cigar box honor system in the building as well as an ice machine out on the road which would dispense bags of ice and whole 20 lb blocks. But now, adult me is super psyched that I can get fresh craft beer from that same building that used to provide ice to cool down my beers of youth!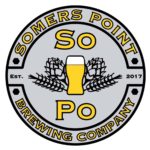 A few weeks ago I sat down with head brewer and part owner, Ed Seigel of Somers Point Brewing Company AKA SoPo Brewing. Ed started home brewing in 1994 when he and his wife moved to Vermont. She got him a homebrew kit shortly after arriving there, and the hook was set. Vermont was way ahead of New Jersey in the craft beer scene at that time. It was, and still is, one of the hotbeds of great craft beer.
Somers Point Needed a Brewery
When Ed and his wife moved back to the area he started talking to his childhood friend John DiNofrio about how Somers Point needed a brewery, so they started looking around at properties that they would be able to develop. Ed and John realized that they couldn't do it alone so they started looking for partners. So Ed and John brought in brewing partner Kevin Szagalia, as well as Mike Prata, Bob Biedrzyck, and Deepak Chauhan and they started on their quest to open up SoPo Brewing in 2017. Finally on April 11th of this year the first beers were poured from the SoPo taps to a large following they had built over the 2 years leading up to the opening. The first few days were so crowded that there was a line to get in due to the fact that they reached capacity of 60 beer loving patrons.
"We put a man on the moon 50 years ago, but we still don't know everything about all the different hops and how they work together"

– Ed Siegel, Head Brewer, Somers Point Brewing Company
Once inside, the crowd was met by smiling tap tenders and a solid array of different styles to choose from. The taproom is adorned with several high top tables and chairs, and a large couch and table. The large concrete poured bar has seating for another dozen or so people. There is a large roll up garage door which is open when weather is permitting which gives the brewery a great outdoor feeling. The 7BBL brewhouse is in plain sight as well as 4-7 BBL fermenters, and a 15 BBL fermenter. There are also 2-7 BBL Brite tanks as well as a 15 BBL. They have really packed a lot of beer making ability in a small area without making it feel congested. To say that I'm happy to finally have a brewery in my hometown, and about 2 blocks from where I grew up would be an understatement. Now on to the vaunted 10 Questions!
1. What was the first beer you brewed, and how was it?
Ed Seigel: It was a Brown Ale of some sort from the beer kit my wife bought me, but it was not a Mr. Beer Kit. It was reasonably palatable because I drank all of it, and continued to brew.
2. What is your favorite style to brew, and why?
ES: I would have to say IPA's. I just love all the hops that are available now, and how they play together. There is so much you can do with them. We put a man on the moon 50 years ago, but we still don't know everything about all the different hops, and how they work together.
3. Do you look at ratings on Untapped, Beer Advocate, or Rate Beer, and does it influence your recipes?
ES: I've looked at them a little bit, but we are still so new that they haven't started to guide us to what the public likes as far as styles, but as far as the recipes go that is all our call.
4. How do you stay connected to the local area in relation to sourcing ingredients?
ES: We are looking to get some local barrels and start a barrel aged program. We are still new, but we want to start looking for a local coffee roaster. Obviously Kevin wants to do something with blueberries. This will be our first fall so we'll do some sort of fall inspired beer.
5. What is the one tip you would give home brewers to make better beer?
ES: It's all about the process. Starting with your water chemistry to your grain bill to your hop selection, and timing, and temperature control. You need to nail these things down to be consistent.
6. What is the one piece of advice you would give to someone who wants to open a brewery?
ES: It's still early in the game to say "DON'T", but for us it was about finding the right building. If you could in any way buy the building instead of leasing. After doing all this work it would be heartbreaking to be told to move after the lease was up. The amount of time it takes is always more than you figured. Luckily there are 6 of us so it's not too bad.
7. If there were one beer you could brew with no regards to cost, production, or sales, what would it be?
ES: It would be a Belgium Lambic. I've always wanted to brew one. They are a little fruity, and a little tart, and very time intensive. There is a lot of aging, and wild fermentation that goes into it as well.
8. Looking back to opening day forward, what was the thing that surprised you the most?
ES: There incredible amount of people that showed up the first few weeks, and the amount of our logo glassware that walked out the door. We started out with 144, and only broke 4, but at the end of the first week we only had 70 left.
9. Other than your beer, what is your go to after a long day at the brewery?
ES: Anything local. Right now I'm on a Tonewood kick, but really anything local.
10. Where do you see the brewery in a year? In 5 years?
ES: In a year I would like to see our local distribution be in full swing. Especially here in town, and spreading out. 5 Years? When you're first getting started it's tough to look that far ahead, but we would like to have a local canner in here on a regular basis, and more packaging.
Bonus: What's the best beer you ever had?
ES: The one that made the biggest impression on me would be Heady Topper. It was probably 8-9 years ago when I first had it. My wife and I still go to Vermont for vacations, and we were out to dinner when I saw it on the menu, and was completely blown away.
Bonus 2: What do you listen to when you're brewing?
ES: At the time of this interview there was a lot of Delta Blues playing in the brewhouse which suited me just fine. I'll put on Apple Classic Alt. sometimes, but brewing with the blues is mostly what I listen to.
—
I have really been looking forward to this interview since we first got word of SoPo Brewing which was the same time South Jersey Beer Scene was founded. As we do with all the new breweries that we cover, we wish these guys nothing but the best of luck moving forward. As of June 1, 2019 there beer is available on tap at Josie Kelly's in Somers Point with more local establishments to follow. In a funny coincidence my wife and I have been going to Woodstock Brewing in Woodstock, Virginia for about 5 years, and the guys at Somers Point Brewing modeled there place after it. So when you are in Somers Point stop by SoPo and have a flight or a pint from a group of guys who care about the craft, and the community.
As Always,
Enjoy Your Pour!
---
For more information on Somers Point Brewing Company visit https://somerspointbrewing.com