Nestled in the heart of Cape May County in the County Seat of Cape May Courthouse a spark has ignited. This spark was started by Brothers Karl and Kurt Hughes, the firefighters behind Bucket Brigade Brewery, a new startup brewery and tasting room located on Main Street in the heart of town.  The Brewery will be located in the old HB Christman and Son Automotive and Marine Parts (it was most recently Fox Electric) building located at 205 North Main Street.  Kurt and Karl are clearly excited to be part of the brewing community and there is much anticipation for their opening, pending licensure, later this year.  And, in breaking news, the Hughes Brothers have announced that partner Mark Mcpherson will be the Head Brewer of Bucket Brigade Brewery.  Mark, who was the first Head Brewer at Cold Spring Brewery, brings professional brewing experience to Bucket Brigade, something that is hard to find when people make when they transition from home brewing.  Karl, Kurt, and Mark have known each other since they were young kids when their families hunted together and have been like family ever since.  To anyone who knows these three it is no surprise that they have decided to open a brewery together and build a business.

Karl, Kurt, and Mark are lifelong Cape May County residents who can trace their lineage back at least 13 generations and when you meet them you immediately know that these guys are the real thing.  I first met Karl and Kurt at the AC Beerfest this past spring where they had a booth with to promote the upcoming brewery and selling some merchandise.  Karl and Kurt were very happy to be there to tell people about the brewery and to support their fellow brewers. For most people, this would be a tough task.  They were at a beer festival and were not able to sell any beer yet (which is akin to showing up with a knife to a gunfight), and they had to continually tell people who stopped by that they did not have any beer.  For a lot of people, this would have just lead to a bunch of disappointment. Nope, not with these guys. They were dressed in full their full Irish Regalia including a kilt with all the trimmings and were two of the friendliest people at the festival. This led to a successful weekend and the buzz for the brewery has just been building ever since. They have a sense of community and sincerity that cannot be faked.  It is not uncommon to see the guys supporting other brewery's events and offering to help in any way possible.  Their firefighter backgrounds instilled community, duty, and family in both of them and it is genuine.  This is who these guys are.  "We don't know any other way to do it, we are firefighters and that is who we are, that is how we live our life," Karl told me when asked.
The brewery and tasting room will have a firefighter theme to it, but it will also have tributes to Cape May County and it's history.  The bar top in the tasting room is constructed from wood reclaimed from the MV Twin Capes, a retired ferry from the Cape May-Lewes terminal,  the bar rail is from the bar in the now closed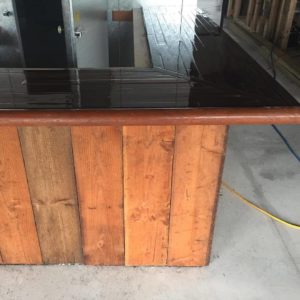 Buck Tavern, and reclaimed wood from the original HB Christman and Sons in Wildwood will be used in building the brewery.  The bar is the centerpiece of the tasting room which features a wide open space with two garage doors that will roll up so you can view Main Street, giving it a Street Cafe-like feel.  The guys will utilize the outside space for a few standing tables to sit at in the times of the year when it is warm enough to be outside.  The walk-in cooler is huge with plenty of room to accommodate expansion as the brewery grows and has a clear glass door so when you take your tour you can see what is going on in there.  The guys will also have a fridge with pre-filled crowlers ready for you to take out, along with growlers that they will fill on the premises.  The names and styles of beer have not been released yet, but Karl, Kurt, and Mark told me that they were working on them, getting them just right for the opening day.
Bucket Brigade is also offering one of the best membership clubs we have seen at any brewery.  The Bucket Brigade Charter Membership will give you all of these benefits:
➢ Free T-Shirt
➢ Free Hat
➢ Free Challenge Coin
➢ Free 64oz. Growler
➢ Free Church Key Bottle Opener
➢ Free Sticker
➢ Free Charter Member Only 20 oz. Mug
➢ Personalized Charter Membership Card
Bucket Brigade Discounts
➢ Mug fills at regular pour price
➢ $1.00 off Growler fills
➢ Free Growler fill on Anniversary of Charter Member Purchase
➢ 15% off of all merchandise
Bucket Brigade Events & Announcements
➢ Early notice on all new releases
➢ Early notice on all events
➢ Annual Charter Members Only Private Party
This membership will run you $150 dollars for the year and will renew thereafter for $100.  This is an incredible offer, definitely one of the best we have seen.  To sign up follow this link:
If all goes according to plan, the guys hope to be open to the public this fall.  This is going to be a terrific addition to the South Jersey Beer Scene as well as downtown Cape May Court House.  Stay tuned to the website for more updates!
Cheers!
Follow Bucket Brigade Brewery on Facebook @bucketbrigadebrewery
Follow Bucket Brigade Brewery on Twitter     @BucketBrew
Follow Bucket Brigade Brewery on Instagram @bucketbrigadebrewery