If you really want to get honest answers from a brewer, catch him in the midst of a double brew day. Jason and his crew were brewing 2 batches of Icarus NEIPA, Yacht Juice. The brew house was a scene of organized chaos, "We are a well-oiled machine at Icarus….no I swear, we are!" as Jason ran from fixing a leak in the glycol chiller to dumping a 100-pound bag of oat flakes in the mash tun.  The 10 barrel brewery just celebrated its 6 month anniversary and is continually expanding and working on new projects. These batches of Yacht Juice are earmarked for canning, the newest endeavor for Icarus.
Jason is an Ohio State alumni with a degree in food sciences and fermentation. When he graduated instead of going to graduate schools in the states, Jason applied for and was accepted to the Brew Labs at the University of Sunderland in England. "I didn't want to do and learn the same things as everyone else, so this was an opportunity to expand my experience… do something different." Jason had the opportunity to work at Darwin, Maxim, and Jarrow Brewing companies in the Newcastle area of Northern England and has applied that experience and knowledge to his work at Icarus.
What was the First Beer you brewed? How was it?
Caribou Slobber a brown ale and it was delicious!
What is your favorite style to brew and why?
I like to brew weird beers, different and challenging, like the Sunwalker Smoked Pilsner and the Pineapple Hindenburg (Habanero Pale Ale).
Do you look at ratings on Untapped, Beer Advocate, Rate Beer and if you do how does it influence your recipes?
I look at the outliers, the bad reviews, that guy who gave my IPA zero stars. I want to find out what I did wrong, see what can be fixed and where Quality Control can be increased.
How do you stay connected with the local area in relation to sourcing ingredients?
We are beginning to work with Fir Farm in Colt's Neck to source some local hops. Grain is a little tougher, not that many maltsters in NJ, but that is something we hope to work on in the future. We believe it is also important to give back to the community, so we've raised money for the Beach Haven Volunteer Fire Department, Island Heights VFD and hosted fundraisers for Extended Arms of Toms River and local chapters of the Police Unity Tour.
What is the one tip you would give to home brewers to make better beer?
Write down everything!! Even your mistakes, keep a book, keep a journal…I still do.
What is the one piece of advice you would give to someone who wants to open a brewery?
Research everything, plan, over plan…and when you think you are done, research and plan some more!
If there were a beer that you could brew, with no regard to cost, production or sales, what would it be?
That's a great thing about having your own brewery, I am my own boss. I have no restrictions so if I want to brew a beer, I can.
Looking back on opening day forward, what was the one thing that surprised you the most?
I think being able to develop, produce and market such a large variety of beers in such a short time.
Other than your beer, what is your "go to" drink after a long day at the brewery?
You mean like today? This is my drink of the day today (he holds up a nearly empty, lukewarm gallon jug of water). Hard to say, I love rye, not exactly thirst quenching. Let's say a spiked lemonade.
Where do you see the brewery in one year…five years?
Brewing a lot more beer over the next year. Five years…our own canning system. That was the most recent project, it was well received so I'd like to expand on that.Do I get a bonus question?
Do I get a bonus question?
OK, why no big beard?
Volunteer fireman…giving back to the community!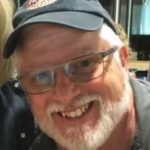 Vic Sbailo is the newest contributor to SJbeerscene.com.  Vic is the President of the Ocean County Home Brewers Association and an avid home brewer.  We are looking forward to Vic's insights on the Ocean County Beer Scene!  Check out his bio on our home page!  For info on Ocean County Home Brewers Association email Vic at ochomebrewers@gmail.com