When Laura and Todd Lacy decided to open a brewery they wanted to do something different.  They wanted the local community to be able to get involved and, at the same time, raise some capital to rhelp fund the dream of opening a brewery.
Laura and Todd's Attic Brewing is taking a unique approach to opening their brewery in the Germantown section of Philadelphia.  They are looking for microinvesters on the crowdfunding site WeFunder, a site that is a little different than other crowdfunding sources.  Unlike Kickstarter or GoFundMe, WeFunder is a Public Benefit Corporation Platform that does more than give you the usual perks of T-Shirts, Mugs, and special openings, it also gives you a stake in the business and a chance to make some money off of your initial investment.  Investors are paid back through a revenue share in which 10% of the revenues that the brewery earns will be distributed quarterly until everyone receives their initial investment plus an addtional 50% of their investment on top.  Their are some variables in how long this may take and Laura told us, "If we raise $175K, based on the current revenue projections, investors will be paid back in 3 years".  They have already met their original goal of $100K and the funding will close on 9/7/18 at 11 PM, so if you are interested you need to get on this TODAY!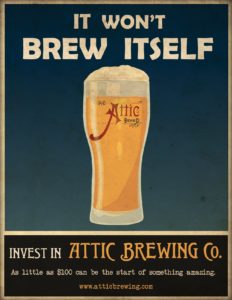 We here at South Jersey Beer Scene love this model.  (Editors Note:  We did not receive any compensation from Attic Brewing for this article)  We love the community that a brewery brings to a neighborhood and the ability to be an active investor in it really is something that we have not seen.  The return on the investment is really generous, and they are also giving you perks in addtion to the cold, hard cash.
I asked Laura why people from South Jersey should invest and she told us, "People who live farther away should invest in Attic Brewing Co. because it's an opportunity to become part of our brewery family and help build something amazing in historic Germantown. Our investors not only get a 1.5x return on their investment, but also really cool investor perks like brewery swag, private tours and tickets to our pre-opening party. We will be a destination brewery with a 3,000 sqft taproom hosting weekly live music and events. Making it the perfect spot to come visit for some great beer and a great time with friends!"
Oh, about the beer.  Attic doesn't have plans on being a production brewery but will have many different styles of beer to appeal to everyone.  They plan on brewing classic styles including Brown Ale, Cream Ale, a Hoppy American Wheat, German Pilsner, and IPA's that they will sell directly to the consumer.  They also will be filling in the menu with some Unique one-offs and seasonals.
Congrats to the Team at Attic Brewing Co. for reaching their initial investing target and we cannot wait to visit once the doors open!
LINKS
Visit Attic Brewing Company on the web at www.atticbrewing.com