For this pairing, we traveled to Tuckahoe Brewing Company in Egg Harbor Township.  We met with Tuckahoe's Sales Manager, and all around great guy, Rob Callaghan in search of the perfect beers to pair with the food that we had prepared. Tuckahoe Brewing Company is one of the first South Jersey breweries, established in 2011 in Ocean View, Cape May County.  Tuckahoe made a move to Egg Harbor Township in 2015 to give them the extra room they needed to expand production and increase the size of the taproom.  The taproom is spacious and features many tables and a large wood topped bar.  The bar faces a large window which gives you a great view of the brewing area so you can see where all the magic happens.  In addition to the taproom, their beers can be found in many bottle shops, bars, and restaurants throughout South Jersey.
Cheese Course
For the cheese course, I once again decided to go with a high-quality Di Bruno Brothers Cheese, their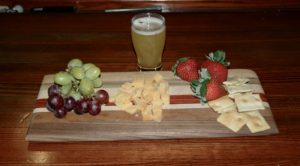 Beemster Classic.  This robust, sweet and salty cheese is firm with a smooth feel.  Originated in Holland, Beemster is made from the milk of cows that fed on grasses located on a UNESCO World Heritage Site.  Although Di Bruno Brothers suggest a dark stout, I chose to go outside the box and pair it with Tuckahoe's Quatrain IPA.  Quatrain IPA gets its name from the 4 hops used in the brewing process namely Mosaic, El Dorado, Columbus, and Azacca.  With its citrus flavor and it's hazy golden appearance, this juicy beer really complimented the Beemster Classic. It will be interesting to see what Di Bruno Brothers Cheese that Passion Vines Beer Expert Sean will choose to pair with the Beemster Classic at their tasting event with Tuckahoe Brewing on Thursday, April 6th.  For tickets and information, you can follow the link HERE.
Appetizer
For the appetizer course, I prepared a family favorite.  Bacon Wrapped Jalapeno poppers stuffed with a garlic and herb cream cheese.  This Spicy app had me considering a few different choices.  We first tried the pepper with Dennis Creek Pale Ale.  The use of Centennial and Cascade hops gives this beer a nice floral aroma with good bitterness on the back end.  Rob then suggested we try the Reed's Bay American IPA as well,  and instantly I knew that this was the correct choice.  This  6.2% ABV IPA was brewed with Chinook, Cascade, and Centennial Hops, this beer had the perfect amount of citrus and a good bitter bite that perfectly complimented the poppers.
Entree
For the entree, I made my Applewood rubbed baby back pork ribs with a little brown sugar. Ribs are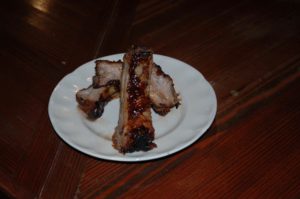 clearly a fan favorite with beer drinkers and I knew that there was only one beer to pair it with, Tuckahoe's Anglesea Irish Red Ale.  The ale's roasted barley, toffee, and caramel undertones really brought out the sweetness of the ribs.  At 5.3% ABV, this highly drinkable red ale really complimented the ribs perfectly.  As a side note, this is my personal favorite of all of the flagship beers that Tuckahoe produces.
Dessert
I don't think I've ever had a better pairing in taste and name than this one.  I knew there could only be one dessert that I would pair with Tuckahoe's Kid's Table Milk Stout, and it would be a nice, big chocolate chunk cookie.  This decadent stout, brewed with roasted barley, chocolate, caramel, and milk sugar really made for a great pairing.  What really put it over the edge is when Rob dunked his cookie in the stout, the rest of us quickly followed suit and it worked really well.  Coming in at 6.2% ABV, this stout made for a perfect finish.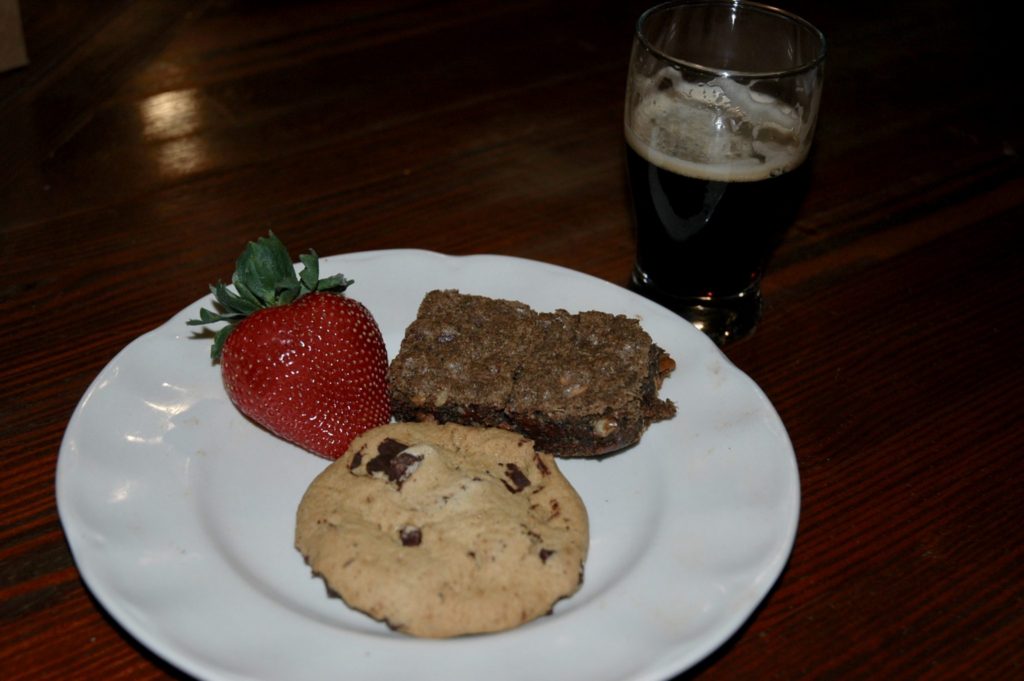 Bonus Dessert
Bonus?  Yes!  Rob surprised all of us with a Blondie that he made from scratch using spent grain from Tuckahoe's Steelmantown Porter.  Spent grain is starting to gain traction in baking, and Rob was really excited about the prospects of using spent grains in the future. We each had one (well maybe more than one) accompanied by the Steelmantown Porter and they were fantastic!  The spent grain gives the Blondie a unique flavor and texture profile that separates it from a traditional flour product. People are starting to use the spent grains to make pasta, bread, pretzels, dog treats, and most anything that calls for flour.  This brought a really nice finish to a fun, and flavorful, pairing session.
I would like to thank everyone at Tuckahoe Brewing Company for the tasting and the hospitality. Keep doing what you are doing and, as always, Enjoy Your Pour!
Follow Rob Callaghan on Instagram @iselltuckahoebeer
Follow Tuckahoe Brewing Company on Twitter @Tuckahoeco
Visit Tuckahoe Brewing Company's Facebook Page HERE
For tickets to Tuckahoe Brewing Company's Beer And Cheese tasting at Passion Vines click HERE