Some of the things my wife and I enjoy is traveling, hiking, and finding new and unique breweries. Our friends at Atco Brewing recommended we check out Hidden River Brewing Company which opened on July 15th 2015 in Douglassville, Pennsylvania. I looked them up on the map, and saw that they were located close to Hopewell Furnace and French Creek State Park, which provided us some neat history and miles of hiking trails. We started the day at Hopewell Furnace which was "Iron Plantation" that was in operation from 1771-1883. We then connected to the trail system where we hiked around Hopewell Lake. We timed it perfect to meet Brewer/Owner Kevin Margitich to see what Hidden River was all about.
Historic Brinton Lodge
The first thing we noticed when we pulled up was they also had a turtle in their logo. The brewery itself is housed inside the Historic Brinton Lodge which the first structure was built in 1711. We met Kevin in the brewhouse which was in the newly renovated barn of the Lodge which they moved into in February from the much smaller brewhouse located in the Lodge. For about a year before they built the new brewhouse they would do collaborations, and canning with local breweries to get their feedback on systems.
After some research they bit the bullet, and spent a little more than they wanted and purchased an oversized 10BBL system from Specific Mechanical out of Canada due to the lack of any complaints from other brewers about them. They have a nice assortment of 10BBL and 20BBL fermenters, and Brite tanks. The other thing they had which is always recommended was a very large walk-in cooler. They also have some tap lines heading up to the loft area of the brewhouse for "quality control". With such a well thought out brewhouse, and great working environment I could see why Kevin, and Head Brewer Josh Gwinn love coming to work everyday to make some incredible beers.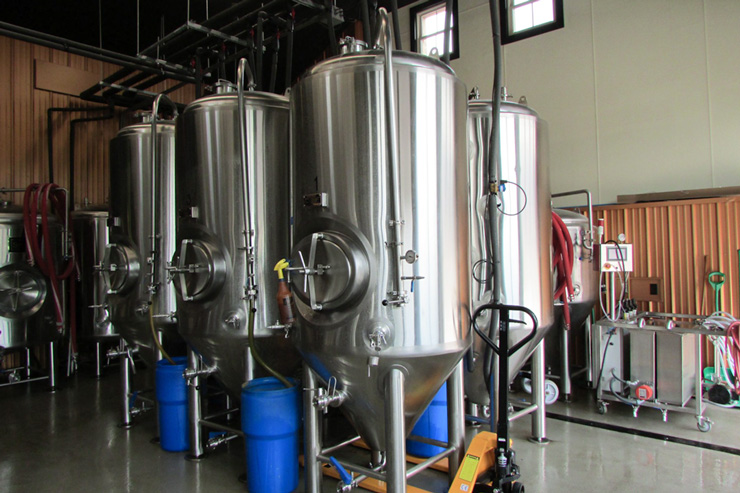 The Lodge itself has gone through many transformations over the last 300 years. As I mentioned earlier, the first building was a farmhouse built in 1711 from land purchased from William Penn and owned by the Millard family. In 1796 the Kirlin family purchased the homestead, and made a living making ammunition for the War of 1812. It was also a stop along the Underground Railroad for some time. In the early 1900's a wealthy iron industry family from Philadelphia, the Wittmans, purchased it and expanded it to the 28 room mansion you see today. During the Prohibition Era Caleb Brinton, who it is named after from Reading, bought the mansion and turned it into a gentleman's club for the rich and famous from Philadelphia and the surrounding area. It was later known as Covatta's Brinton Lodge Restaurant until 4 years ago when it became Hidden River Brewing Company.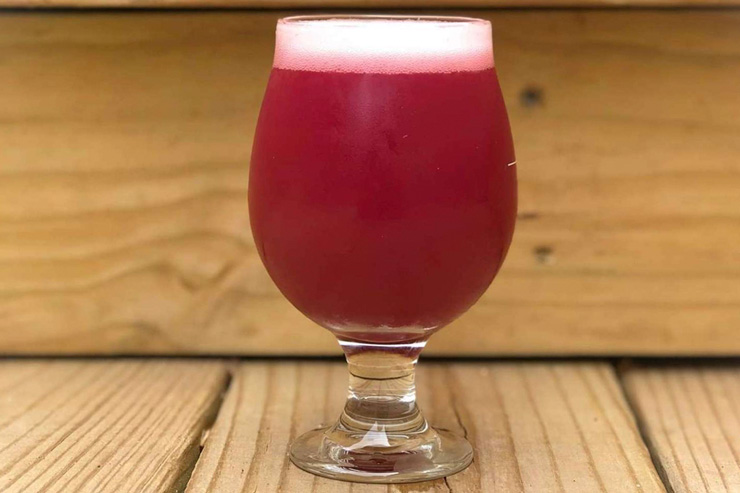 While the upstairs is gated off and used for ghost tours at times, the first floor is a labyrinth of rooms with plenty of seating. There are 2 areas with taps with one being in a huge gathering room which also housed the open kitchen. There is a huge deck with more tables and a big covered rectangle bar overlooking Mill Creek. The grounds around the brewery are well taken care of with chairs and benches for sitting and relaxing. While they have a crowler machine, they do not fill on demand due to the huge crowds. Instead they prefill about 100-150 assorted crowlers for the weekend and do can releases a couple times a month. They are known for their IPA's, but the blackberry sour we had was awesome as well. We tried pretty much every beer that was on tap and found them all to be delicious.
Innovative Farm to Table Menu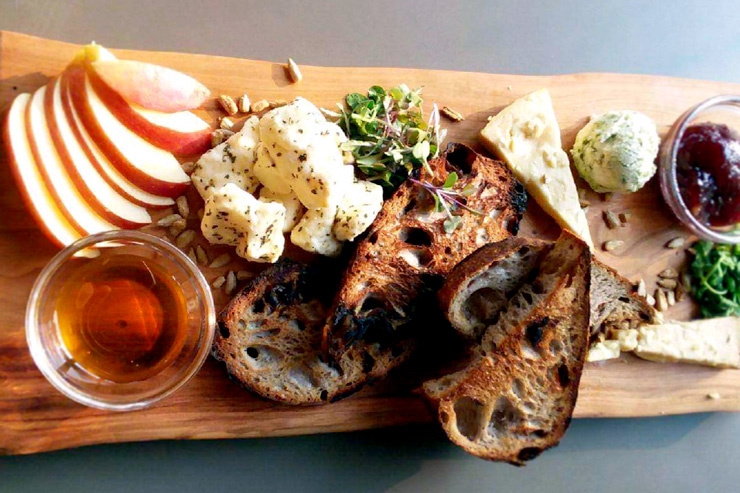 The huge crowds not only come for the exceptional beer, but also the innovative and always changing farm to table menu. Kevin's business partner Doug Reeser has a unique culinary background and is the driving force of the food and agriculture system that are in place. That means everything that is served comes from a 15-20 minute radius from the brewery with no compromises. The person responsible for putting Doug's vision into action is Chef Jenna Antonelli. Not only are the dishes she creates delicious, but her whole presentation shows the thought and love that goes into it.
The day we visited as soon as I stepped out of the truck I could smell the smoker was going and got excited for the days menu to be posted. About 15 minutes before food service began the menu was shared. I saw that pork carnitas tacos where on the menu, so I knew my nose was correct. Karen and I started off with the Cheese Plate, which had a great array of items from the local creameries, bread from St. Peters Bakery, and some local honey. We also got an order of wild mushroom and pork carnitas tacos, which both came with a nice side salad of local greens and pressed radishes. After the hike and the interview we quickly devoured Chef Jenn's incredible offerings. She usually posts the week's menu on Facebook on Thursday, so you can make a plan for your visit a bit early.
I highly recommend touring Hopewell Furnace Village and hiking French Creek State Park if you live in Jersey and need a nice overnight getaway. Reward yourself with a trip to Hidden River Brewing Company where there are true artisans at work in the brewhouse and kitchen.
As Always, Enjoy Your Pour!
For more information on Hidden River Brewing Company visit http://hiddenriverbrewing.com
Thinking about taking a trip to Hidden River?