I recently got to sit down, and talk with the guys behind the New Jersey's newest brewery, Chimney Rustic Ales, opening in Hammonton this upcoming weekend 12/27-12/29. Hammonton will once again be home to 3 breweries with Chimney filling the void from the recently closed Tomfoolery Brewing Company.
History
When I arrived at the brewery located at 15 Horton street, owner Dan Borrelli and brewer Nic Martino were in the middle of brewing their first batch of liquid deliciousness. Their dream that started when they applied for their permits in September of 2018 had been fully realized into this weekend's grand opening. Dan brewed his first batch on his stove in college because he knew there had to be something better than Natty Light. It was on a trip to Baltimore where he had his first Dogfish Head 60 Minute IPA and he knew he wanted to do a lot more home brewing. His first IPA didn't come out so great, but it didn't matter. He was making beer. He got a job at Keg & Barrel Homebrew store where he became the manager and tried to learn as much as he could. He then started brewing with his friends at Tonewood, and while taking a draft line certification class he met Mike from Crime & Punishment Brewing in Philly where he would help brew as well. When Dan started his family he had to move onto a more fulltime gig to support his family, but also with the purpose to save money so he could open up his own brewery someday. Nic started home brewing in 2007 and started brewing professionally in 2016. When you visit Chimney Rustic Ales you may recognize Nic from Tired Hands Brewing where he was a server, cellarman, and assisted with brewing. He most recently was in packaging at Yards Brewing until he left in August to devote his full attention to his dream.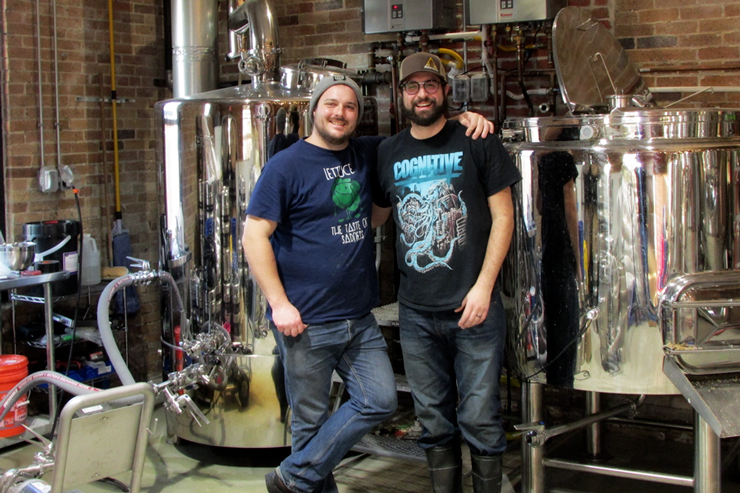 Rustic & Industrial
The space that houses Chimney Rustic Ales is a great blend of rustic and industrial. In the Taproom there are 2 large beautiful wood slab picnic tables that each can hold 12 beer-loving patrons. They also have 2 couches with a wood slab coffee table, along with a couple of live edge beer ledges for standing patrons. One of the coolest features are the live edge slabs that come out of a half wall that offer great high seating. These slabs actually came from the oldest tree in Moorestown. The bar has seating for another 10-12, and features something all breweries should have, a designated area for ordering your beer. This keeps everything nice and orderly and allows the bartenders to keep the flow of the brewery moving. With lots of reclaimed wood, corrugated metal, and high ceilings, the Taproom is very comfortable and inviting.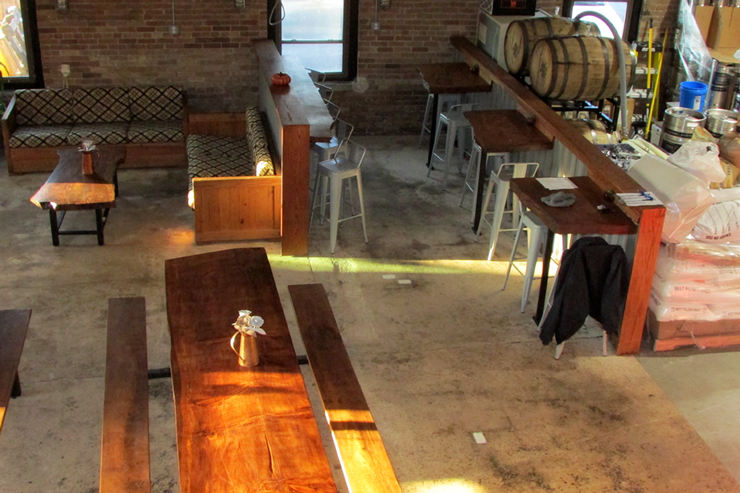 The brewhouse is located in full sight, and takes up about 1/3 of the buildings footprint. It consists of a 7BBL Brewhouse with 3- 7BBL fermenters, and 1- 7BBL Brite tank. There are a few wooden barrels with plans for more, and there is also room for some expansion as they need it. As the name suggests, you can expect a lot of Saisons, Farmhouse Ales, Barrel Aged, and Kettle Sours along with IPA's, Stouts, and some Lagers mixed in. They are opening with 12 tap handles which will certainly give them the room for a nice variety of beers.
While we where wrapping up the interview Dan explained to me his idea is to make the Hammonton Brewing community even better. It is an awesome idea, and you will have to continue to follow us, and them to see when this will come to fruition. I truly enjoyed my time with these 2 new artisans of the brewing community, and feeling their excitement for what the future will hold. In this season of giving I highly suggest giving some of your time on December 27th-29th 2019, and help them celebrate their grand opening over this Holiday Season. I for one will be there one of those days, and hope to see you there.
Enjoy Your Pour!