Last week, Tom, Vic, and I had the chance to meet with Brad Judge, the new Head Brewer at the Tun Tavern Restaurant & Brewery in Atlantic City, at the Whitecap Barrel-Aged Stout Release Event.  This collaboration between Tun and Atlantic City's Little Water Distillery really impressed! We also had a chance to try some of the new beers that Brad had made and were just as impressed. we tried at one of New Jersey's oldest Brew Pubs.  If you have not beenTun in a minute, you should come back now.
The Tun Tavern was established in Atlantic City in 1998 as one of the first operating Brew Pubs in the state and gave many people their first taste of handcrafted craft beer.  Located across from the Atlantic City Convention Center, the Tun quickly became one of the hottest spots in AC, especially among conventioneers and locals who had started to hear about this "craft beer" thing.  Tun has always had a really good food menu and the beer they made was unlike most people had ever had before.  I can remember my first trip there right after opening, trying my first actual craft beer that was actually made right in the place I was eating.  This set the hook for me, it was an exciting new world of beer.  The beer that was made at the Tun Tavern was different, more flavorful, heavier, and had flavors that I had not ever had.
As time went by, people stopped looking at the Tun Tavern as a brewery, which was .  Not that they weren't brewing beer, but sometimes the OG's get overlooked by all of the shiny new breweries that were opening all over the area. They had continued to brew their staple of beers but, in the times we live in, you need to change it up.  Fast forward to now.  Tun Tavern is all in on the beer.  And Brad is the guy who is getting them there.
Brad began his brewing career a long way from Atlantic City on the Pacific Coast of Nicaragua in the town of Popoyo.  Brad and his girlfriend (now wife) moved to Nicaragua 7 years ago to Surf and operate a Bed and Breakfast.  Brad and his expat buddies would often sit down and drink one of the local beers and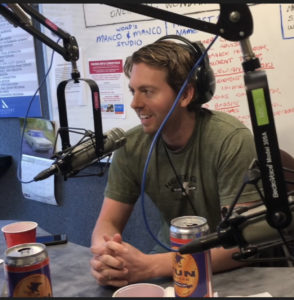 talk about how it would be nice to have something different.  The solution was that Brad, who grew up in Voorhees and was an avid home brewer, was going to bring back the ingredients to make beer the next time that he went to the US.  He started brewing 5 Gal batches of IPA's and they were a hit.  The next logical step was to build a brewery, right?  Brad and his partner Chris Harrison built a 3 barrel brewery and became quite popular amongst the bars, restaurants, and tourists in the area.  It was unlike anything else that was brewed there, very similar to the Tun Tavern's roots.  Fast forward to today, and Brad, his wife, and kids are back here in the US and he was able to step in to the Tun Tavern's role as the previous brewmaster was leaving for another opportunity.  Sometimes timing is everything.
In speaking with Brad, you can hear his eagerness to bring new flavors and styles to the Tun's rotation of beers.  Brad loves IPA's and we got to try his South Pacific Hop IPA, a 6.5% Hazy IPA that is brewed with Galaxy and Motueka hops.  Hopped in the kettle, then dry hopped after, this beer was really done well. We also got a preview of his Lager (this will be dry hopped as well) and a Pale Ale. Both were home runs and brings something to Tun's taps for Craft Beer aficionados as well as casual beer drinkers visiting the tavern.
In addition to the great beer, Tun Tavern is offering great food, a full bar, and a really great VIP Program.  This VIP program is free for anyone that is local (within 75 miles of AC) and offers great discounts every day of the week.  More info on the program can be found on their www.tuntavern.com.
Thanks to Brad, Diane, K, and the rest of the staff for their hospitality!  Their enthusiasm for the restaurant is amazing and we loved just hanging out, hearing Brad's story, and enjoying some great beers!
So run, don't walk, to see the new beers that Brad is making and revisit one of the places that help blaze the craft beer trail here in South Jersey.  We think you will come back.