The impressive stable of Ocean County breweries will soon be joined by Oyster Creek Brewing Company, Waretown's first! I had the opportunity to sit and meet with founder and head brewer, Kris Lewis, tour the facility and talk about the progress.
The brewery is minutes from Oyster Creek Generating Station, the oldest operating nuclear plant in the US (which recently announced it will be closing later this year) and the tributary of Barnegat Bay which it is named for. Kris wanted to keep a local feel, so rather than ignore the proximity to the plant, he incorporated it into the name, logo, and design of his brewhouse. The table tops are embedded with a map of the Tri-State area, with markers of all the generating stations and locations. He also has several booths from the now closed local restaurant the Forked River House, again, keeping that local connection.
That sense of community that we see with many of our breweries is important to Kris, as he was born, raised in still lives in Southern Ocean County. His love of brewing started over 20 years ago when he bought a homebrew kit for his dad. It was an extract kit, "Your basic ale", and soon, like many home brewers, he was hooked! The passion grew quickly, followed by the need to upgrade his system, develop more complicated recipes and brew larger batches.
Kris refined his skills and recipes and for many years his brews have been enjoyed by friends and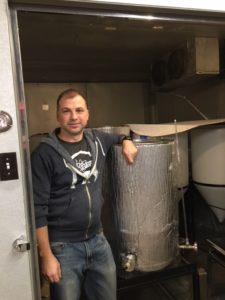 families who all encouraged him to open his own brewery. Buoyed by the favorable change in NJ laws and the recent surge and success of local breweries, Kris decided to take the plunge and after much planning secured his present location about a year ago.
Maybe more than any other industry, the brewing community is very supportive, nurturing group and the experience Kris had was no different. "We were at the Manahopkin Brew Festival, and even though we weren't able to produce beer yet, everyone was very supportive. Jason from Icarus Brewing stopped by and we had a great conversation about his experiences, the pitfalls, and frustrations in waiting for inspections and concern over the finances. But we also spoke about the excitement of building the brewhouse and the sense of accomplishment once everything comes together. It was a very encouraging conversation and the success they are having at Icarus now shows it can be done. Torie at Backward Flag has been great also. We are so close to their location, I didn't want it to seem like I was encroaching on their territory, so I introduced myself to her, but she was nothing but supportive and full of advice. We even heard from Megan Myers from Human Village Brewing Company all the way down in Pitman, offering congratulations and best wishes!"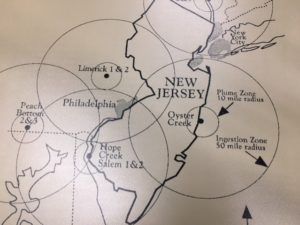 It takes a village to convert a computer repair shop to a brewery so Kris, his wife Colleen, contractors, family, friends have been working diligently. The work has paid off and with a beautiful concrete bar as a focal point, the dream that is Oyster Creek Brewery is taking shape. "We have a few more inspections to go through and then hopefully we can start brewing."
Kris anticipates 6-8 taps running for the 1.5 barrel brewhouse including 4-5 staples and some seasonal beers and possibly some experimental batches. "Our Irish Ale and Habanero Double IPA are 2 of our standards, so we hope to have them year round. Opening…possibly by St Patrick's Day or maybe a little longer. Again, it all depends on how the inspections go."
In honor of Kris' hope to be open by St Patrick's Day, we leave you with this Irish toast:
"May you always have love in your hearts, and beer in your belly!"
Cheers!