This past weekend I was able to spend time with family and friends at an outdoor graduation party. The alcohol was flowing and fantastic conversations were had by all. My buddy and I decided to step out on his deck and spark up a couple of splendid handmade stogies. After a while, another one of our friends came out on the deck to see what we were up to. We talked about our kids and how awesome our wives are (not sure if that is exactly true but I'm sure my wife will eventually read this article). After we consumed a couple of well made local IPA's our conversation turned to the cigars. Friend number two said that he just doesn't get the point. He said that cigar smoking is a weird habit that is very expensive. So my point to him was that like the production of his IPA, my cigar is also a piece of art made with an artisan's hands. And, like craft beer, making cigars takes several steps that can take a long time to perfect into something savory and delicious.
After thinking about what my friend had said I started to ask myself, "Why are cigars so expensive?"  The answer is a short one, they are not. The steps needed to make handmade cigars are very similar to that of brewing craft beer. In craft beer there are the tedious steps of mashing, sparging, boiling the wort, cooling the wort, fermenting, carbonating, and packaging. In cigar making, the stesps include harvesting the planted crop, sorting the leaves, bunching, binding, molding, and wrapping. Sounds pretty similar, right?
Since most people who read this blog are beer people, let me give you a brief overview of how a cigar goes from seed to smoked. The first step in cigar manufacturing is the planting and harvesting of cigars. Cigar tobacco is a relatively quick growing plant. It usually only takes about 3-5 months for the seed to grow into a full adult plant ready for harvesting. After they are carefully harvested, the leaves are taken into a drying room. In the drying room the leaves are hung to cure. This step alone can take 3 months to a year depending on the flavor profile the tobacconists want (some tobaccos are even being cured in beer barrels or wine barrels to inject more flavor into the leaf). Once the tobacco is cured, the tobacconist then chooses the types of tobacco to use as the filler, the wrapper, and the binder. Different types of tobacco and the way they are cured are carefully selected for the rolling process. A few types of tobaccos are then stripped into pieces that will be used as the filler or inside tobacco. The roller then places the filler into a binding leaf and finally a carefully selected wrapper is applied. with the filler and the third part of the cigar is the wrapper. The finishing piece is the cap. This is a small circular piece cut from the wrapper and glued into place to close the cigar.
As you can see there are a lot of steps and expertise used to produce a handmade cigar. It can take up to a year to make, and maybe even longer to age. Some leaves are cured for multiple years after the production to increase the flavor of these artistic masterpieces which is very similar to how a brewer creates a barrel aged stout, or an aged barleywine.
Creating craft beer and handmade cigars are truly the works of expert artisans. Anyone can nock down a Budweiser or smoke a machine made stogie, but I believe the creations of craft beers and handmade cigars are works of time, love, and art that need to be appreciated by the consumer.  And enjoying a great cigar with a great beer is one of the great pleasures in life
Spotlight Pairing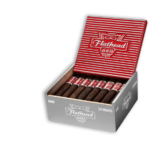 My spotlight cigar is the CAO Flathead V660 Carburetor. Inspired by the era of pin-up girls and hot rods these box pressed beauties do not disappoint. They were Cigar Aficionado's 2015 #3 cigar for a reason. They are full-bodied stogies with hints of toast, chocolate, coffee, spice, and nutmeg. It runs about 7-9 dollars/stick. I paired the 660 with the Leeds Point Wicked Porter from Garden State Beer Company. The Leeds Point Wicked Porter is smooth and easy to drink. Like the cigar, this Porter has notes of coffee and chocolate that makes that realy compliment each other making it a perfect combination. I usually do not like to match heavy cigars with porter beers, however the Leeds Point feels lighter than most Porter's that I have found and leaves you wanting more.
Please remember to drink at one of our many craft beer establishments and patron one of our local cigar shops.  If you have any questions or suggestions let me know what you think in the comments section that follows this piece, I would love to hear what you think!
Follow Paul on Twitter @paulalexsikora2
Follow Paul on Instagram Psikora108