Let Them Know You Found It On SJBeerscene.com!
We have an exciting week of events for you this week highlighted by the first ever What's On Tap Beer Festival at WheatonArts on Saturday, June 17th.  Don't miss this one as there will be 25 breweries pouring over 5o beers.  Local breweries include the following:  Glasstown Brewing Company, Tomfoolery Brewing Co., Slack Tide Brewing Company,  7 Mile Brewery, Garden State Beer Company, Tuckahoe Brewing Company, Pinelands Brewing Company, and Cape May Brewing Company. Individual tickets just $34.99 and include general admission access, a souvenir festival mug and unlimited beer tastings for 4 hours.  Designated driver tickets are available as well for $10.00.  You need to get your tickets now as this event is expected to sell out.  Also you will be able to see a live taping of the "What's on Tap" television show hosted by Gary Monterosso and Tara Nurin that airs locally on SNJ40.  For Tickets Click the graphic below or go to whatsontap.beer!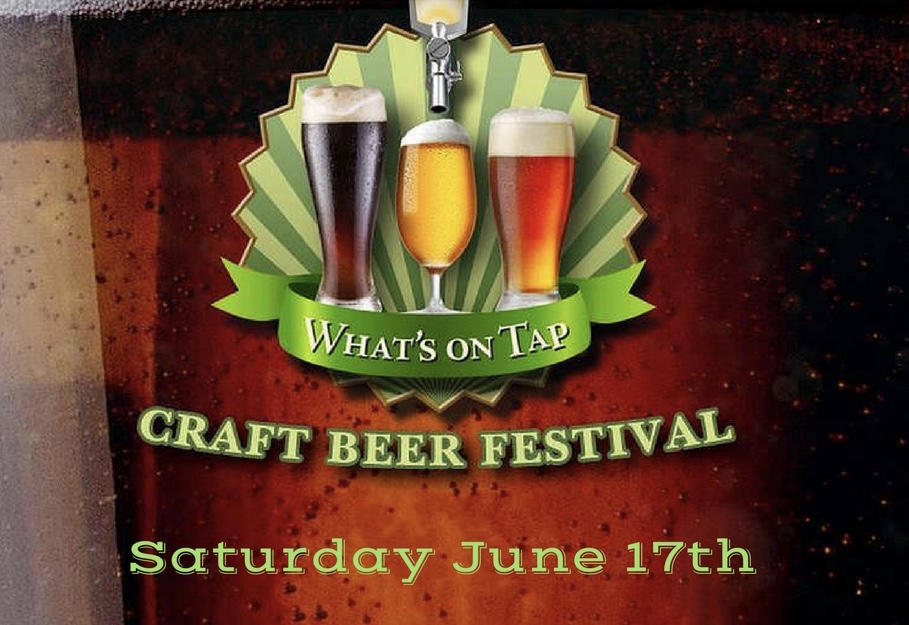 Tuesday, June 13th
7 Mile Brewery will be having their weekly Quizzo night  with Joe Gaughan hosting at 7pm. 7 Rounds of 7 Questions including a 7 minute speed round! Winner gets a $25 gift certificate. And while you are there, have a pint or two of their locally crafted beer!
Pinelands Brewing Company have their weekly "Beer it Forward" night tonight.  10% of all sales on Tuesdays from 6-9pm are donated to a deserving organization.  This month the money will be donated to Small Steps In Speech and Team Red, White, and Blue in honor of National Military Month
Looking to plan a brew tour?  Check out our friend Rick at Day Sipper Wine and Brew Tours. We really love a lot of the local tour companies, but Rick gives you a unique, personal, fun, and informative ride in his VW Bus and has a wealth of knowledge about beer, wine, and the local scene.  We hear nothing but glowing reviews from patrons and brewery people.  Groovy!
Flat Stone Tavern & Grill is having Clamarama all day today, with specials on a variety of Clam dishes.  To help you wash down the clams, why not pick one of the 24 drafts that are on tap featuring many locals including Three 3's, Cape May Brewing Company, and the Weyerbacher/Cape May collaboration Paradise 160.
Wednesday, June 14th
Slack Tide Brewing Company is open tonight from 4-8pm which would be the perfect time to join the Slack Tide Slacker Mug Club.  As a member you will receive benefits such as a Special 20 oz. Slacker Mug Club mug that can be filled at the tasting room for the same price as a 16 oz. pour, Club T-Shirt, Special release parties and other "members only" events, and discounts on Slack Tide Brewing apparel.  For more information stop by the tap room or check out them on the web HERE
Tomfoolery Brewing will be hosting Fool's Trivia at 6:30 pm.
Cape May Brewing Co will be having a Tap Takeover at Blue Heron Pines with Live music, food and beer pairings and 5 lines of CMBC. They'll be pouring The Bog, Summer Catch, Cape May IPA, Honey Porter and Tide Table Pale Ale from 6-8 pm.
Thursday, June 15th
Tuckahoe Brewing Company has extended their hours and is now open from 4-9pm on Thursdays which is great news for beer-lovers in South Jersey.  They are really making great beer and the staff is friendly and knowledgeable!
Tomfoolery Brewing's Tap-It-Thursday features Rabbit Hill SMATH with Experimental Hops
Cold Spring Brewery's Thankful Thursday this week will benefit the Volunteers in Medicine of South Jersey.  The event happens from 4-8pm, and a portion of the proceeds from this time will benefit the organization.  Stop by and support the organization and enjoy a beer in their amazing, must-see Taproom!
Garden State Beer Company's Thursday Live Music Series will feature Beecher's Fault from 8-10pm.  This band out of NYC just kicked off it's Summer Tour and GSB Co. is one of the stops.  Stop by, grab a cold one and listen to some great music!
Friday, June 16th
Ludlam Island Brewery is open today and every day from 12-8pm.  Stop by the tasting room and grab a flight or two of their great selections!  Joe and Brad have been brewing up some interesting beers, and their fantastic Reuben is back on tap. This beer is their take on the classic German gosè style ale. Salty, sour, brewed with a bunch of rye and "dry hopped" with carraway seeds.  It is definitely one of  SJbeerscene.com's favorite beers we have sampled this year.
Garden State Beer Company  will be having Quizzo at the Tap Room starting at 6:30
Did someone say Happy Hour?  Goodnight Irene's Friday Happy Hour happens from 4-7pm.  The outside bar is open so stop by and grab a beer from one of the best beer bars in South Jersey!
Glasstown Brewing Company is open from 12-9pm today.  Stop by and try one of their many great beers and grab some cans to take home!
A lot of people have been telling us great things about The Leatherhead Pub in Egg Harbor City.  This pub is housed in what was a firehouse that was built in 1918 and has great food to go along with their eclectic beer menu that features many local breweries along with unique selections from other breweries such as Bronx, Green Flash, and Founders.  You can check out the taplist on Beer Menus by following the link HERE
Saturday, June 17th
What's On Tap Beer Festival at WheatonArts, Millville from 1-5pm.
Vagabond Kitchen & Tap House will be featuring the music of Either Way from 8-11pm.  Their ever-changing well-curated taplist is one of the best in the state, and they also serve Diners, Drive-Ins, and Dives approved eats!
Clayton Liquors is the place for take-out for local craft beer.  Raj curates 20 taps and fills Growlers and Crowlers with your favorite South Jersey Craft Beer.  The menu is constantly changing and is updated often on Beer Menus by clicking HERE.  Give them a follow on Facebook, Raj updates frequently for us beer nerds!
Why Not Spend Saturday with one of South Jersey's Fine Breweries!
7 Mile Brewery will be open 12pm-10pm
Cape May Brewery will be open 12pm-8pm
Cold Spring Brewery will be open 12pm-8pm
Garden State Beer Company will be open 3pm-10pm
Glasstown Brewing Company will be open 12pm-9pm
Ludlam Island Brewery will be open 12pm-8pm
Pinelands Brewing Companuy will be open 12pm-8pm
Slack Tide Brewing Company will be open 12pm-8pm
Three 3's Brewing Company will be open 1pm-9pm
Tomfoolery Brewing Co. will be open 12pm-8pm
Tuckahoe Brewing Co. will be open 12pm-8pm 
Sunday, June 18th
Wingcraft Kitchen & Beer Bar boasts 40 taps of craft beer, plus their world famous secret Sunday Brunch!
Three 3's Brewery is open today from 12-6pm with 12 taps flowing with great beer! Come by and have a beer, and they are pet friendly so you can bring your critter with you!