A few weeks ago I was sitting on my porch with my cell phone in hand as I waited for the mail truck to arrive. I knew the delivery would be coming soon because I had the tracking info pulled up on my phone.  My wife was watering the flowers and commented on how ridiculous I was being. Then, BOOM, the truck pulled up. I think I knocked my wife over on my way to the mail truck. I grabbed the package from the mailman nearly tearing his arm off. There it was, in my hands, something I have been anticipating for nearly 2 months. It was my order of Imperial Stout Barrel Aged cigars. These cigars are a collaboration from Cigar Dojo and Camacho Cigars.
In 2015, Camacho pioneered the America Barrel-Aged cigar using tobacco aged in used American Whiskey barrels. The process of barrel aging the tobacco originates in Kentucky, the whiskey capital of the world. This is where the barrels used to create Heaven Hill Distilleries' Bourbon are located. Heaven Hills is famous for making Elijah Craig, Parkers Heritage, and Larceny bourbons. These three unique bourbons are known to have complex flavors that partly emanate from the charred oak barrels that they are aged in. Camacho Cigars is one of the more renowned cigar companies in the world and is known for their bold and complex flavors. The introduction in 2015 of their whiskey barrel aged cigars proves they were up for the challenges set forward by Cigar Dojo. Cigar Dojo is known as the first and largest social cigar site in the world. They have collaborated on other projects in the past that have produced quality cigar offerings. But in my humble opinion, this is their most daring attempt to advance cigar tasting limits.
The Imperial Stout Barrel Aged Cigar was an idea that Cigar Dojo, who is in located in one of the craft beer hotspots in the world (Denver), came up with.  They were on the hunt for a locally brewed beer that would represent not only Cigar Dojo but also Colorado's Craft Beer Community.  As fate would have it, Colorado's own Oskar Blues had just recently barrel aged one of the most highly rated stouts in the country, their Ten-Fidy Imperial Stout.  After the Barrels were used to make the bourbons, Oskar Blues uses these barrels to age their Ten Fidy stout beer. After the Barrels have aged the stout for over four seasons, the selected barrels are then transported to Camacho's facility located in Danli, Honduras where the Corojo tobaccos are aged for a minimum of six months.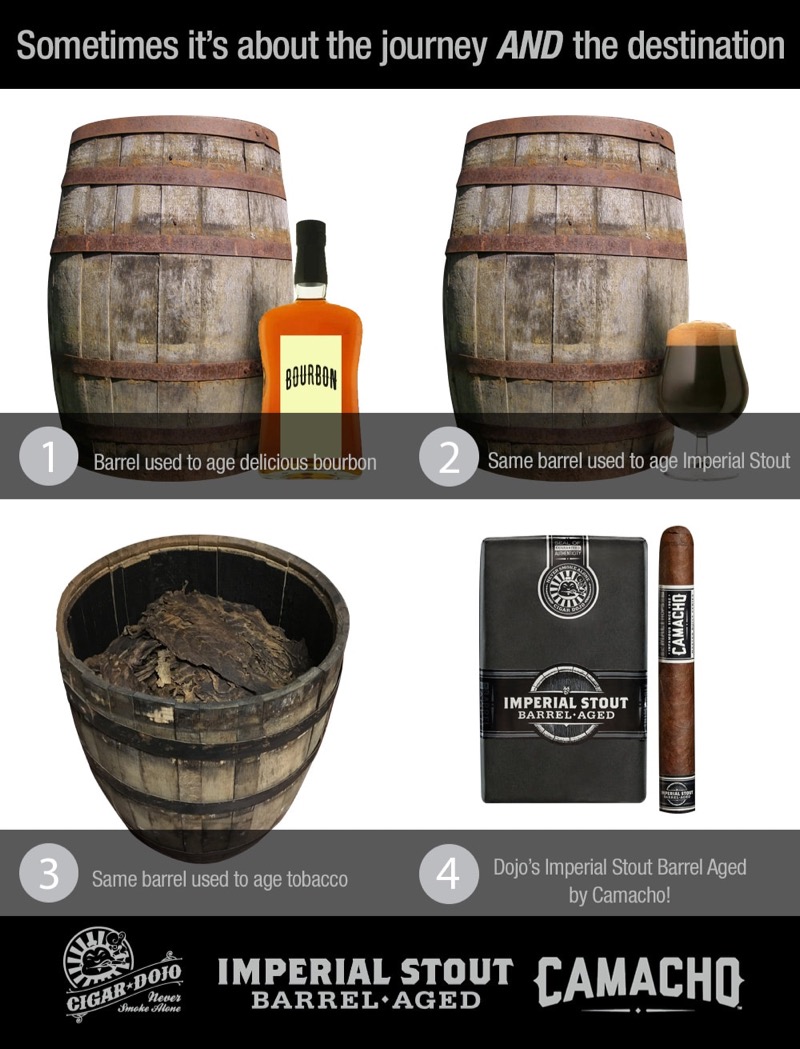 Like most Dojos, you need to have a Master Sensei. That master is Eric Guttormson, owner of Cigar Dojo. I was able to track down Eric and I was able to get his thoughts on the Imperial Stout Barrel Aged cigars (ISBA). When it comes to working with Camacho cigars Eric states that "working with Camacho on this project was the fulfillment of a dream. After all, these guys are legendary in the cigar business and they proved it by taking this cigar from concept to completion with perfection". When the topic of craft beer is broached Eric states that "all of us at the Dojo are big craft beer nerds. Every Friday night we try new craft beers to see what pairs really well with the cigars. As you might imagine living in Colorado is a great place to be a craft beer fanatic."
According to Eric "the Imperial Stout imparts a velvety smooth, yet deep malt flavor to the already rich Maduro tobacco. Everything about this cigar is deep, dark, and rich", I couldn't agree with him more. I found that these cigars were very well constructed. They burned evenly and were deliciously consistent throughout the smoke. There were only 4000 cigars produced in the Imperial Stout line and manufactured in the Vitola Toro of 6"x50.
If you are looking to purchase these fine smokes don't bother, they are sold out.  So why would I even bring this topic up for you to read? I want to inform those who read sjbeerscene.com to know how interesting things are getting in the cigar/craft beer collaborative scene. My hope is that there are many more projects like this that will be created. As I have said before, craft beer and cigars are both products involving art and skill to create.
When it comes to my pairing for this article I went with the obvious, an Imperial Stout. The notes of malt, chocolate and faint hints of vanilla, probably from the bourbon, make these cigars a perfect compliment for the New Brighton Coffee Stout produced by Tuckahoe Brewing Company in Egg Harbor Township. The New Brighton is a Russian Imperial stout infused with Mexican Chiapas coffee grounds that really plays well with the hints of vanilla and the malt from the Imperial Stout Barrel aged cigars. When you smoke a stout why not drink a stout. I was amazed at how well these two creations really complimented each other.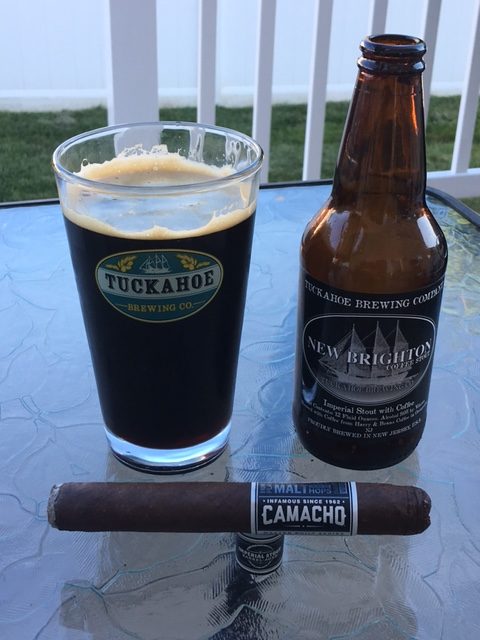 I would like to thank Eric Guttormson for his cooperation in this article. I would also like to encourage all of my brothers and sisters on the sjbeerscene.com site to look into adding the Cigar Dojo app to your cellular device. With Cigar Dojo no one smokes alone.
For the Cigar Dojo App click HERE