We have been sitting on this article for quite some time. Not because it wasn't done well, we just wanted to hold onto it until Slack Tide Brewing Company was ready to release their first run of cans. While we were awaiting the boys to let us know, something very cool happened, they went out and one a Bronze Medal at The Great American Beer Festival for Avalon Amber Ale! As this article goes to press their cans of Angry Osprey, Bell Buoy, and Tipsy Dipsy are available in 12 oz 6 packs at the brewery and select locations around South Jersey. Without further adieu, here is Tom's article born of sweat and hard work while yours truly sat in air conditioning! – John Couchoud, Editor-In-Chief
A Day With The Brewer
I recently spent a couple days with Tadhg Campbell of Slack Tide Brewing Company to experience what a brew day consists of. The first day started with cleaning and sanitizing the equipment that will be used for the day. On day one Tadhg and assistant brewer Shawn Karge were going to be brewing a BBL batch one of mine and my wife's favorite, Avalon Amber Ale. Apparently we are not the only ones who think that.3  This beer just took home the Bronze in the American-Style Amber/Red category for the Avalon at the Great American Beer Festival. Tadhg mentioned to me that it's not a popular style, but I don't understand why. It has beautiful color, and a nice toasty, malty flavor. For this batch we milled 110 lbs of base grain, and another 90lbs of specialty malt grains. While the grains did their thing in the Mash Tun we started cleaning kegs, and getting things set up to transfer Sand Spike Session IPA from the fermenter to the Brite tank. While the Sand Spike transfer was taking place I was able to clean 12 half kegs and 19 sixtels in their Keg Commander cleaner. We will be filling those the next day with Sand Spike, their Session IPA. My first day was only about 3 hours, but it was a great warm-up for what was to come on day 2.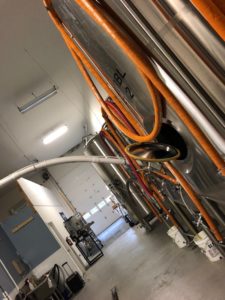 Day 2 started out at a balmy 86 degrees in the brew house at 6am. That day Tadhg and assistant brewer Chuck Wieland were going to be brewing a double 10 BBL batch of Bell Buoy, their award wining Belgian Blonde. The grain bill for each batch will be a little over 700 lbs. While the first batch of Bell Buoy was in the Mash Tun we started kegging the delicious Sand Spike out of the Brite Tank which yielded 12 half kegs, and 19 sixtels which I had cleaned yesterday. By 8:30 we had the first 10 BBL batch of Bell Buoy in the Brew Kettle and all of the Sand Spike in kegs.  It is balmy in the brew house, currently in the low 90's, thankfully the cloud cover is saving us. As I thought about the process of brewing, the one word that keeps popping into my head is "multitasking". As Forrest Gump said "There's always something to do and somewhere to go". It's 9 am, and we start to sanitize the 20 BBL fermenter that housed Sand Spike the day before, and will be the new home for the double batch of Bell Buoy for a couple of weeks. At around 10 am we add the hop bill to the first batch of Bell Buoy and start to pull out the spent grains from the Mash Tun which will be picked up by a local farmer to feed his livestock. I also took some of the spent grain and made a batch of chocolate chip cookies with them that turned out really good (Editor's Note: They were good!). The sun is out, and it's about 100 degrees inside the metal building which houses the brewing operation. So much for me and my big mouth talking about the cloud cover. As we finished removing the first batch of spent grain, Tadhg started pumping the Bell Buoy through the heat exchanger, and into the freshly sanitized 20 BBL fermenter.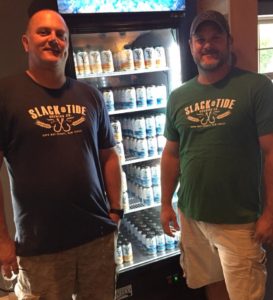 As always there is something to sanitize, and prep for the next stage. It's like a grain, hops, water, and sanitizing symphony that is kind of special to be a part of. It's now 11:25 am and is about 110 degrees in the brew house, Chuck is moving to the taproom, and we are joined by sales representative Jordi Nicolau to finish up the day in the brew house. We are now ready to move the second batch from the Mash Tun to the Brew Kettle, and we are still sanitizing the Brite Tank to get it ready for the next batch of liquid gold to go in it. Time check is now 12:45 pm, and I just pulled out the second batch of grain from the Mash which comes in at about 1800 lbs when saturated, and the second batch is boiling. Although Tadhg's day is far from over I'm ready to taste test some of the Sand Spike we kegged, and grab a few crowlers for the 4th. I can't thank Tadhg, and his brother Jason, and everyone at Slack Tide that I worked with over the 2 days. It was an awesome experience, and it was hot, and hard work, but if you love what you do you never work a day in your life. I can't wait to do this at another brewery, and have another great experience.
And, as always, Enjoy Your Pour!