The much-anticipated opening of Vinyl Brewing in Hammonton is set for this Friday, September 29th at 4 PM.   The brewery, Co-Founded by Jim Sacco and Tom and Susan Puentes, is the 3rd brewery to open in Hammonton and is the first in the downtown district.  "There was never any other option for us but to be here in Downtown Hammonton on Main Street.  We are all born and raised here and we wanted to help move the downtown area further past the railroad tracks" Jim Sacco, who is also the Head Brewer of Vinyl told us.  The location is fantastic, situated just west of the railroad tracks on 12th St, right across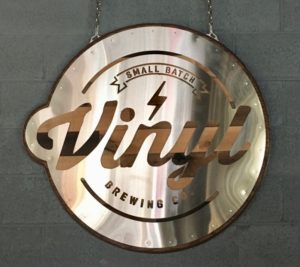 Bruni's Pizza, one of South Jersey's best-known Pizza Shops.  The tasting room is spacious highlighted with a large bar surrounded by booths and tables.  Glass garage doors line the front of the tasting room and can be opened when the weather is agreeable. The room is decorated with album covers and large photos of Rock Legends including John Lennon and Bruce Springsteen.  "My Uncle (Co-Founder Tom Puentes) built everything here.  Everything that you see is pretty much his hard work".
Why the name Vinyl Brewing?  Jim told us "I grew up in the punk rock scene collecting vinyls and I was in punk rock bands for the majority of my life, so I wanted to take the two passions that I have and kinda mold it into one.  My Aunt and Uncle are big fans of music too". Album covers from such varied bands as Black Flag, Journey, The Descendants, and REO Speedwagon decorate the walls of the tasting room, "You can probably tell which ones are mine" Jim said as I rattled off the names.  Being a notorious music snob myself, it was great to see all of these music styles melding to create an atmosphere in the room that truly exemplifies the spirit of creativity.  I believe brewers are as much of an artist as any painter, musician, or sculptor and after sitting with Jim for a short while, it is clear that he is not just a brewer, but an artist whose palette is hops, malt, yeast, and water.
Jim started brewing around 12 years ago in his parent's kitchen, and his first beer that he brewed was a Stout from an extract kit.  Back then, Jim and his friends thought it was pretty good but, in looking back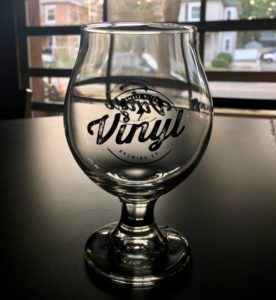 Jim said,"we thought it was great, but now I know it wasn't (laughing)".  He also remembers it "took like three hours to get it to boil because we were using an electric stove top".  At first, he would go a couple of months in between brew days, but as he started really getting into it Jim started brewing every weekend.  One day Jim told his wife, "This is it!  I am focusing, this is my goal, and I am gonna do it".  Jim continued to brew until he was hired as a brewer at Three 3's, another Hammonton Brewery.  After some time, Jim started to think about his dream and started to formulate a plan to have his own brewery.  "It felt that it was time to go out on my own creatively…I think that when you are a creative person you reach that point where you have to do your own thing or it will eat you up inside".   Luckily, Jim's Aunt and Uncle (Tom and Susan) were interested in joining Jim in fulfilling his dream.  They signed a lease in January 2017, got town approval in April of 2017, and now they are ready to open the doors.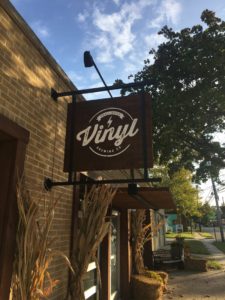 Vinyl Brewing is going to specialize in a Small Batch brewing philosophy.  The 3 BBL brewhouse has 6-3BBL fermenters along with a brite tank.  Jim also plans to use his 1 gallon and 5 gallon systems to brew unique beers such as sours.  He plans on rotating the taps pretty frequently keeping the selection fresh, but will bring back favorites every few months.  " We are not going to be brewing the same thing all of the time, we are going to have constantly rotating taps, it lets us be experimental to see what people like" Jim explained, "We are going to switch it up as much we can".
At the Grand Opening, Vinyl will have 6 beers on tap including 2 IPA's, a Kölsch, a Belgian Blonde, a Stout, and a Guava Saison.   Flights (they have a great flight paddle design!),  pints, and  32 oz growler fills will be available.  They plan on offering 64 oz growlers and crowlers in the future.  Merchandise with the Vinyl Logo (designed by fellow Hammontonian Elena Lombardelli) will also be available at the tasting room.
Congrats to Jim, Tom, Susan and everyone at Vinyl Brewing on their Grand Opening!
Follow Vinyl Brewing on Social Media!
Facebook:  @vinylbrewing
Twitter:  @vinylbrewing
Instagram: vinylbrewing