On our camping trip over the 4th of July holiday, we decided to escape the madness of the Jersey Shore, and head to Ricketts Glen State Park. We stayed at Whispering Pines Camping Estates, which I highly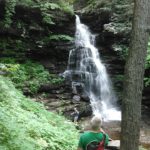 recommend. They are located within 20-30 minutes of plenty of hikes, and attractions. They even had their own fireworks display that could be viewed from our campsite and lasted almost an hour. Our main reason that we stayed at Ricketts Glen was to hike the Falls Trail which brings you by 22 named waterfalls that are really awesome. After the mildly difficult 3 hour hike on the Falls Trail, we were hungry and thirsty, so it was time for us to sit down and grab a beer and something to eat.
Whenever we go camping I'm always on the lookout for a brewery nearby that serves food, which is something you can't find in New Jersey. While Turkey Hill Brewing was the better-known brewery we opted for the lesser known Berwick Brewing.   Tom Clark, who was previously the owner of the now-closed Red Bank Brewery in Red Bank, NJ, brought his great recipes and food menu to the banks of the Susquehanna River in upstate Pennsylvania when he opened up Berwick Brewing in late 2007.  The inside of the Brewery could easily seat 100 people, and the outside Bier Garten could easily accommodate another 100. With at least 20 beers on tap at all times, there is something for everyone.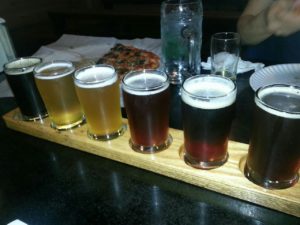 For someone who is new to the craft beer scene, the Berwick Lager would fit the bill.  Speaking of Bills, the Grumpy Bill's Porter was extremely good and represented the style admirably. Although I tried almost everything in our 2 visits the one I enjoyed was the Berwick IPA, and the Front Street Wheat. Berwick IPA was very good with not much bitterness on the back end. Wheat beers are probably my favorite style, and Front Street Wheat did not disappoint and went down smooth. The one beer that seemed to go over well with our camping group was the West End Pale Ale. It had everything you want in a Pale Ale with good aroma and a sweet finish. In addition to great beers, Berwick has a great menu. Who doesn't like fried cheese curds? They were a big hit with our group! What really stood out the most was the incredibly delicious pizza. The crust was sweet and tasty while the cheeses Tom used were definitely high quality.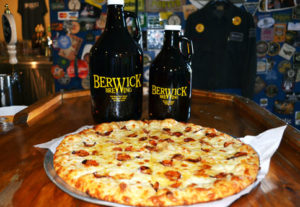 Our first trip was so good that we had to plan to go back the next day. Berwick Brewing is a great brewery with a friendly and knowledgeable staff. I can't wait to go back to the area camping again, have some more great beer and pizza. It was also a nice surprise to see some local breweries stickers on the wall!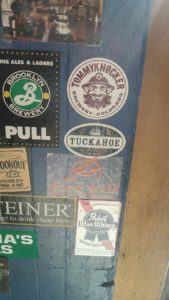 Berwick Brewing is definitely a place you should stop at if you are ever in the area.  They have a great room, great food, and fantastic beer.  For more information on Berwick Brewery follow them check out the links below!
Enjoy Your Pour!
Follow Berwick Brewing on Facebook  HERE
Follow Berwick Brewing on Instagram berwickbrewing
Follow Berwick Brewing on Twitter @BerwickBrewing