In this edition of 10 Questions With…  I headed to Hammonton to do a little follow up to our previous article on the 3rd brewery to open up in town, Vinyl Brewing. I was excited to do this article with Jim Sacco, Co-owner and head brewer of Vinyl because it combines 2 of my favorite things, beer and music. Jim was brewing at Three 3's Brewing Company when he decided it was time to go out on his own. So in January 2017 Jim, along with his Aunt and Uncle Susan and Tom Puentes,  started on the journey to make beautiful beer and music together. As I walked in the door I found a spacious and comfortable tap room with booths, tables, and a large U shaped bar. The walls are adorned with all kinds of music memorabilia, and there is plenty of space for the many patrons that have visited since opening in late September. Located in Downtown Hammonton on Main Street and surrounded by an abundance of dining choices,  everyone can find something to pair with their ever-rotating tap list. Do your taste buds a favor and add Vinyl Brewing to your list when coming to Hammonton.
Jim is dropping two new beers this week.  First is Speed Freak, a spelt IPA brewed with Mosaic, Simcoe, and Amarillo hops and Out of Your Element, a Rye Porter.  Vinyl is a great place to stop by and have a beer or two in Downtown Hammonton which is now being referred to as the "Brewmuda Triangle" as a homage to it being the first town in South Jersey with three operating breweries  (Hackettstown also has 3 breweries in North Jersey).  Vinyl, along with Tomfoolery and Three 3's, are in close proximity to each other and they have a great spirit of camaraderie and a love of their town which really comes through when you talk to anyone at any of these fine breweries.
What was the first beer you brewed and how was it?
It was an extract stout kit I brewed with a couple of buddies in my parent's kitchen about 12 years ago. We did it on an electric stovetop and it took over 3 hours to bring to a boil. We thought it was really good, but looking back now, it was just terrible. But it was cool at the time.
What is your favorite style to brew and why?
It would have to be IPAs. There is so much you can do with the different malt and hop profiles, and adding fruit. You can really differentiate the IPAs by the different hops you use. I'm more of an east coast style drinker and brewer.
Do you look at ratings on Untapped, Beer Advocate, or Tate Beer and, if you do, does it influence your recipes?
I do look at them. I think it's cool to see what people are thinking, but I don't want to put too much stock into it. Ultimately everyone likes something different, and who am I to get mad at someone who doesn't like something I brew? I like to make beer that I like to enjoy and hope people will enjoy it, too. It definitely does not influence my recipes.
How do you stay connected to the local area in relation to sourcing ingredients?
I like to use local ingredients as much as I can. The beer I actually brewed today I used whole leaf hops from Timberline Farms in Folsom. The honey porter I made is from honey I got from a family friend's farm just a mile down the road. I was also in Cape May and purchased some Cape May sea salt for a Gose I'm going to make. My family owns a sweet potato and a blueberry farm which I just made a sweet potato beer out of. And of course, we are the blueberry capital of the world.
What is the one tip you would give home brewers to make better beer?
Concentrate on your fermentation temperature, and also make sure you're pitching enough yeast. I think if you lock those 2 things in, you're going to make your beer 10 times better. Get a refrigerator and convert it and put a temperature control on it, and your beer will be so much better.
What is one piece of advice you would give someone who wants to open a brewery?
Definitely be patient. You will have to pay rent on a building that you can't use for months, but everyone has to do it. There is light at the end of the tunnel, and it pays off. It's hard work and it's stressful, but just bear with it, because in the end you'll be thankful you stuck around. If it's your passion, it will all be worth it.
If there was a beer that you could brew with no regards to cost, production, or sales, what would it be and what?
Barrel aged sours, which we are going to start doing soon. Sour ales are my first love along with IPAs. The cost factor involved would be in the time it takes because you are waiting months and months for it to be ready.
Looking back to opening day forward, what was the one thing that happened that surprised you the most?
The sheer amount of people that have come out, and the amount of beer we have gone through. The amount of support from the public and the brewery community has surpassed our expectations. We are extremely thankful for all the support.
Other than your beer, what is your go-to after a long day at the brewery?
Anything local. I like to go home and unwind with stuff from Bolero Snort. I really like the stuff in cans they have been putting out. I also like to have a good stock of Tired Hands Brewery at home, also. And sometimes I'll just walk down the street to Tomfoolery and have a few beers.
Where do you see the brewery in a year? In 5 years?
In a year I hope we are reaching the point of expanding with a few more fermenter and start doing some bottle releases. In 5 years I hope to have taken over this whole building. I would love to go up to a 15 BBL system with some 30 BBL fermenters, and really start to push our distribution into Philly and New York.
Bonus Question: What is your favorite beer that you have ever had?
I'll have to give you two. The first one is Mago Tago from Tired Hands. The next one, and probably my favorite of all time is Pliny the Elder. I just think that's the best representation of that style of beer, and I don't think anyone has come close to it.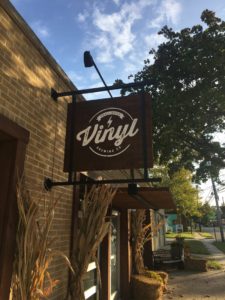 Follow Vinyl Brewing on Social Media!
Facebook:  @vinylbrewing
Twitter:  @vinylbrewing
Instagram: vinylbrewing