Looking for a place to grab a cold one in Atlantic City? What was once a barren wasteland for craft beer now boasts some of the best beer bars in the area! Already home to the Tun Tavern, and soon to add its second brewery with The Seed: A Living Beer Project, you can find great craft beer all over the city. Here, in no particular order, are 5 of the Best Beer Bars in Atlantic City
Vagabond Kitchen & Tap House
672 N. Trenton Ave | (609) 350-6721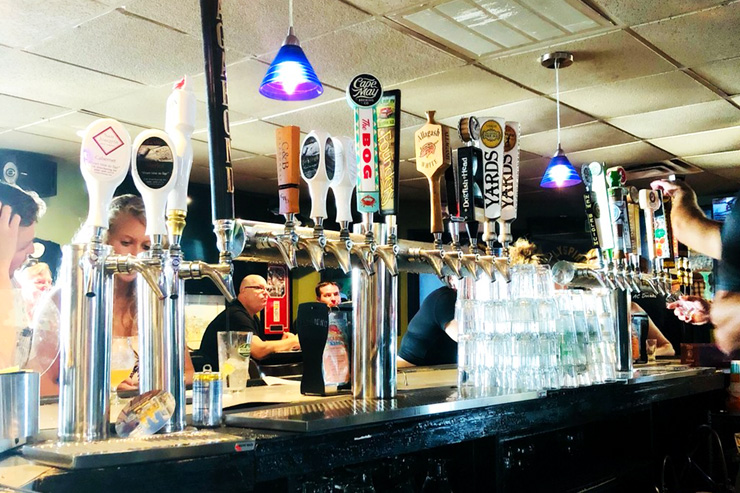 Located in the Chelsea Heights Section of Atlantic City, Vagabond Kitchen and Tap House has always put a focus on Craft Beer. Opening in 2012 (with a brief closing due to Hurricane Sandy) they are home to one of the most unique and carefully curated tap lists around. They carry a bunch of local craft beers and also some of the most sought-after beers in the country can be found on one of their 17 taps. Dogfish Head 120, Founders KBS, Founders CBS are just a few that have seen there in the last few months. Vagabond boasts award-winning food as well and was featured on an episode of Diners, Drive-Ins & Dives and the food is Guy Fieri approved! The lively restaurant is a favorite for locals and tourists alike and is known for its views of sunsets over the bay from their covered patio.
Tennessee Ave Beer Hall
133 S. Tennessee Ave | (609) 541-4099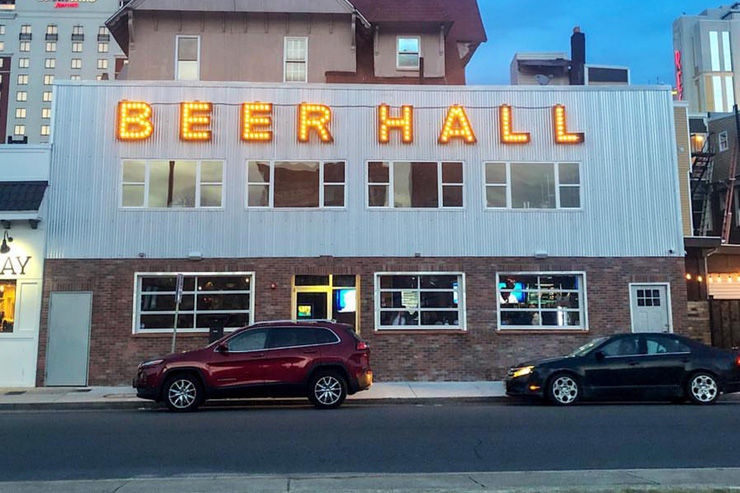 Located in the Orange Loop in the heart of the City, Tennessee Ave Beer Hall has quickly risen to be one of the best craft beer bars in Atlantic City. The newest venue on the list boasts an impressive beer list with 40 on draft and an additional 60+ in bottles and cans. Locals like Tuckahoe, 7 Mile, Cross Keys, Icarus and more mingle with other big NJ craft beer players like Carton, Bolero Snort. There is not shortage of national brands either, Victory, Tröegs, Bells, and Half Acre and many others can be found on the menu as well. Tennessee Ave Beer Hall also features an awesome outside area with picnic tables, a fire pit, all set up on a field of astroturf on what is becoming one of the must see sections of Atlantic City. Chef Charles Soreth also has curated a great menu with interesting appetizer selections, great burgers, and hot dogs to die for!
Wingcraft Kitchen & Beer Bar
2010 Baltic Ave | (609) 541-2799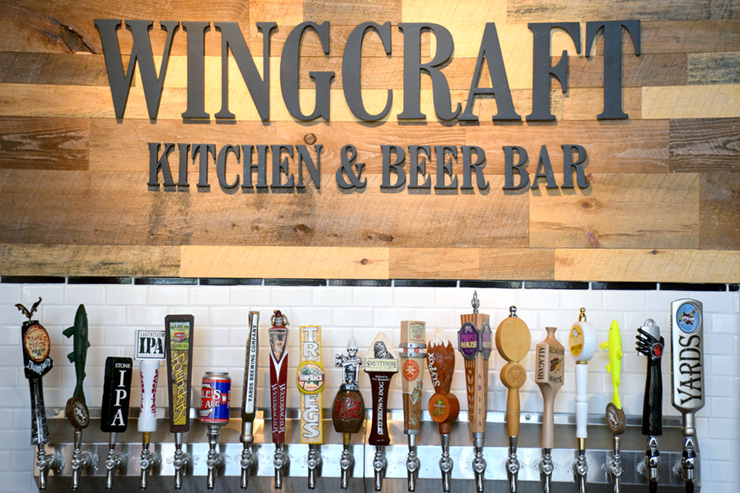 With one of the most extensive beer lists in the area, Wingcraft Kitchen & Beer Bar is a must when coming to Atlantic City. Located amongst the Tanger Outlets in the Convention Center area, there are 35+ taps and a big selection of cans and bottles in varied styles making Wingcraft the perfect place to try something new and different. South Jersey craft beer is well represented on their list with offerings from Cape May Brewing, Three 3's, Carton, Jughandle, Bonesaw, and Glasstown amongst others. Wingcraft also has a great selection of regional and national craft brands including Maine, Cigar City, Stone, Sloop, Dogfish Head, and many more. Let's not forget that Wingcraft is one of the best restaurants in the city offering unique gastropub fare and a Sunday brunch that will knock your Aunt Millie's socks off!
Chickie's And Petes Tropicana
2831 Boardwalk | (609) 344-1080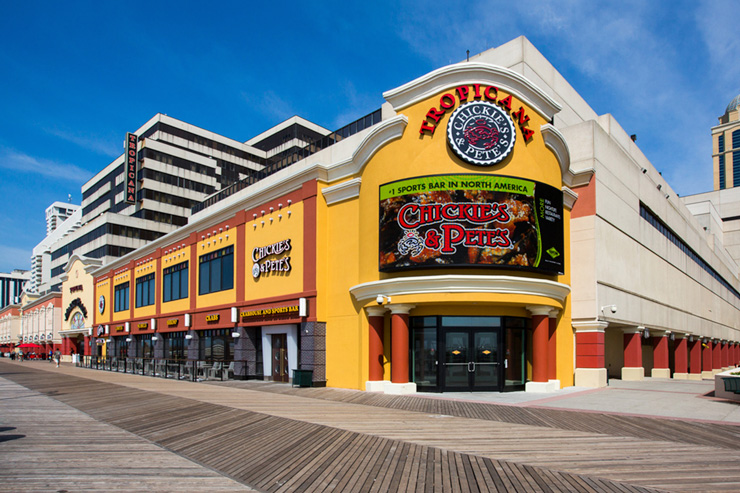 In amongst the hundreds of slot machines and table games at the Tropicana you will find an oasis of craft beer at Chickie's & Pete's. These guys get craft beer. Great tap list with an emphasis on local and national craft brands in varied styles. Plus Chickie's (as the locals call it) gets some of the hardest to find beers on the planet. At the time of publishing they were promoting a "Whale Watching" list which read like a bucket list of great beers. Kane Mexican Brunch, Founders 2018 Canadian Breakfast Stout, Founders 2017 KBS, Firestone Walker Napa Parabola, and 2016 Bourbon County Brand Stout were just a few of the beers that were being offered. Plus Chickie's Crab Fries may be the perfect accompaniment to beer! 50+ TV's and an extensive menu of bar food make it one of the best places to hang out and enjoy the sporting event of your choice, but be careful if you decide to root against the Philly teams!
Firewaters Saloon
Brighton & The Boardwalk | (609) 344-6699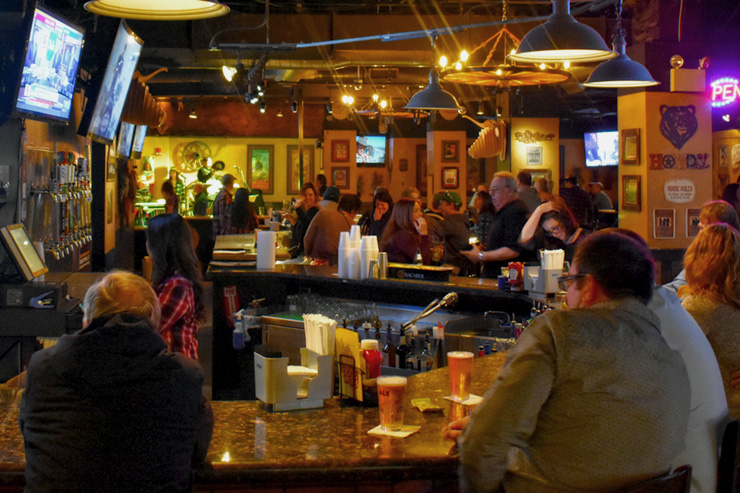 Located in the Tropicana Casino, Firewaters has 69 Taps of Liquid goodness that features 15 local New Jersey craft beers. This western-themed restaurant also is a great place to catch a game on TV or grab a quick bite. If you are bringing a non-beer drinker (BOOOOOOO!!), Firewaters has an extensive Margarita and Whiskey menu, as well as a full-service bar that even makes beer cocktails! Feel like dancing? Put on your boogie shoes and let loose! Firewaters has live music regularly and is one of the few bars that still encourages you to get up and dance!
What are your favorite beer bars in Atlantic City?