Supporting our veteran community, in addition to brewing great beer, has long been the mission of Torie Fisher the owner of Backward Flag Brewing in Forked River. Since its inception, the brewery has focused not only on creating employment opportunities for veterans, but also developing partnerships with many veteran owned businesses.
Backward Flag enters the next phase of this mission as the long planned Arms 2 Artisans fellowship program launches this week. Headed by Fisher and Jason Carty the former Executive Director of NJ Brewers Association, the non-profit's goal will be to foster the successful transition of post 9-11 veterans from military to civilian life.
"Some vets have challenges in figuring out how to translate the skills learned in the military to civilian employment, or how they can effectively fit them onto a resume." said Fisher. "I had the problem myself. When I was discharged I would apply for jobs and be turned down because I was overqualified for some and underqualified for others, so I was stuck in between."
The Arms 2 Artisans program will utilize Backward Flag Brewery as its primary classroom and the brewing process as a training ground for the vets selected. The program will start with two fellows on March 5 and hope to take on as many as six veterans in future classes.
The inaugural class of two veterans started this week. Lizz Devenny an Army Veteran has had multiple deployments and served for 12 years. The other veteran fellow Jose Miranda, has 22 years of service including active duty in the Navy and serving full time in the National Guard as an Aircrew Standardization Instructor. Miranda and Fisher also served together in the 1-150th Air Assault in Iraq. Miranda and Devenny will be participating in the 6 month program, which includes three days per week of training and education in various breweries and facilities.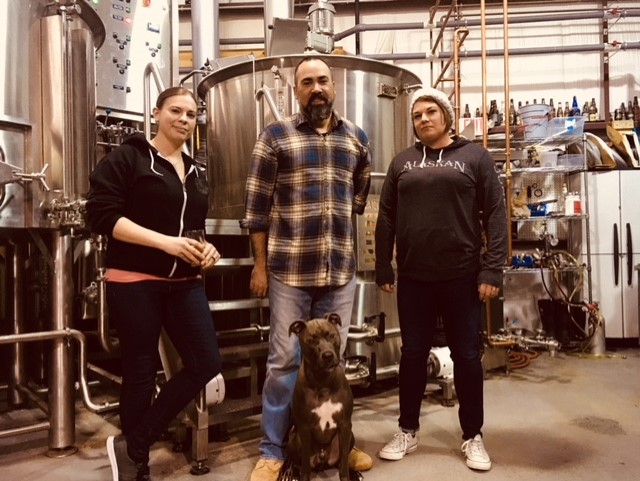 Classes will have a different focus each week such learning the art of brewing beer, as well as the business end of operating a brewery. Fellows will be tasked with designing a recipe, brewing and marketing it. The classroom will also extend outside of Backward Flag Brewery. Many courses will be hosted via Skype with other veteran owned breweries and participants will visit other businesses in the brewing industry. The veteran fellows will also be visiting several other NJ breweries that have agreed to host instructional sessions covering important topics.
Other brewing-related businesses, like Rabbit Hill Malt Farm in Shiloh, NJ, will also be helping to educate the veterans. At Rabbit Hill they will learn the process of turning malt into grain and be provided a tour of the farm and their facilities. White Labs Inc., one of the largest yeast producers in the country, will also be contributing to the program by providing the veterans a session with their experts.
While the brewery and brewing process may be the face of the program, it will also include sessions on preparing a resume, interview preparation, public speaking, personal finance tips and access to an attorney for pro bono wills. The program curriculum also includes assisting the fellows with accessing veteran benefits programs.
Unique to this program is the opportunity for the fellows to build a network of veteran support. During the 6-month program, fellows will meet regularly as a group with their veteran peers and mentors. This will provide a positive environment to discuss any topic or issue that our fellows are dealing with while transitioning into civilian life. Establishing and maintaining this network of veterans is a core value of our program.
"Give a veteran a beer and you'll have quenched their thirst for a day. Teach a veteran to make beer and you'll give them the unquenchable thirst to thrive" ~Torie Fisher
For more information on Arms 2 Artisans visit www.Arms2Artisans.com 
Executive Director Jason Carty can be reached at Director@Arms2Artisans.com
Follow Arms 2 Artisans on Facebook, Instagram, and Twitter @A2Avets