In this edition we travel North on the Garden State Parkway to Pinelands Brewing Company in Little Egg Harbor. We met with head brewmaster and founder, Jason Chapman, who was a gracious host and chock full of knowledge about beer. Pinelands Brewing Company is a 3 BBL brewery which opened on March 1, 2014 and, in that short period of time, has quickly become a local and regional favorite. Locally sourced ingredients and water from the Kirkwood-Cohansey Aquifer, which has an estimated 17.7 trillion gallons of some of the best all natural drinking water in the world, is a big reason for that. The only problem we had was picking the right beer from their great stable of brews to pair with the food I prepared, but that's the fun part. Let's begin.
Cheese Course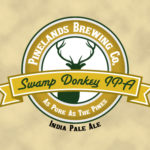 Once again, quality deserves quality, so we went with DiBruno Bros Prima Donna. This sweet, nutty, firm cheese is slightly oily with a bit of salt. Originated in Holland, its inspiration was to create a hybrid of Parmigiano Reggiano and Gouda which will pair nicely with most beers. As Jason and I mulled over the tap list, we both agreed to go with Swamp Donkey IPA. Don't let the name fool you, this is a great brew with an aroma and taste consisting of Amarillo and two other American hops. The color is great with a great balance of floral and fruit and a nice dry finish. Swamp Donkey was a great choice for the cheese, and with a robust 6.8% ABV this donkey has a kick.
Appetizer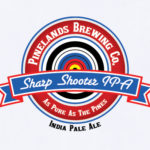 For the appetizer I went with an oldie, but a goodie. I stuffed baby Portabello Mushrooms with my hot crab dip recipe, and topped them off with a nice French Emmental. This is a medium hard Swiss which has a savory yet mild taste.  I can never seem to make enough of these scrumptious little flavor bombs!  We chose to go with Sharp Shooter IPA, a beer that made for their friends at Shooters Gun and Archery Range down the street from the brewery. This bronzed colored ale has a citric character which lends itself well to this seafood dish. With a moderate body and malty backbone, it was definitely the right choice for this appetizer.
Entrée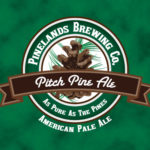 For the main course I went with something I've made about 100 times. My pulled pork tacos with blue cheese coleslaw is a dish I feel I've finally perfected. It takes 12 hours to get the pork butts to fall apart, tender. The blue cheese coleslaw was inspired by my wife's love of the fragrant cheese. Looking over the tap list their was one beer that stood out. It was the first Pinelands Brewery Beer I tried the day the brewery opened, Pitch Pine Ale. This crisp American Pale Ale made from Chinook and Cascade hops is a very easy drinking beer. With a 5.9% ABV it can go with a lot of dishes and was a favorite at a Memorial Day Party I had a few years ago. Definitely a go to any time I see it on tap.
Dessert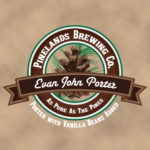 For dessert I tapped into a family resource. My daughter, Lauren, is in the culinary program at ACIT and is enrolled in ACCC for Baking and Pastry this fall. One of her decadent desserts is her Espresso Chip Meringues. Although these little flavor pillows are light as air, they burst with espresso and chocolate flavor. There were two choices for this dessert: Zero Shucks Given Oyster Stout and Evan John Porter. Don't let the Oyster Stout name fool you, this is a smooth and silky stout with big flavor! After taking with Jason, we decided to go with the Evan John Porter. This delicious Porter made with whole vanilla beans is smooth and complex, making it a perfect match for the Meringues, and it also is great all on it's own. With an abundant tap list, Pinelands Brewing Company is definitely worth the drive for great beers and great atmosphere. Til' next time…
Enjoy your pour!
Tom@sjbeerscene.com
Follow Pinelands Brewing Company on twitter @pinelandsbrew
Visit Pinelands Brewing Company's Facebook Page HERE
Follow Pinelands Brewing Company on Instagram -pinelandsbrewingco